Debating the Definition of Learning Innovation
Bringing in some thoughts from Jason Palmer, Tannis Morgan and maybe you.
I love learning innovation so much that, along with my collaborator Eddie Maloney, we are trying to build a new interdisciplinary field.
In higher ed, sometimes the best way to get some traction in the marketplace of ideas is to argue against yourself. This is what I tried to do in "The Case Against Learning Innovation."
Building a new discipline of learning innovation requires that we agree (broadly) on some definitions. This definitional effort is foundational to our work. Our definition of learning innovation should emerge from those practicing, studying and critiquing the scholarship and activities within this domain. We need to do this together.
In "The Case Against Learning Innovation," I offered this initial definition:
Learning innovations go beyond incremental advances, offering the potential for discontinuous improvements.
The outcomes of the learning innovation are not known, and risks of failure are high.
Learning innovation requires additional institutional investment, at least in the early stages.
This piece built on an earlier post I wrote in November, "Defining Learning Innovation." In that definition, I tried to situate the idea of learning innovation within an institutional commitment, a focus on organizational change and the goal to make nonincremental advances.
Jason Palmer, general partner at New Markets Venture Partners and former deputy director at Gates, as well as one of the smartest and most plugged-in people of our community, offered an alternative definition of learning innovation on Twitter. Jason's tweet below is the first of an epic 10-part tweeted essay on Feb. 6 that is worth going back and reading in full. I was trying to provoke a reaction in my original piece, and I got one from Jason.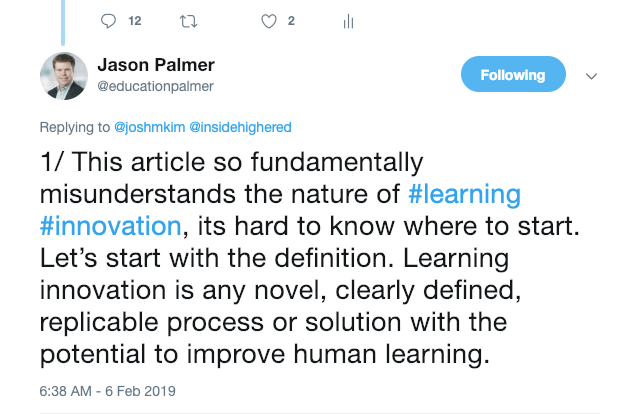 Does Jason's definition of learning innovation as "any novel, clearly defined, replicable process or solution with the potential to improve human learning" replace or add to my proposed definition?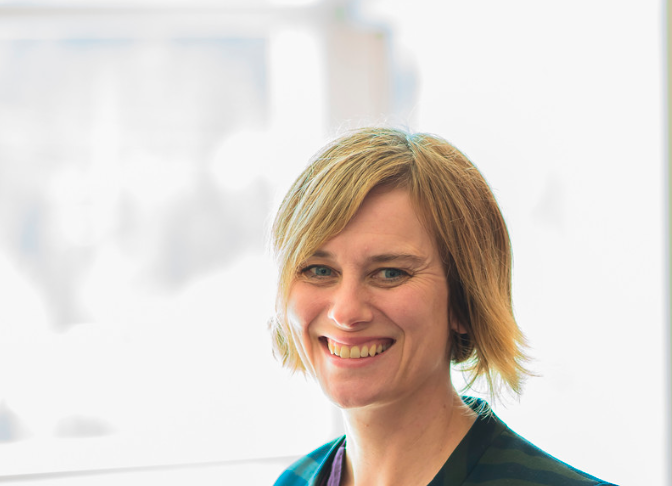 Among those commenting on my Nov. 20 "Defining Learning Innovation" piece was Tannis Morgan.
I had not previously read Morgan's work -- and it is amazing. It is so good that I'm going to go back to her series of pieces on learning innovation (starting in 2015) and pull out the headings for these pieces as quotes. I highly recommend that you go and look at all of these essays from Morgan on learning innovation.
From "About Those innovation Jobs … 7 Rules About Innovation" (Aug. 7, 2015):
"Even if the term has become trite, innovation is important in higher ed."
"One innovative initiative does not make an innovative institution."
"Innovation requires an institutional tolerance for a certain amount of failure."
"Innovation requires momentum."
"Innovation is not a project, a policy, or a committee."
"Innovation is not retroactive catch-up or large tech projects."
"Innovation doesn't have to be expensive."
From "First Steps in Creating a Culture of Innovation in Higher Education -- Figuring Out What Innovation Will Mean" (Aug. 21, 2015):
"Find out what people at your institution care about when they say they want innovation."
"Develop a clear vision for innovation based on what you learn about the institution."
"Distinguish between institutional innovation and program-level innovation initiatives."
"Look for opportunities for convergence of smaller initiatives."
In "Some Ideas for Creating a Culture of Innovation" (Nov. 6, 2015), Morgan writes:
"Talk to people and find the innovation on the fringes."
"Support the people who want to do some great stuff but have no idea how to get going or get the support they need."
"Don't kill the innovators with process."
"Pilots are your friend."
These are all good points from Morgan, and again I recommend that you read her more recent writing on learning innovation.
Where does this leave us? Would you be willing to take a crack at writing a definition of learning innovation? Can you argue with the idea that the first step in creating a new academic discipline of learning innovation is coming up with a working definition?
Inside Digital Learning Articles
You may also be interested in...
Inside Higher Ed's Quick Takes