You have /5 articles left.
Sign up for a free account or log in.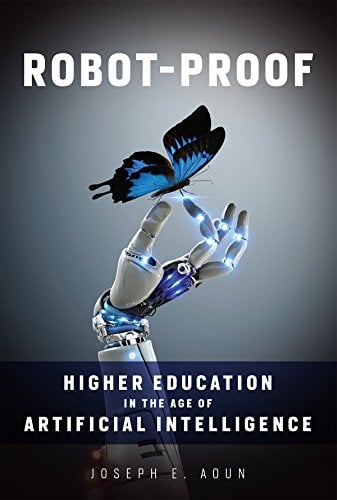 Robot-Proof: Higher Education in the Age of Artificial Intelligence, by Joseph E. Aoun (MIT Press, 2017)
It is not an accident that I'm putting my review of Robot-Proof in "Inside Digital Learning." My goal is to drive maximum awareness of this book among anyone thinking about the future of higher education.
Aoun, a linguist who also happens to head Northeastern University, makes the case that our economy is on the cusp of enormous change. He is largely supportive of the argument that accelerating improvements in the bundle of technologies that comprise artificial intelligence (sensors, processing, big data analysis) will drive fundamental changes at every level of our economy. This artificial intelligence driven shift will be as consequential as the two earlier large-scale economic shifts, that of agricultural to manufacturing and then from manufacturing to services.
Our higher education sector, according to Aoun, is not moving fast enough in the face of this large-scale economic change. Just as our colleges and universities are finally getting aligned with today's service-based labor market, we are doing too little to prepare our students for an age of smart machines.
What is the recipe for higher education to become robot-proof? This answer will be context dependent, as every institution must build on its own strengths and traditions. Aoun does not claim to offer any algorithm for organizational change. He is sensitive to the complexity of our institutions, and is not an advocate of simplistic notions around disruption. What Aoun does forcefully for is an end to the traditional thinking which places a liberal arts education in opposition to preparation for employment. He finds that liberal arts / employment preparation dichotomy no longer accurate, or particularly useful in evolving our institutions.
We should, argues Aoun, seek to align teaching and learning at our colleges and universities with the research on learning. What this scholarship demonstrates is that there are limits to both abstract and applied learning. The two must be married. Active and experiential learning opportunities are critical components of a valuable postsecondary education.
Aoun believes that in an economy where smart robots do much of the work that people do today -- including the information-based service work (accounting, legal services, etc.) that was previously protected from automation -- that the skills prioritized in a liberal arts education will be increasingly in demand. These skills include judgment, collaboration, curiosity, communication, empathy, team work, leadership and many others. These creative, social and leadership qualities represent tasks that can't be automated.
These classical attributes of a liberal arts education, however, will hold little value, Aoun argues, unless students have the opportunity to apply these skills. The learning cycle between abstraction and action needs to be shortened. What you learn in college and what you do with that learning are not separate things. They reinforce one another.
The approach that each college or university takes to integrate thinking and doing, the abstract and the concrete, will differ by institution. Aoun describes Northeastern's co-op program in some detail. This is one model for prioritizing experiential learning. There are many others.  
Aoun never says it this directly, but you get the sense after reading Robot-Proof that any school that is not significantly re-orienting all their teaching practices to align with the research on learning -- and in particular is not prioritizing active and experiential learning -- is committing education malpractice.
Robot-Proof is a bold call for change in the business of usual of higher education. There is much else in this book that anyone who is thinking about the future of college will find interesting. The model that Aoun proposes for our institutions being places of lifelong learning is fascinating.
One not have to be a believer that we are bound for a future of technologically driven unemployment to enjoy Robot-Proof. I'm actually quite skeptical that robots will take all the jobs. Mostly, I think that robots will take many of the not so great jobs -- leaving better employment available for humans. Those jobs, however, will increasingly require the qualities and skills that one gets through a liberal arts education.
What would be the one book about the future of higher ed that you would recommend to someone who will only read one book on the subject this year?
Is your school moving aggressively to prioritize active and experiential learning?
Where can digital learning serve as an enabler of active and experiential learning?
What are you reading?
More from Learning Innovation