You have /5 articles left.
Sign up for a free account or log in.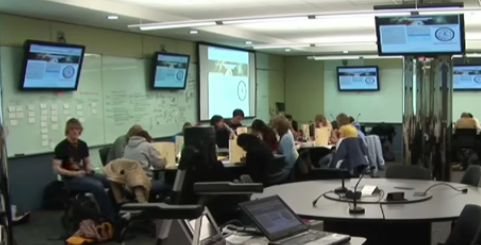 You walk into your third class of the day late, feeling a little frustrated and anxious. It was tough to get there from your previous class, since trying to stay six feet away from people in the corridors meant you had to walk slower than usual. You're anxious because while most people were wearing masks and keeping apart, not everyone was being careful.
You grab a couple of disinfectant wipes from the box on the table (luckily this one hasn't run out yet, like the one in your previous class) and wipe off your chair and the tape-marked spot at the table where you are assigned to sit. Only one other student is able to share this seven-foot-long table with you, at the opposite corner. This huge room has a total of 14 students in it today, where normally it would hold up to 80. The emptiness sometimes feels a little sad, like a mostly empty church.
At the start of the semester 20 students were in the room, but six students have had some symptoms recently and are staying home and participating virtually. That number goes up every week. You heard a classmate say that one of their classes reached a point where nearly everyone was having to stay home because they were either sick or had contact with someone who tested positive for COVID, so the faculty member had finally moved to fully online.
You try to listen to your instructor give directions for the day. It's a little challenging, since the mask muffles her voice. Then it comes time to work with your partner at the table. Sitting six feet apart and wearing a mask means you have to raise your voice to be heard -- but so does everyone else in the room. After doing this for two earlier classes, your throat is pretty sore. This doesn't help your anxiety, since you can't help wondering if this might be a COVID symptom.
Your partner tries to show you something on their computer, but you can't see it from six feet away. Plus, the Plexiglas shield down the middle of the table distorts your vision (you wonder when it was last wiped down). So instead you work together on a shared Google Doc.
You notice another pair of students has had the brilliant idea to bring in headsets, and they're collaborating via a Zoom meeting while in class. It makes you wonder why you aren't all just doing this from your dorm rooms. Then you notice that their brilliant idea doesn't work, because the two mics in the same room are creating feedback. They take the headsets off in frustration and go back to muffled shouting.
You raise your hand to ask a question. Your instructor is at the far opposite end of the room, and it takes her a while to notice your hand and walk down to you. You can't help but notice that as she does so, she has to come closer than six feet to students at the tables, because there's not enough walking space. To help you, she has to stand closer than you've come to expect with your recently expanded social bubble, and even then it's hard for her to see what's on your screen.
You notice that a student at the table behind you has removed his mask. His face is sweaty since the room has heated up over the course of the day -- at least, you're telling yourself that to avoid thinking it might be a fever. The other student at the table says something to him, but the student simply points at his sweaty face and doesn't put the mask back on. The faculty member is at the other end of the room again and either can't see or does not want to intervene. Your anxiety goes up a little more.
You remember some of the activities you used to be able to do in class that you can't this year. You can't work with shared physical manipulative models, since someone would have to be constantly cleaning them. You can't get up and move around the room acting out simulations, because there's not enough space to maintain social distancing.
You remember the days when you used to be able to use the "huddle boards." They sit in the corner of the room now, since they can't be cleaned often enough to be safe to use -- plus, they're pretty pointless when only two of you are at a giant table, sitting as far apart as possible.
Instead, you use a virtual whiteboard, which again makes you wonder why you're physically in class. Most of the collaborating you do is via technology, anyway.
You look across at your partner, who you're pretty sure made a joke, but without seeing her mouth you can't tell for sure if she's smiling or not. You assume she is, since you've been friends for a couple of semesters now, which certainly helps. You feel sorry for other pairs of students in the room who don't have that background knowledge and can't see facial expressions well.
"Group work" time, such as it is, is over. The faculty member tries to lead some full-class discussion. You're at one end of this large room, and you really struggle to hear the muffled voices of your classmates, some of whom are more than 30 feet away. You eventually tune out.
Class ends five minutes earlier than it normally would. You wait for the faculty member to signal your table to leave, the new practice that's been implemented to avoid crowding at the doorway.
As you leave class, you notice that some students are clustered nearby, waiting to get in, even though you all have been told many times not to come to class early to avoid such problems. Some people are trying to pay attention to the dots on the floor that mark six feet of spacing, but others seem to be ignoring them.
You hear one person who is being crowded mumble something about "six feet" with a look that combines frustration and anxiety, but it doesn't do much good since the corridor is too full to maintain appropriate distancing. You overhear another student saying that their roommate is getting tested for COVID today, and your anxiety level goes up a notch.
You think maybe your sore throat really is a symptom of something more. Maybe tomorrow, you'll call in sick and participate virtually …