Advocating for AI in Higher Education: A Panel Discussion
In this webinar, you'll hear the case for thoughtful AI use in and around higher ed.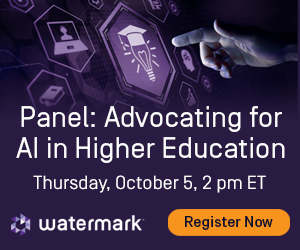 Most institutions have established or are actively developing a student-facing policy on responsible use of generative artificial intelligence (AI) in coursework. Simultaneously, many faculty and staff members at these same institutions are using large-language-model-based AI (a type of AI that can mimic human intelligence) in their daily work.
This live panel discussion introduces several higher education professionals who regularly use AI, along with one ed tech expert who is advocating for thoughtful AI use in and around higher education.
While many AI conversations are asking "if", this panel assumes that AI "should" be a part of the work we do – and unapologetically explores what that means.