You have /5 articles left.
Sign up for a free account or log in.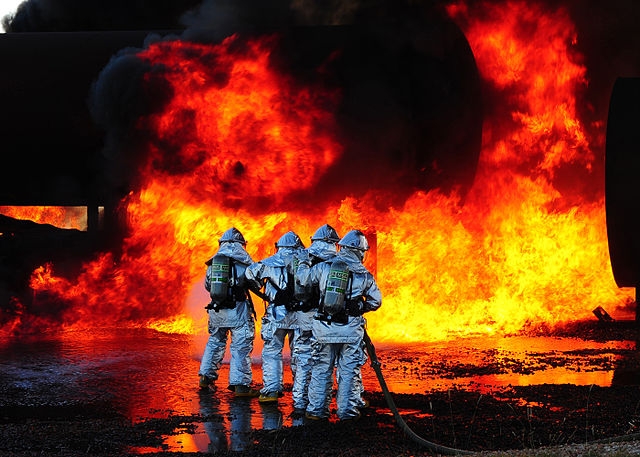 Aspiring fire chiefs take note -- you may need a master's degree to get that job.
In the past a firefighter could climb career rungs through experience and training. A degree wasn't important. But that has changed over the last decade, experts say, as the fire safety industry has followed the lead of corporations and other government agencies, where virtually all top executives hold bachelor's degrees, and many have advanced degrees.
Charlie Crowther, associate professor of fire science and emergency management at St. Petersburg College, in Florida, said a college degree increasingly helps firefighters earn more and advance through the ranks.
"The upper echelon in most of the fire companies around the country sees the value and they promote it," said Crowther, himself a veteran firefighter with a master's in public safety administration.
Community colleges and for-profit institutions have taken notice of the growing demand from the nation's 336,000 career firefighters. More institutions have created fire safety programs in recent years, typically associate degrees. And state and national groups that represent firefighters, like the U.S. Fire Administration, have addressed the growth with new guidelines for professional development. 
Fire departments, it seems, are on board with the Obama administration-led completion agenda. Yet some high-profile critics of those goals argue that many professions don't require degrees, and that police officers, medical assistants or firefighters might be better off not taking on college debt.
Bucking the trend toward more dependence on higher education in firefighting is Ron Rogers, who was recently named chief of Hillsborough County Fire and Rescue, a large fire department in Florida. Rogers has 29 years of experience, but only a high school diploma. County administrators waived the chief's job requirement for a bachelor's degree, with a master's degree preferred, to hire Rogers, who had served as interim chief.
Rogers has faced criticism in the news media and from some firefighters for lacking a degree. The St. Petersburg Times wrote about his appointment, quoting a former chief who said Rogers "wouldn't even get an interview" for the top post at other major fire departments. A firefighters' trade publication followed the debate, with a column that asked "Firefighting and degrees: Does higher education matter?"
For his part, Rogers said he supports the trend of more firefighters earning college degrees. But among the 824 career firefighters under his command, he said formal education is hardly the only factor in advancement.
"You really have to look at the whole package," Rogers said. Some firefighters benefit from degree programs, he said, while others can progress with on-the-job training and technical certifications. Rogers, for example, holds many certifications, some of which required college coursework.
Firefighters in Florida get substantial pay bumps and "promotion points" for holding college degrees. But Rogers said not all degrees should be viewed equally. He worries that some firefighters might be tempted to buy degrees from diploma mills to boost their pay. Those fears may be warranted: The Sacramento Bee in 2007 found that 28 firefighters received raises with "questionable academic credentials," often from diploma mills. Several similar cases have occurred around the country.
"There really is a watering-down of the education process," Rogers said. "People are looking for that piece of paper. They're not looking for the quality of that piece of paper."
Chief, Ph.D.
Fire departments that employ mostly career firefighters, as opposed to volunteers, serve about 64 percent of the U.S. population, according to the National Fire Protection Association. The number of career firefighters has also grown rapidly, increasing 41 percent between 1986 and 2009.
The professionalization of the industry has increased specialized education needs. So has an increased reliance on fire departments for emergency medical services and the recent need for firefighters to be trained in anti-terrorism and homeland security practices. As a result, more firefighters hold related credentials, like EMS certificates or paramedic degrees.
There is also more demand for associate degrees in fire science, observers say, and other degree programs that relate directly to firefighting. That's because the industry is always changing, said Leo J. Deason, who chairs the fire science and emergency medical services programs at Herzing University, a for-profit institution.
"We still put out fires with water," said Deason, who is also a lieutenant and paramedic at a fire department in Homewood, Ala. But fire companies these days "need people who are a little more advanced with their education."
As a result, college degrees that are not fire-related can also help. Deason and Crowther said fire departments increasingly want career employees who have strong critical thinking skills, and who can write grants or do public speaking, particularly as they progress to leadership roles.
Two other drivers of the growing higher education demand among firefighters are the recession and colleges' online offerings. Purchasing and budget decisions are more important than ever, as most municipalities have tight finances. And financial and technical know-how helps when considering big expenses, like the $675,000 fire engine Deason said his company recently bought.
Without the growth in online education, the degree creep in fire departments might not be possible.
"Firefighters don't work a regular shift," said Crowther. To serve their unpredictable schedules, St. Petersburg College went online in 1998. Crowther said other Florida community colleges have followed suit.
Among company commanders and chiefs, master's degrees are often preferred. MBAs and public administration master's degrees are common, observers said. And some chiefs hold doctorates.
Deason, who has a master's in emergency management, said he would need a master's to even take the department's exam to become a chief. In the future, he said advanced degrees will probably be an "absolute requirement" for most chief positions.
Rogers, however, said minimum college degree requirements are a bad idea. The skills and experiences that firefighters need are too broad for that approach, he said, and it hurts morale to pass up good firefighters based solely on education.
"Sometimes you eliminate very good candidates," Rogers said.