You have /5 articles left.
Sign up for a free account or log in.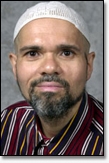 A professor at Kent State University last week set off a debate over appropriate and inappropriate ways to express views when he shouted "death to Israel" during the question period of a lecture by an Israeli diplomat.
The professor's remarks are being condemned by some -- including Kent State's president -- as inappropriate. But others say that he engaged in a legitimate expression of his political views.
The shout came from Julio Pino (seen at left), an associate professor of history. The speaker at whom Pino shouted was Ishmael Khaldi, formerly the deputy consul general at the Israeli consulate in San Francisco. Khaldi, as a Bedouin and Muslim, lectures on his experiences as an advocate for Israel.
According to multiple press accounts, Pino posed a question to Khaldi after his talk, and then shouted "death to Israel" and left the auditorium. It is the latter statement that has set off the controversy.
There is a wide consensus in higher education that it is appropriate for people who oppose the views of various campus speakers to ask them tough questions, to boycott, to picket outside, to invite speakers with alternative views, and so forth. In fact, such activities are routine on most campuses. There is less consensus on activities that seek in some way to interrupt a presentation or that involve shouting at a speaker.
In September, 10 Muslim students were found guilty of misdemeanors for heckling the Israeli ambassador to the United States when he spoke at the University of California at Irvine. The students, one by one, stood and interrupted his talk until they were escorted from the event. The students and their supporters have said that they were engaged in political speech -- while many others have said that this sort of tactic is antithetical to free speech as it prevents someone (in this case the ambassador) from giving an invited talk.
The Kent State incident -- while also involving an Israeli speaker defending his country -- was notably different from what happened at Irvine in that Pino did not interrupt the talk and make repeated exclamations. But critics have noted that his shout was not an attempt to engage in discussion, and have also questioned the appropriateness of shouting "death to" anyone.
Via e-mail to Inside Higher Ed, Pino gave his rationale as follows: "What I spoke was for the sake of the children of Palestine, and no other reason. The only politics I have are 'There is no God but God, and Mohammed is His Messenger.' " Asked about the controversy over his comments, he quoted the Koran: "They try to put out the light of Allah with their mouths, but Allah will allow nothing but the perfection of that light, though the disbelievers dislike it."
Lester A. Lefton, president of Kent State, issued a statement in which he said that the way Pino had treated Khaldi was "reprehensible, and an embarrassment to our university." Lefton said that while it "may have been" Pino's right to speak out, "it is my obligation, as the president of this university, to say that I find his words deplorable, and his behavior deeply troubling."
Lefton added, "We value critical thinking at this university, and encourage students to engage with ideas that they find difficult or make them uncomfortable. We hope that our faculty will always model how best to combine passion for one's position with respect for those with whom we disagree. Calling for the destruction of the state from which our guest comes (as do some of our students, faculty and community members) is a grotesque failure to model these values."
The Kent State president's condemnation of Pino was praised by the Anti-Defamation League. Nina Sundell, the ADL's Ohio director, said that "statements such as 'Death to Israel' extend beyond legitimate political discourse.  When the statement is shouted by a university professor at a university student organization event on campus, it is even more harmful."
But Cary Nelson, national president of the American Association of University Professors, criticized the president's statement, and said that professors can shout out statements as a form of expressing their views.
"Calling out a political slogan during a question period falls well within the speech rights of any member of a university community," he said. "Expressive outbursts do not substitute for rational analysis, but they have long played a role in our national political life. More surprising, to be sure, is President Lefton's invention of an absurd form of hospitality: you must not question the moral legitimacy or the right to exist of a guest's home country. Awareness of history would suggest such challenges are routine elements of international life."