You have /5 articles left.
Sign up for a free account or log in.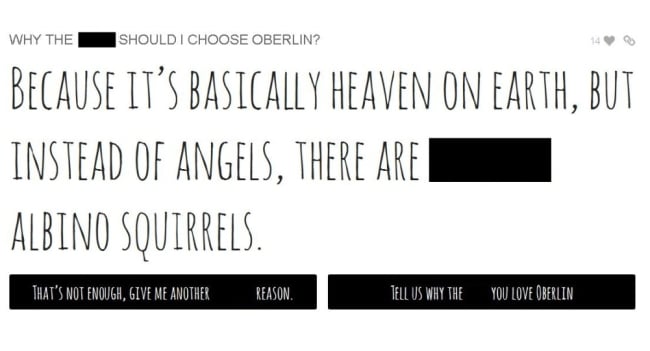 Readers offended by profanity may want to skip this article.

***
Why the fuck should you choose Oberlin?
Turns out, there are plenty of reasons.
"Because our bathroom fucking graffiti is intellectual and creative as shit."
"Because we have the best fucking safer sex education out there, and that means we can have awesome fucking sex."
"Because when America didn't think black people and women were people, Oberlin thought they should probably fucking go to college."
"Because they're not afraid of words like 'fuck.' "
These are just four of the nearly 2,500 reasons Oberlin College students and alumni have posted on the alumni-created website, Why the fuck should I choose Oberlin? Since its creation only two weeks ago, the site has exploded, with students, faculty, staff and alumni buzzing about their love for the irreverent but on-point website. (The screen shot above gives a sense of the flavor of the site, with some words redacted since our home page may be viewed by those not expecting profanity.)
"It is a very Oberlin creation, and part of why Obies love it so much is it's got some of that rebellious Oberlin spirit," said Harris Lapiroff, co-creator and 2010 graduate of Oberlin. 
Lapiroff and the site's other creator, Ma'ayan Plaut, also a 2010 graduate, say they built the site out of love for their alma mater. They both now work for Oberlin, Plaut as a social media coordinator and Lapiroff as a web developer. Though they say that the site is unofficial, they did mention the idea to their bosses beforehand, and their fun side project has now turned viral, with 1,500 submissions in the first 24 hours and 15,000 unique visitors to the site in the last week and a half alone. They seeded the site with just 30 taglines.
Ben Jones, vice president for communications at Oberlin, said the college has not endorsed and will not be endorsing the website, or considering it linked to the college. That being said, if you can look past the bad language, it is a "wonderful communal love letter to Oberlin," he said.
"Using the f-word makes it edgy," said Jones, an Oberlin alumnus. "If they had made a site 'Why I should choose Oberlin,' it would have gotten 10 submissions. People respond to things that are edgy and unusual. And that amount of school pride is pretty cool."
Jones also said that if Oberlin officially endorsed it, it wouldn't have the same underground feel.  And it's that grassroots foundation that makes it popular, he said. Lapiroff said, too, that the site would lose some if its charm if it were officially endorsed by the college -- "it is a renegade website that is doing its own thing," he said.
Its popularity has bubbled over onto campus, too, said Ilyssa Meyer, a Student Senate member and a junior studying comparative American studies. Students are sharing the site's link and talking about it on campus, she said.  It is a "good expression of what Oberlin is all about," she said, adding that nearly every submission is relatable for any Obie.
Capturing the Oberlin attitude is what makes the site so successful, said Elizabeth Scarborough, CEO of SimpsonScarborough, a marketing research firm specializing in higher education. She said the site's language is not a good idea for any official university marketing strategy, but its authentic ethos is genius. "It's fucking fantastic," she said. "Clearly these people's passion for their school is shining through. It's the perfect translation of their brand."
Scarborough said it's smart that the Oberlin administration is letting the website run its course. There would be no point in attempting to take it down -- it would likely only draw ire from the community and be futile, at that, she said.
"Even with the drawback of having the bad language, it's the perfect example of what social media can do to help an institution market itself," she said.
Georgy Cohen, manager of web content and strategy at Tufts University and co-founder of Meet Content, has written about the site and its merits as a substantial marketing tool. She said the site works because it speaks the Internet language that only exists among this specific generation. Internet memes and other transitory Internet trends are powerful in communicating to those in the student demographic, she said.
Cohen said administrators miss the mark with this type of communication by trying to force it -- there is no "viral" button on YouTube that you can press when you upload a video, she said. "The main point is that we need to look beyond what our playbook is and understand there is a broader playbook out there about how people are sharing content and communicating and connecting online," she said. "We shouldn't write that off; that should be fair game."
This website works because it is true to the Oberlin spirit, she said, and attempting to "photocopy" it at another institution would probably fall flat.
Seth Odell, the host of Higher Ed Live (an online show about social media and digital marketing in higher education), said that he wouldn't suggest that colleges start dropping f-bombs all over the place, but that the site is a wake-up call to think outside the box in marketing. "I don't think the lesson here is that we should swear more, but we need to take the gloves off when it comes to social media."
Odell, too, said that thus far, higher education as a whole has harnessed social media, but only in a perfunctory capacity.  Most colleges and universities use social media outlets as "megaphones" to blast out information.  Some have begun engaging a discussion on social media, as well.  But what Oberlin has done, in an unofficial way, is go above and beyond in creating content that lives on its own.
And while higher education still has some work to do to beef up its social media fluency, Scarborough pointed out a 2011 Dartmouth College study that shows colleges and universities have harnessed social media at a faster clip than most Fortune 500 companies and charities.
Despite the praise, Plaut and Lapiroff say that the site is just meant to showcase the love and shared experiences of those who attended Oberlin.  They said they have added a "love" button to the submissions, alerting the creators about the audience's favorite slogans.  If all goes to plan, they hope to create buttons, T-shirts and other merchandise to sell.  All of the proceeds would be put back into the Oberlin alumni fund, Plaut said.
And Plaut and Lapiroff say they are the ones getting the last laugh -- it's rare to hear either of them drop an f-bomb in conversation.