You have /5 articles left.
Sign up for a free account or log in.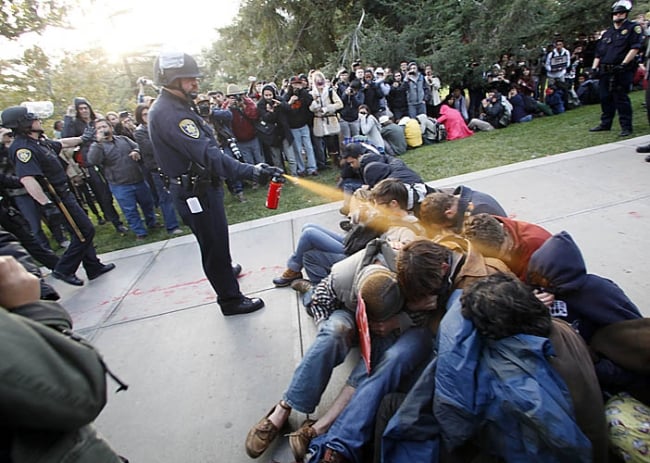 The University of California at Davis has pledged an investigation and has suspended two police officers, but video of campus police using pepper spray against students who were nonviolent and stationary has students, faculty members and civil libertarians stunned and outraged.
So are experts on campus protest, who say that the Davis response broke with standard police practice. "I'm trying to be as judicious as possible, but this is very far outside the norms of proper procedure. This was totally outrageous," said John McCarthy, a professor of sociology at Pennsylvania State University, who has written extensively about campus protest and about police response to protest.
He said that campus police should first err on the side of permitting protest. But if there is a need to clear a space, the standard response in a situation such as that at Davis, in which students are threatening no one,  is to issue a warning and then to remove students one by one. Pepper spray would never be used in such a situation, he said.
But it was at Davis.
The incident with pepper spray took place on Friday as police were acting to remove tents that some students, as part of the Occupy protests, had set up and were refusing to take down. The protests were about the broad issues of economic inequality raised by the Occupy movement, as well as concerns about tuition increases and budget cuts at the University of California and police conduct in protests this month at the university's Berkeley campus.

As the now-viral video shows, the police used pepper spray on a group of seated students. While the students were ignoring a request that they leave, there is no suggestion in the video that they posed any threat to anyone.
 

Anger over the incident has grown ever since, with people faulting not only the police for using pepper spray, but the university's leaders for not immediately grasping the significance of what had happened. Last week, the university was issuing statements about why it needed to clear the campus of the tents. By Saturday, the university's chancellor, Linda P.B. Katehi, was issuing stronger statements, but still not stating that the use of pepper spray in this instance was necessary incorrect.
Her Saturday letter called the incident "troubling," and said that Friday "was not a day that would make anyone on our campus proud." But her letter did not offer a conclusion on the use of pepper spray on nonviolent students. "The use of pepper spray as shown on the video is chilling to us all and raises many questions about how best to handle situations like this," she wrote. Katehi said she was forming a committee to report within 90 days on what happened, and how to balance the safety needs of the campus versus the rights of students to express themselves.
She also said she was asking student affairs officials "to review our policies in relation to encampments of this nature and consider whether our existing policies reflect the needs of the students at this point in time. If our policies do not allow our students enough flexibility to express themselves, then we need to find a way to improve these policies and make them more effective and appropriate."
On Sunday, the university announced that it was suspending two police officers, with pay, for their role in spraying students, and that Katehi had moved up the timetable for the task force to 30 days. The Sunday announcement also went further than the previous ones in stating the unacceptability of pepper spraying students in such circumstances.
"I have also heard from an overwhelming number of students, faculty, staff and alumni from around the country," Katehi was quoted as saying. "I am deeply saddened that this happened on our campus, and as chancellor, I take full responsibility for the incident. However, I pledge to take the actions needed to ensure that this does not happen again. I feel very sorry for the harm our students were subjected to and I vow to work tirelessly to make the campus a more welcoming and safe place."
Also Sunday, Mark G. Yudof, president of the University of California system, weighed in on the Davis and Berkeley incidents, issuing a statement that he was "appalled by images of University of California students being doused with pepper spray and jabbed with police batons on our campuses." Yudof announced a review of police procedures for dealing with protests systemwide, and said that "the time has come to take strong action to recommit to the ideal of peaceful protest."
(UPDATE: On Monday morning, Katehi announced that she was placing the chief of campus police on administrative leave. "As I have gathered more information about the events that took place on our Quad on Friday, it has become clear to me that this is a necessary step toward restoring trust on our campus," she said in a statement.)
While Katehi's statements of concern for students grew as the weekend progressed, so did student anger at her failure to respond immediately, or to prevent the incident from ever happening. On Saturday, as Katehi left her office following briefings on the situation, protesting students demonstrated their anger by lining the walkway from the office to her car and sitting in silence. This video shows students setting up the protest and Katehi walking by them, without interacting with them. (She has pledged to talk to them today.)
 

A professor who called for Katehi's resignation noted that she ordered the action to clear the protest, and that the university did not tell its police officers not to use certain kinds of force (such as pepper spray) on nonviolent students. In a widely distributed open letter, Nathan Brown, an assistant professor of English at Davis, described the pain felt by the students. He wrote to Katehi: "You are responsible for it because this is what happens when UC chancellors order police onto our campuses to disperse peaceful protesters through the use of force: students get hurt. Faculty get hurt."
Brown also questioned Katehi's statements about trying to make the campus safe for all. "I will leave it to my colleagues and every reader of this letter to decide what poses a greater threat to 'a safe and inviting space for all our students' or 'a safe, welcoming environment' at UC Davis: 1) Setting up tents on the quad in solidarity with faculty and students brutalized by police at UC Berkeley? or 2) Sending in riot police to disperse students with batons, pepper-spray, and tear-gas guns, while those students sit peacefully on the ground with their arms linked? Is this what you have in mind when you refer to creating 'a safe and inviting space?' Is this what you have in mind when you express commitment to 'a safe, welcoming environment'?"
The images from Davis are angering even observers who sympathize with the idea that a university might need to clear certain campus spaces. James Fallows of The Atlantic wrote that he could accept the idea that there might be a need to remove protesters from some locations. But he described his reaction to seeing the video: "Watch that first minute and think how we'd react if we saw it coming from some riot-control unit in China, or in Syria. The calm of the officer who walks up and in a leisurely way pepper-sprays unarmed and passive people right in the face? We'd think: this is what happens when authority is unaccountable and has lost any sense of human connection to a subject population. That's what I think here."
Some commentary from prominent academics has suggested that this is a key moment for higher education generally, not just at Davis.
"All of us – and university presidents more than anyone else – know the state of higher ed today demands critical attention. Yet, instead of working with the protesting students, too many university leaders are calling in police to 'maintain order' or to preserve 'safety' or 'security' or 'sanitation," wrote Cathy Davidson, the Duke University humanities scholar, on her blog.
"But the police don't come to preserve order; they come in post 9/11 anti-terrorist SWAT gear and the result is brutality incommensurate with minor crimes such as camping overnight on university property. There are real choices that need to be made about how to address the Occupy protests.  We're at a turning point, a Gettysburg Address moment, where moral authority and moral force need to be eloquently articulated before this historical moment devolves into violence and polarization. Our students are not wrong in the content of their protests. Calling the police does not address their issues; as we have seen too often, it can foster violence – with an ever-more imminent potential for tragedy."
The Police and Protest
Inside Higher Ed, seeking the perspectives of those who might be more sympathetic to Davis officials, e-mailed the president and president-elect of the International Association of Campus Law Enforcement Administrators over the weekend, but did not hear back. The association's journal in 2005 published an article praising the use of "less lethal munitions" (such as "pepper ball weapons") in calming some tense campus situations. But the examples in that article differed significantly from what happened at Davis in that they were fluid and involved imminent threats. The lead example, for example, is of a large group of fraternity members, intoxicated, fighting.
Some colleges that authorize their police forces to use pepper spray do so only in limited conditions (not apparently met at Davis). For instance, Bellevue College, in Washington State, permits the use of pepper spray "only to protect the public safety officer or others from imminent physical harm." Drake University has a "continuum" approach, in which pepper spray would be used only after a series of other attempts, such as trying to physically remove a person, have been tried.
Clark McPhail, professor emeritus of sociology at the University of Illinois at Urbana-Champaign, has written extensively about crowd control, and has consulted with police forces on many campuses, including his own. He said that he normally doesn't like to comment on police actions unless he had "eyes and ears on the ground" before something took place. But he said that, after viewing the video, he said that the police conduct was "outrageous," adding that "I saw no provocation justifying that blatant punishment of persons engaged in civil disobedience who were neither threatening the officers nor were they engaging in violence against person or property."
He said that he has seen numerous protests in 40 years at Illinois, and also has had extensive discussions with both the campus police there, and the municipal forces in Urbana and Champaign. "They have been very, very good about respecting First Amendment guarantees, and trying to avoid any actions that would be more provocative than preventative," he said. "It's better to negotiate and talk than to strike or to spray"
McPhail said that he's worried about "a sea change" in police activity (in society as a whole, not just on campus). "For many years, police were reminded that they were sworn to uphold the law, which includes both protecting person, property and public order, but also the First Amendment rights of assembly and speech and petition," he said. He said he worried that the latter training is not being emphasized as much as it should.
Greg Lukianoff, president of the Foundation for Individual Rights in Education, called the situation at Davis "awful," and said he was also worried about trends in the way campus police officers are responding to various incidents. FIRE was recently successful in a dispute over free speech rights at Sam Houston State University, but is concerned about possible patterns, Lukianoff said. "I cannot verify that there has been an uptick in cases involving excessive overreactions by the campus police recently, but it certainly seems to me as if there has been, even before seeing this case," he said.
The National Council of the American Association of University Professors on Sunday issued a statement denouncing the way police forces responded to student protests this month at both Berkeley and Davis. "All universities must make space for political dissent.  Students and faculty must be free to decide on the form of their dissent and, if they so decide, to engage in nonviolent civil disobedience without fear of bodily harm arising from a violent administration response," says the statement.
Robert M. O'Neil, the AAUP's general counsel, is a First Amendment expert who has been president of the University of Virginia and the University of Wisconsin System and who early in his career taught law at Berkeley. He was at Berkeley during the protests of 1964 and said that "nonviolent arrests and crowd control prevailed" there at that time.
Universities may have need in some cases, he said, to prevent protesters from blocking building exits and entrances. But he said that this should always be done with "the least intrusive means and methods least restrictive of protected expression." Looking at this month's events in California, he said that "the escalation of physical force and bodily harm, as well as the apparently mass crowd constraint, seem to me in striking contrast to the experience of 1964."