You have /5 articles left.
Sign up for a free account or log in.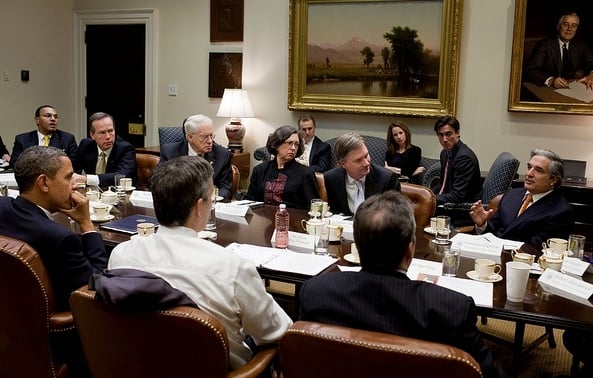 WASHINGTON -- A meeting Monday between President Obama, university chancellors and presidents, and experts on higher education cost and productivity appears to mark a shift in policy for the administration, which will focus more on college affordability in the coming months.
Obama, Education Secretary Arne Duncan, and several domestic policy advisers met Monday afternoon with chancellors and presidents from 10 institutions, including public universities, two private nonprofit colleges, and one statewide community college.
The discussion lasted about two hours, with the president in the meeting for more than an hour, and the conversation was wide-ranging, participants said. (Officials from various sectors, including public comprehensive colleges and for-profit colleges, complained that they had no, or insufficient, representation at the meeting.)
In general, Obama and the college leaders focused on a few key questions: how colleges can become more affordable while producing more graduates, and how new efforts in affordability or productivity can be "scaled up" from one college to large state systems or the nation as a whole.
"There were a lot of ideas," said Jane Wellman, founder and executive director of the Delta Project on
Postsecondary Costs, Productivity and Accountability. "It's
clear that they're asking and thinking about how we connect the issue to strategies in a way that makes this coherent and substantive."
The meeting's tone was cooperative, not confrontational, college presidents said. Obama appeared to be knowledgeable about the issues, interested in solutions and disinclined to lecture the higher education leaders about tuition prices (tempting as that often is for many politicians). The focus of the meeting was on college costs (the total cost of educating students) rather than college prices (what students pay), said Jamie Merisotis, president and CEO of the Lumina Foundation for Education. Increasing the number of Americans with college degrees, which Obama has described as a key goal for the country, requires decreasing the cost of educating students, given limited public and other resources, Merisotis added.
Expanding the Conversation

For one president's view
on the White House meeting,
please see
this essay
.  
Still, the president indicated indicated that the administration will be taking a strong stance on productivity, said Nancy L. Zimpher, chancellor of the State University of New York System. "He did say that he was inclined to take a tough line on these cultural shifts we need, and how we can increase productivity and how we reduce costs," she said.
The Obama administration's higher education policy in the past has focused on getting more financial aid to needy students, including an increase in the maximum Pell Grant that accompanied the shift to direct lending in 2009. While the president has frequently said that his goal is for the United States to have the world's highest proportion of college graduates by 2020, the focus on what colleges can do to reduce costs for students is relatively new and appears partially influenced by the recent outcry about student debt that arose after the Occupy protests began in September.
Last week, Duncan told the Federal Student Aid conference that colleges needed to address rising tuition prices with more urgency than in the past. Thursday, Duncan and Vice President Biden will discuss college affordability at a high school in Neptune Beach, Fla.
"
It's clear to me they're intent upon having an impact in this area," said Freeman A. Hrabowski, president of the University of Maryland-Baltimore County. No clear policies took shape during the meeting Monday, but several participants said they expect to see the administration propose financial incentives for colleges that increase degree attainment or apply new ways to cut costs and increase productivity.
Some college presidents emphasized the need for "maintenance of effort" clauses, which in the 2009 stimulus bill prevented states from cutting college budgets to pre-2006 levels when additional federal money was added, meaning that the federal funds did more than fill a gap. Many public university leaders have asserted that pressing states to support their public colleges is a legitimate -- and necessary -- role for the federal government.
"That, by itself, is one of the most significant issues that we can get conveyed," said F. King Alexander, president of California State University at Long Beach. "We can somehow get the federal government to hold the states accountable."
A key focus was on which successful efforts to cut costs for students and institutions can be replicated nationwide. Many studies or discussions on increasing college affordability and productivity, including a House of Representatives subcommittee hearing last week and Duncan's speech to the student aid conference, have listed a variety of initiatives that have been effective at one institution without singling any out for nationwide imitation.
"Where pilot programs by themselves may be successful, we have got to figure out a way to scale them up so that they truly impact a lot of our big places where so many of our students resolve, like California, Texas, New York and Florida," said Alexander, noting that higher education leaders from three of the four largest states were represented at the meeting. "If those states aren't succeeding and making progress in this direction, it's going to be very, very difficult for the administration to notice a lot of great changes in the numbers they're hoping to see."