You have /5 articles left.
Sign up for a free account or log in.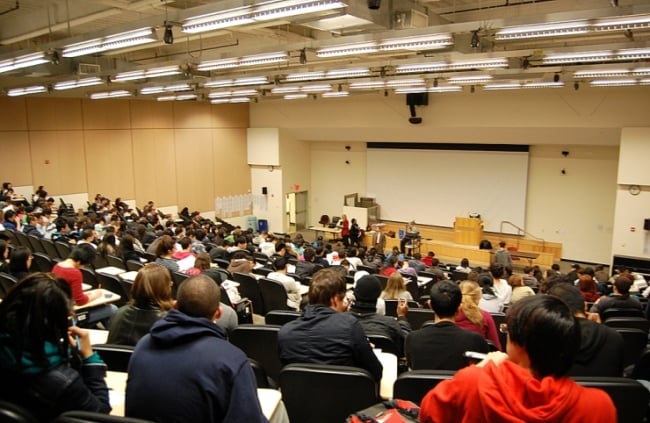 ORLANDO -- New York City Mayor Michael Bloomberg set off a fracas last week when he said that class size didn't matter at all -- as long as the right teacher is in front of the classroom. He was talking about elementary and secondary schools, but the resulting criticism might well be heard if someone made the same remark about college instruction. Colleges, after all, boast about small student-to-faculty ratios, and viewbooks show case seminar rooms and laboratories, not the giant lecture hall.

At a session here at the annual higher education meeting of the Southern Association of Colleges and Schools, officials from Virginia Tech tried to challenge the audience's assumptions that large classes are necessarily bad learning experiences.

Peter Doolittle, director of the Center for Instructional Development and Educational Research at Virginia Tech, didn't ever say that everything students and professors like about more intimate instruction can be replicated in a large class. Rather, he argued that "large classes aren't going anywhere any time soon." Faculty members can "keep butting our heads against the wall" demanding more small classes, or they can focus on making larger classes better, he said.
At Virginia Tech, classes of 100-plus students are "almost commonplace," he said. And each semester, 10-15 classes enroll more than 500 students each -- with one freshman course (in geography) enrolling about 2,700. Virginia Tech is a large university, and some of those present here gasped at those numbers. But most agreed that, however they defined large classes, they were seeing more of them. Administrators joked about different terminology: Virginia Tech calls the 500-plus sections "ultra-large" while others prefer the term "super-sized section."
Doolittle led the group through a series of discussions on some of the assumptions about large classes.  The group was split fairly evenly on the statement put up for debate: "Large class pedagogy is inherently less effective than small class pedagogy."
Much of the skepticism came from people who doubted that colleges would provide appropriate resources to make large classes work. Doolittle asked for group discussion of another assumption -- that large classes can be an effective way to save money that could be used to improve the teaching and learning experience. He referred to this as the philosophy of "stacking them deep and teaching them cheap."
Several said that they believed that one could teach large classes well with the right resources -- people (teaching assistants, technology assistance and librarians) and with the right facilities (comfortable lecture spaces, appropriately wired). But they said they feared that savings from having large sections wouldn't go to pay for quality instruction, but would just be used to offset budget cuts.
Virginia Tech surveyed faculty members who taught classes of more than 100 students to ask them to identify factors that they thought made classes of that size work. The top answers: a clear course structure, engaging pedagogy and "know[ing] your students."
Doolittle discussed research on how to effectively do those things. Some of these issues might seem basic, like a clear syllabus. But Doolittle suggested that many faculty members may assume incorrectly that they can't personalize a large lecture course.
For example, he said that before teaching a large section, he sends an e-mail message to all students, introducing himself and asking some basic questions about their knowledge of the subject matter and their goals for the course. In lectures, he works in references to the results, by saying things like "for the many of you who enrolled in this course" for a specific reason, this material may be particularly relevant. All of a sudden, students feel that their professor has heard them.

Colleges need to work with those who teach large courses to help them become effective, Doolittle said, and that extends beyond handouts to actual observation and coaching. For example, he said that he was working with a faculty member who just stayed in one place at the front of the classroom. Doolittle told him he needed to "be mobile," and move around. When he visited the class the next time, the faculty member had dutifully started moving around, but Doolittle noticed that as he walked the aisles "he never once looked at a student." So the follow-up was to start doing that. His point, Doolittle said, wasn't that the professor didn't care, but that no one had ever spent time talking about how to pull off the large class.

Another common problem identified (and cured) by coaches/observers, he said, was eye contact from the front of the room. He said that he sees many instructors who "are looking about eight feet above the students, teaching to the exit sign," and that this can be changed.

In multiple ways, Doolittle demonstrated ideas faculty members might try. As he was proceeding through his PowerPoint, he hit upon a slide that said "look at the picture." His point, he explained, was that however good one's slides are, students can't be expected to just absorb slide after slide of information; they need a mix. "Students aren't tape recorders."

Similarly, he said that faculty members need to remember that good learning requires "reflection" in which students communicate the knowledge acquired. He favors brief student discussions (small groups with those sitting near each another). Others focused on the use of clickers. The common idea was that you need to hear what's being picked up – and sometimes to adjust plans when a concept hasn't been understood well.

Attitude is also key, Doolittle said. He said that students pick up on how excited (or not) a faculty member is. When a professor is full of excitement, he said, students will be more engaged (and will show up).

One faculty member in the Virginia Tech survey focused on a related issue, and suggested that professors need to let people know that teaching a large lecture course is an important responsibility, not something assigned to the person least popular in the department. Said this faculty member: "Let the students know that you want to be the professor of record and that you're not standing before them because you are being punished for some bad deed."