You have /5 articles left.
Sign up for a free account or log in.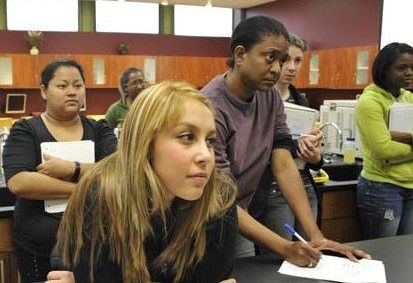 If low graduation and student transfer rates at City Colleges of Chicago don't start improving, the system's leaders could lose their jobs. That's because the formal job responsibilities of the chancellor, presidents and even trustees include graduation rate goals.
Cheryl L. Hyman, chancellor of City Colleges, began a "reinvention" of the system soon after her arrival in 2010. While the seven-college system has long welcomed urban, lower-income students who have few higher education options, Hyman argues that it hasn't done enough to help students graduate and get jobs.
Hyman and city leaders' case for the reinvention plan has made the colleges sound broken.
"You cannot continue with a 7 percent graduation rate," said Rahm Emanuel, Chicago's mayor, at news conference last summer. "We owe the taxpayers – and most importantly the students – a better community college system."
The fix must start at the top, Hyman said, so she asked six of the seven presidents in the system to reapply for their jobs. The sole exception, Donald J. Laackman, president of Harold Washington College, was hired just before the overhaul was announced. Only one of four incumbents who applied, José Aybar, president of Richard J. Daley College, kept his job. After a national search, City Colleges hired five presidents from outside the system.
Measurements of the plan's goals – more credentials earned, increased transfer rates, improved remediation outcomes and better success numbers for adult students – were written into the presidents' job descriptions. And the board has required that campus chiefs provide "strong, decisive leadership" toward "dramatically" improved student success.
"Will I be held accountable? You betcha."

--Cheryl L. Hyman, chancellor of City Colleges of Chicago
That expectation goes beyond presidents.
"The Board of Trustees expects all staff and officers of the district to advance the goals of the reinvention of the City Colleges of Chicago and will hold staff accountable for reaching these goals," according to a board resolution passed last January.
The push at City Colleges has strong links to the national "completion agenda" of President Obama and influential foundations. Emanuel's last job was as Obama's chief of staff. And the Bill and Melinda Gates and Joyce Foundations have kicked in funding to support the reinvention.
Faculty members have reacted cautiously to the plan. Some bridle at public pronouncements about their seemingly broken colleges. And despite the leadership changes, they feel too much of the blame is directed at faculty.
"We're the enemy. That's the way we feel," said Polly Hoover, president of the district-wide Faculty Council, and a professor of humanities at Wilbur Wright College. "We have been represented as the problem."
Hoover said professors support the goal of improving student completion rates. But she worries that the reinvention could encourage college leaders to game the system by focusing on easy fixes rather than those that might have a substantial impact.
"We want students to do well," she said. But "for real, real change, you have to have a longer time frame" than what the plan advocates.
For her part, Hyman said she understands that anxiety always comes with change. But she said there is an urgent need for the system to help more students earn credentials and train for jobs. To do that, the district's leaders must set quantifiable goals, and stick to them.
"Everyone will be measured by this," said Hyman. "Will I be held accountable? You betcha."
Tale of the Tape
So how bad are graduation rates at City Colleges?
The 7 percent number cited by Emanuel is the graduation rate metric used by the Department of Education, which looks at full-time, first-time students over a period equal to 150 percent of the time it would take to earn a credential – 3 years for an associate degree. That rate lags far behind the national average of 22 percent for public, two-year colleges. But only 35 percent of the 127,000 students who attend City Colleges count toward that graduation measure, because many have studied elsewhere or enroll only part-time.
Shortly after arriving, Hyman called for a closer look at the system's performance. The resulting research tried to be more representative of the student population. What they found wasn't pretty.
When part-time students are included, the graduation rate bumps up a tick to 8 percent. And when time to degree is doubled, to six years, still only 13 percent of City College students make it to graduation.
Any way you cut it, the system has a problem with completion. More than half of degree-seeking students (54 percent) leave City Colleges after just six months, and only 16 percent of students transfer to four-year institutions.
The chancellor is hardly shy about touting unflattering numbers. Transparency, she says, is also part of the reinvention.
Improving graduation and transfer rates won't be easy, in part because of the preparation of students who come to City College. More than 90 percent need remediation, and 36 percent are under the poverty line.
Hyman is familiar with the challenges City College students face. She grew up on Chicago's West Side, dropping out of high school her senior year and eventually graduating from Olive-Harvey College, which is part of the system and currently has a 5 percent graduation rate.
The system has already made some progress, college officials said. For example, budgeting has been tied to the student success goals. At Harold Washington, a need for more full-time faculty was identified as part of the reinvention, and 20 new hires were brought in, Laackman said, adding to a base of 100 full-time faculty members.
Tying academics to job placement is a priority under the plan. The system is working with city leaders and local corporations on a curriculum redesign and the creation of new certificate programs. Jobs in health care, transportation and distribution and logistics will be the initial focus
College officials also point to improved student services. All seven colleges will soon have wellness centers, and more student advisors have been hired under the plan.
The ratio of students per adviser across the district was 920 to 1 in 2010. So far, that ratio has been reduced by 25 percent, thanks to the hiring of 20 advisers. The colleges also brought in 120 new tutors and mentors.
'The Best Talent'
Hyman thinks community college presidents should have some skin in the completion rate game, so she quickly decided to reevaluate leadership in the system.
When the plan to clean house was announced, some faculty leaders publicly worried that Hyman would pack the president posts with candidates who, like her, hail from business. Hyman worked for ComEd, an electric utility company in Illinois, for 14 years, most recently as vice president of operations strategy and business intelligence.
That didn't happen: All five of the new presidents are academics who hold doctorates. Only Laackman has a corporate background. And Hyman didn't pick the candidates herself. Search firms sifted through 140 applicants, and an advisory group of faculty, staff, students and local stakeholders picked the final slate.
"We wanted the best talent," Hyman said, "wherever they were from."
Responses to the hires have been mostly positive. A faculty union leader said, "I was expecting worse." But some professors have criticized the exodus of experience, now that the chancellor and all seven presidents are newcomers. Aybar, the only president who successfully reapplied for his job, is the veteran of the group. He first became president in August 2009.
Hoover said the leadership turnover could hurt the system's purse strings.
"We lost institutional memory and connections with people downstate, in Springfield," the state's capital, she said.
Aybar said he wasn't upset about having to reapply for his job. "It was a pleasure."
He is excited about the reinvention, saying it has been a collaborative effort that has helped refocus the college, and his role as president.
"This provides a great amount of clarity about the job," he said.
After just one year, many of the plan's recommendations are still being phased in. But it calls for regular checks on progress beginning this summer, and system officials promise that performance evaluations of administrators will be tied directly to the reinvention.
That means if student success rates don't improve in coming years, the seven presidents and Hyman won't be deemed successes, either.