You have /5 articles left.
Sign up for a free account or log in.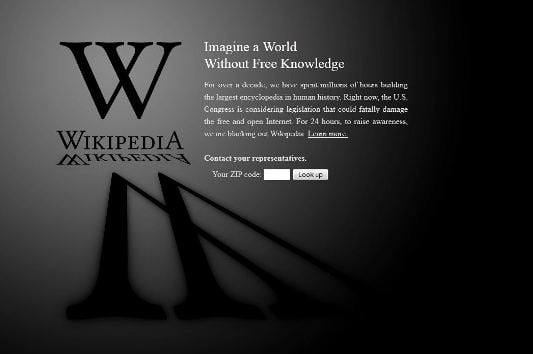 Undergraduates trying to look up Bob Dole's birthday (July 22, 1923), the population of Mauritius (about 1.2 million) or the state insect of South Dakota (the honeybee) had to do so Wednesday without the only encyclopedia many of them have ever known.
With Wikipedia blacked out for 24 hours in protest of a pair of anti-piracy bills under review in the U.S. Congress, students scrambling to write early-semester research papers without the open-source encyclopedia posted panicked remarks to Twitter. And just as fast as the 18-22-year-old cohort tweeted about their plight, 30-somethings nostalgic for late nights spent poring over Encyclopedia Britannica sent snarky retorts.
But at dozens of universities, students received supportive tweets from a place where Wikipedia is often a dirty word: the library.
"No Wikipedia, No fears.... The library is always here with all the answers you will ever need!" tweeted the staff at Temple University.
The librarians at Western Connecticut State University posted, "The library has plenty of online encyclopedias to help you survive today's wikipedia blackout."
And at Detroit's Wayne State University, distraught students were encouraged by this message: "If you're missing Wikipedia today, don't forget that the library is always here to help you."
Similar posts greeted Wikipedia-less students at the University of Oregon, Butler County Community College, George Washington University and elsewhere.
Today's freshmen were in second grade when Wikipedia went online in 2001, and many grew up favoring it as a quick and handy research tool. But academics have long lamented the site's slow creep onto "works cited" pages and bibliographies. While much of Wikipedia's information is accurate and its articles often link to more definitive sources, few professors accept the site as a valid source and instead encourage students to use journal databases or -- get this -- books for research.
That's why the Dominican University librarian Ken Orenic said that Wednesday's shutdown was a "teachable moment." He posted messages to the Illinois college's Facebook and Twitter pages offering help for anyone struggling with Wiki-less research, but said it was still business as usual at midday.
Scott Vine, a librarian at Franklin & Marshall College, in Pennsylvania, posted a similar message. Some students enter college having done most of their previous research on Wikipedia, he said. With that in mind, Vine wanted to make sure students had somewhere to turn if the blackout threatened their classwork.
"A lot of first-year college students have had very little experience using an academic library," Vine said. "Most of the time, they're going to go to the Internet and looking something up."
It wasn't just Wikipedia that went offline Wednesday. For example, WordPress, which hosts a number of academic blogs, disappeared for the day, and pages on the websites of Baruch College, Massachusetts Institute of Technology and Syracuse University expressed solidarity with the blackout campaign.
At Kansas State University, Bobby Specht, a junior, had been bracing for the blackout for weeks. A computer science minor, Specht worries the anti-piracy laws being debated in Congress could stifle future online startups. Most of his classmates hadn't heard about the debate.
"It's never something that's really been talked about on campus," he said. "But today, it's a lot different. There's been a lot of reaction."
Specht visits Wikipedia about 50 times a week, but said he used a print encyclopedia once over winter break. And while some classmates shared his outrage about the anti-piracy bills, others were more worried about how they were going to finish a Shakespeare project without Wikipedia.
"Everyone's like, 'If Wikipedia is gone, I don't even know how to research anymore,' " he said. "I think encyclopedias have been removed from our idea of ways to find information."
Lucky for them, the site was never really gone at all. Tech-savvy users weaseled around the outage by quickly pressing "escape" on their keyboard, which resuscitated Wikipedia and helped save that Shakespeare homework.