You have /5 articles left.
Sign up for a free account or log in.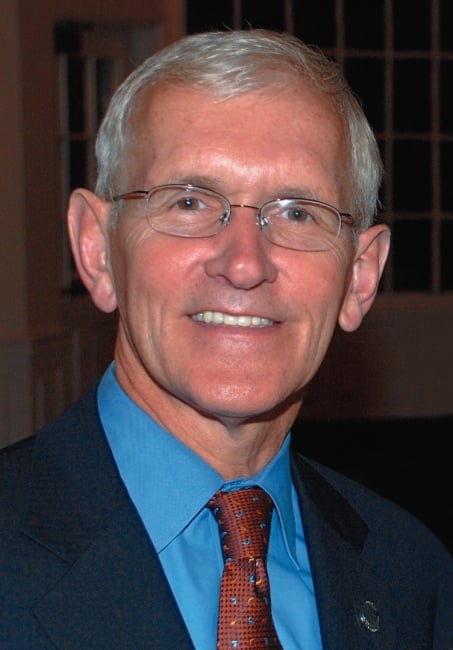 The Association of Private Sector Colleges and Universities is set to name Steve Gunderson, a former Republican congressman, as its next president, the for-profit trade group confirmed over the weekend.
Gunderson will bring a reputation as a bridge-builder to the post, somewhat of a departure for the association, whose previous president, Harris Miller, was pugnacious with the industry's critics on Capitol Hill and elsewhere.

The former Wisconsin Representative has long been an advocate for traditional higher education. He was a finalist for the presidency of the University of Wisconsin System in 2004, and has spoken at conferences hosted by college groups that don't often see eye-to-eye with for-profits, including the American Association of Community Colleges and the Association of Public and Land-Grant Universities. He also did consulting work for the American Council on Education.
Gunderson was a moderate during his 16 years in Congress. He is openly gay, and was outed by a fellow Republican on the floor of the U.S. House. He was the only Representative in his party to vote against the Federal Defense of Marriage Act.
Since leaving elected office in 1997, Gunderson has worked as a management consultant and, most recently, as president of the Council on Foundations. President Obama appointed him to the Commission on White House Fellows in 2010.
"It is my privilege to join such a well-respected organization that is working every day to ensure more students can access the American Dream," Gunderson said in a written statement. "If education reform defined our conversations over the past 20 years, access to postsecondary education will define our focus in the next decade." 
While hiring a Republican for its top job, APSCU will maintain Democratic street cred in its leadership by retaining Brian Moran, who has served as its interim president since Miller's departure last year. Moran is chair of the Democratic Party of Virginia and a former state lawmaker and gubernatorial candidate. Miller was also a Virginia Democrat, so the association was slightly tilted at the top. Moran will remain APSCU's executive vice president of government relations and general counsel.
Gunderson, while speaking to public university leaders in 2005, warned of growing scrutiny of higher education by lawmakers and the general public. He said college leaders would need to work better with Republicans to avoid attacks from that side of aisle.
The higher education establishment had largely cast its lot with Democrats, Gunderson said at the time, leading Republicans to say, "They're not going to vote for us anyway, so what do we have to lose?"
Praise from One Dupont
Miller stepped down last summer, shortly after the Department of Education issued its gainful employment regulation. The association battled the rules during their development, in what critics of for-profits call the industry's successful lobbying effort to weaken the initial proposal. However, APSCU has sued to block gainful employment, arguing in an ongoing lawsuit that the regulation is unconstitutional.
Miller's resignation was abrupt. Some speculated he was forced to leave after a few missteps, like a web video that mocked community colleges, which some felt was in poor taste. But he said the decision was his own, and that he was exhausted after helping lead the for-profit industry during two years of intense political pressure.
Gunderson received positive early returns from One Dupont Circle, which is home to many higher education trade groups.
In recent years, leaders of traditional colleges bristled at APSCU-led criticism of their institutions, such as for low graduation rates of community colleges. (Nonprofit higher education also takes shots at for-profits.) Gunderson's appointment might signal a more cooperative approach by for-profits in the future.
"Steve Gunderson is thoughtful, experienced and highly respected and will be a great asset for APSCU," Terry Hartle, senior vice president of government and public affairs at the American Council on Education, said in an e-mail. "Steve's career -- both on Capitol Hill and at the Council of Foundations -- has given him a great deal of experience in building bridges and sustaining coalitions. That's an excellent background for his new post."
APSCU officials praised Gunderson's record as an advocate for workforce investment and for nontraditional college students.
"Under Steve's leadership, APSCU will drive the conversation about our schools and the contribution they make to higher education in the United States," said Arthur Keiser, the association's chairman and also the founder and chancellor of Keiser University, a former for-profit institution that recently switched to nonprofit status.
Gunderson will face several challenges in leading the primary for-profit association.
While the regulatory pursuit of for-profits has ebbed in the Beltway, for now, several prominent members of Congress continue to press for more legislative curbs. Senators Tom Harkin of Iowa and Dick Durbin of Illinois, both Democrats, hold regular hearings on the sector. The Obama administration remains skeptical about the industry, but no imminent moves by the executive branch appear likely.
Concerns about possible state regulation, and the pursuit of for-profits by attorneys general, will be priorities for Gunderson. So will the expected increases in scrutiny of the accreditation of online institutions.
Finding consensus among APSCU's 1,800 members also won't be easy. As is the case for the American Council on Education and other large umbrella groups in higher education, APSCU must speak for a broad range of colleges.
Local trade schools and large publicly held corporations often have different interests, and the big fish among for-profits have their own sophisticated lobbying and public relations operations. They must also answer to the market's vicissitudes.
The for-profit industry is often viewed monolithically during policy debates, which frustrates some advocates, who feel higher-quality for-profits get lumped in with the so-called "bad actors." Gunderson will need to confront the question of whether to address stratification in the industry.
"I hope he's able to lead his members because I'm sure he'll give good advice," said David Baime, senior vice president for government relations and research for the American Association of Community Colleges. "He's a great choice for the sector and he excels both as a policy person and as a political person."
In the association's statement, Gunderson stressed for-profits' role in advancing the "completion agenda" push to increase the number of American workers with some college education.
"With budget constraints at the state and federal levels, the private sector must play an important role in providing the access to post-secondary education essential to maintaining America's middle class," he said.
More from For-Profit Colleges