You have /5 articles left.
Sign up for a free account or log in.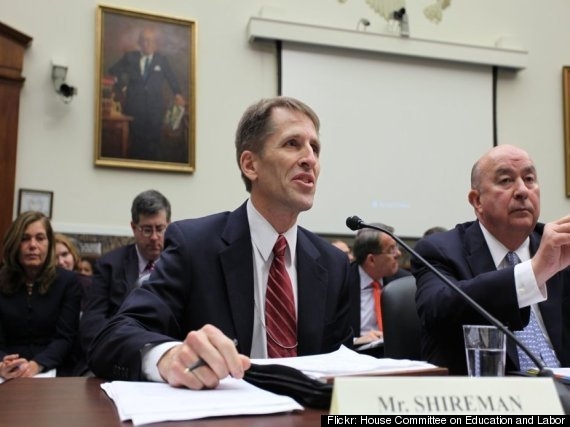 Sacramento has upstaged Washington as the hot spot for policy debates over for-profit higher education.
While federal scrutiny over for-profits continues, some of that energy has shifted to states. And a recent flurry of activity in California has many observers wondering if the Golden State will be where advocates for tighter regulation of the industry make their next play.
What's clear is that California has serious money problems, and lawmakers are looking for cost savings wherever they can find them. That includes spending on Cal Grants, likely the nation's most generous state-based financial aid system. With a maximum annual grant of $12,192, state spending on the program has swelled to $1.6 billion from $915 million over the last eight years.
There also may be good reasons to take a hard look at some for-profits. The California Bureau for Private Postsecondary Education, which was created two years ago, has already closed down several for-profits. The agency last week shuttered the Bay Area-based Institute of Medical Education after allegedly finding operational, accreditation and financial problems at the college. And under a new law, dozens of for-profits have loan default rates that are too high to qualify for the primary state aid program.
Amid this backdrop the California Student Aid Commission today begins a public hearing on whether the grants should cover all colleges' online degree programs. The commission says it is in a fact-gathering mode. But for-profits have plenty to worry about in California, given the budget crisis and a proposal by Governor Jerry Brown to cut Cal Grant award levels for students attending for-profits and private colleges.
The commission has used aggressive language to describe the goal of the hearing, citing in a press release concerns by some "about the quality of education that students may receive in what many see as an emerging 'Wild West' of higher education – a frontier where anything goes and not much is regulated."
There are plenty of sheriffs looking to tame for-profits in California. In addition to the commission and regulation-minded lawmakers, San Francisco's city attorney recently requested information from Education Management Corp. about student recruiting practices and job placement reporting at the Art Institutes of San Francisco and seven other Art Institutes in California, according to a corporate filing from the company.
The state is also home to tenacious consumer advocates. Among them is Robert Shireman, who oversaw the U.S. Department of Education's pursuit of for-profits during the gainful employment push and now leads California Competes, a nonprofit focused on higher education and workforce development.

For-profit-college officials, for their part, are watching the developments with interest but generally staying mum until they see what emerges.
Shireman testified last week at a hearing hosted by the California Legislature on for-profit regulation. He held up $15,000 in cash to emphasize a point about the problem of incentive compensation for student recruiters (and later said he was escorted away by the sergeant at arms to help ward off any would-be muggers).
Joining Shireman at that hearing were representatives from the Institute for College Access and Success and Public Advocates Inc., who called for stronger state oversight of for-profits and criticized the Cal Grant money flowing to the sector.
Students at for-profits in the state receive an average grant of $6,900, said Debbie Cochrane, a program director at TICAS, and a collective $105 million in Cal Grant aid, which eats into the pie for students who attend California's public and private universities.
"The combination of relatively weak oversight – including virtually no oversight for a few recent years," Cochrane said in her written testimony, "and an unusually generous state grant program have made the state an attractive place for for-profit colleges to do business."
WGU California?
Shireman is one of only two repeats from that hearing who will testify before the student aid commission this week. (Click here for his prepared statement for today.) The broad list of invitees includes for-profit officials like Dawn Iwamoto, vice provost for the University of Phoenix, an accreditor, textbook publishers, and faculty and student groups from public institutions.
But the hearing participant drawing perhaps the most attention is Western Governors University. The relatively low-cost nonprofit university has been held up as a potential white hat among online colleges by lawmakers in other states -- from both sides of the aisle -- and is also a favorite of powerful foundations.
Institutions that lack a physical location in California, a category that includes Western Governors, are not eligible to participate in the Cal Grants program. So while a university spokeswoman said Western Governors enrolls 3,200 students from California, more than from any other state, those students do not receive state aid.
That could change, however, particularly given budget cuts to the California State University system, which has been forced to turn away thousands of students. Bachelor's- and master's-degree offerings from Western Governors could help meet the state's capacity, and are generally cheaper than those from for-profits.
"We've had some interest in Western Governors University expressed by commissioners," said Diana Fuentes-Michel, executive director of the California Student Aid Commission. A Republican state lawmaker has also introduced a bill calling for a study of the feasibility of creating a Western Governors University, California, echoing an earlier report by the Legislative Analyst's Office.
But Joan Mitchell, the university's spokeswoman, said no such move was imminent, despite brewing interest.
"It's not something we're going after," Mitchell said. "Right now we're not expecting to do anything in the state in the near future."
Loan Default Rates
Last year Governor Brown signed a bill seeking to cut Cal Grant spending by tightening eligibility rules. Students now must meet income and financial need requirements each year to keep receiving grants. But the biggest change was tying participation for colleges to their loan default rates.
Institutions where more than 40 percent of undergraduates take out federal student loans need three-year cohort default rates of less than 24.6 percent to be eligible. Otherwise, students can't receive Cal Grants.
For-profit advocates felt the law was designed to single out the sector, in part because their students are more likely to receive federal loans. The law knocked 76 institutions out of the program, 67 of which are for-profits.
Corinthian Colleges, Inc., owns 16 campuses that failed to meet the standard, including all 14 Everest College locations in California and two Heald College campuses.
Kent Jenkins, a Corinthian spokesman, said default rates at those institutions were indeed too high, and that the company had invested lots of money to improve them. "We obviously want to have low default rates."
The two-year default rate companywide is expected to fall to 7-9 percent this year from 22 percent for a recent cohort, Corinthian officials have said.
The impact of the new law in California has been minimal for Corinthian's students, however, Jenkins said. That's because Everest students did not qualify for Cal Grants anyhow, due to the short length of programs offered by those campuses. As a result, only students at the two Heald campuses lost state aid eligibility.
About one in 10 California college students attend for-profits. The state's higher education options are clearly in flux even without further regulation, as California's community colleges expect to turn away at least 200,000 students this year because of budget cuts and Cal State continues to struggle with capacity issues.
Whether for-profits, Western Governors or another player will fill that void is anybody's guess. But answers should start to materialize as the state's Legislature begins hashing out the budget in two months.
Reached before today's hearing, Shireman said there is strong interest in consumer protection for students in California. In his prepared remarks, he pushes for the state to begin tracking employment and earnings data for all college programs, and points to such efforts underway in Florida, Missouri and Virginia.
"One factor that has contributed to problems with online education programs is that it is so easy to add enrollments without attention to quality," Shireman said in his written statement. "Monitoring program enrollments across institutions makes it possible for the state to keep an eye on emerging problems and to consider restrictions on growth when programs have not adequately proven their value."
Fuentes-Michel said the commission was still collecting information on the rapid growth of online institutions in California. She said commissioners' goal for the hearing is to vet concerns about for-profits and other online colleges to ensure that Cal Grants are being used for good student investments.
"We feel strongly that we need to get ahead of the curve," she said.