You have /5 articles left.
Sign up for a free account or log in.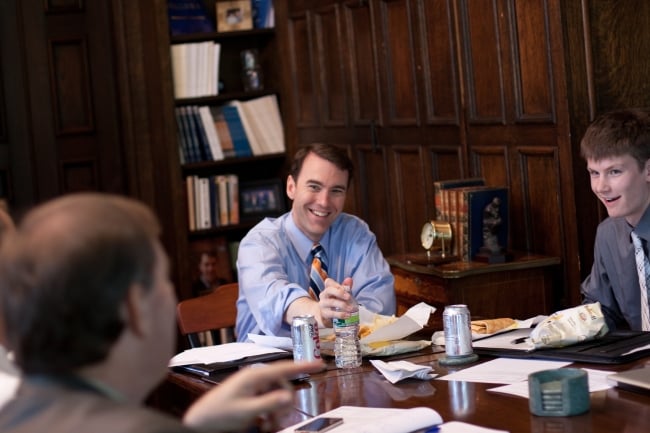 After several years of traversing the country and talking with some of the most influential executives in all fields about leadership development and what makes a good leader, and a lifetime of being mentored about how to be a good leader in his own right, it's time for Michael Lindsay to put all that knowledge into practice.
He is now six months into his presidency at Gordon College, a Christian liberal arts college in Massachusetts. Inaugurated in September at age 39, Lindsay is one of the youngest college presidents in the country.
Also putting Lindsay's leadership knowledge to the test is Ken Hallenbeck, a senior at Gordon, the student body president, and now Lindsay's staff assistant and mentee.
Lindsay has taken Hallenbeck under his wing, employing him in his office most nights between 5 p.m. and 7 p.m., where the senior does office tasks and helps Lindsay think through university issues and his role as president. The goal, Lindsay said, is to give Hallenbeck an opportunity to see every aspect of a leadership role, from the intellectually stimulating to the routine tasks such as responding to e-mails.
The mentor relationship is something Lindsay knows well. He was mentored throughout his career and he still regularly seeks advice from senior administrators at other institutions. The relationship between Hallenbeck, Lindsay, and Lindsay's own mentors illuminates two aspects of developing leaders and teaching leadership that are often overlooked: the informal network of connections that help individuals rise through the ranks and the personal habits and social skills that leaders must understand if they are to be successful.
"The hardest part of a presidency is dealing with what are truly divergent constituencies," Lindsay said in an interview with Hallenbeck present. "A president has to serve all these groups, and best way to learn how to handle those constituencies is to see how others do it."
Hallenbeck's role in Lindsay's office began this fall after Lindsay, then only a few weeks on the job, invited Hallenbeck to follow him around for a day and write about it to help other students get to know the new president and better understand a president's role.
Lindsay said the idea for of bringing Hallenbeck into his office came from his own extensive research on leadership. Before becoming president, Lindsay was an assistant professor of sociology at Rice University, where he studied leadership and collected the largest set of interview data conducted with leaders across the country, including U.S. presidents, other senior government officials, Fortune 500 executives, artists, performers, and higher education leaders, which he is pulling together for a book.
One of the programs he studied was the White House Fellows program, which places aspiring leaders as assistants to senior U.S. executive branch officials, such as cabinet secretaries. Lindsay called the program "the best leadership development program out there," specifically because it combines high-level thinking on major issues with the daily logistical work of management, such as scheduling. "It's instructive because both are required to do the job," he said.
"I told myself that if I ever had the chance to be in a senior leadership position, I would make sure to take on some measure of mentorship," he said.
Lindsay said his own career path and understanding of leadership was shaped by working closely with a university president when he was younger. For a few months between getting his bachelor's degree from Baylor University and graduate school, he worked as an assistant to Gary Cook, the president of Dallas Baptist University.
Cook and Lindsay met when Lindsay was teaching Sunday school to Cook's son. Cook said he was impressed with the level of interest Lindsay took in his son; if he missed a week of Sunday school, Lindsay would call. As a result, Cook took an interest in Lindsay, who at that point was contemplating a career in higher education, and asked him to work in his office until Lindsay went off to seminary in the fall.
In Cook's office, Lindsay would read and brief the president on the news and mail, accompany the president to meetings, and, on one occasion, drive around Dallas photographing architecture Cook hoped to model for a new building. Lindsay said that job was probably more "grunt work" than what Hallenbeck does in his office, but it also exposed him to some of the more intimate and difficult moments of the presidency, such as when Cook had to deal with upset faculty members or fire an employee.
One unique aspect of the assignment was the structure of Cook's office, which the president modeled off that of Trammell Crow, a Dallas real-estate developer who had an office so large that it included his staff. While Cook's office was not quite so large, it was open to the assisting staff members, who could overhear most of what the president did.
Early on in the relationship, there were hints of what was to come. A few weeks into Lindsay's time in his office Cook said he told Lindsay that he would make a good college president one day. Even in his 20s, Cook said, Lindsay showed the curiosity, intelligence, genuine interest in other people, and work ethic required of someone in university administration. And shortly after leaving Dallas Baptist for seminary, Lindsay sent Cook a thank you note, and in it he wrote, "You reminded me of the difference one person can make."
After leaving for seminary, Lindsay returned to Dallas to staff Cook during summer breaks and holidays. The two continue to talk regularly about both personal and professional matters, and Lindsay has regularly turned to Cook for career advice. Cook said he strongly recommended that Lindsay choose Princeton for seminary over the George W. Truett Theological Seminary at Baylor, and that he fund his time at Oxford University through a Rotary Ambassadorial Scholarship.
He also helped connect Lindsay with George Gallup, for whom Lindsay worked as an assistant during his time at Princeton, eventually directing several national surveys for the Gallup Organization and co-authoring two books with Gallup.
Cook said his style of leadership, and his drive to mentor others, comes from his understanding of Christianity. "It really does come from my faith," Cook said. "It is what Jesus taught us to do. He said, 'Go and make disciples.' " Cook said there are probably seven or eight other individuals whom he has worked with and tried to influence in the way he is doing with Lindsay.
While many universities have been criticized for a lack of succession planning, Cook has made it a priority. He said there are a couple individuals at Dallas Baptist who could be ready to take the reins at a moment's notice, and some whom he is readying to take them eight or nine years down the road. "I've always tried looking at the institution and not just at me," he said. "If you're really concerned with making an institution strong, you don't just look for yourself. You need to know who can carry on."
Cook credits his own ascension to the presidency at Dallas Baptist to Abner McCall, the former president of Baylor University, whom Cook knew from his time as a student. McCall served as Cook's campaign manager when he was on the city council in Waco and recommended Cook for the presidency of Dallas Baptist.
Lindsay also said Bill Townsend, currently the vice president for advancement at Mississippi College, who met Lindsay when the president was a teenager, also had a sizeable influence in his life. Townsend's wife was Lindsay's youth minister, and Townsend took an interest in the boy.
While Townsend said he probably had more influence on Lindsay's spiritual and emotional development than on his professional track, he did advise Lindsay to establish himself as an academic before seeking an administrative role. Despite Lindsay's young age and the fact that he moved right from an assistant professorship to a presidency, Townsend said Lindsay had established himself as a thought leader in the field.
Unlike Cook, Townsend said he has not often sought out individuals to mentor, nor did he have individuals who formally mentored him. But he found something special in Lindsay, saying that the president "was hungry for just about every opportunity that would present itself." He noted that it is rare to find individuals who are open to being mentored and asking for help.
But he said Lindsay will make a good mentor because of his level of interest, his diverse life experiences, the connections he has with leaders, and his own experience being mentored. "When you look in the research, I think you'll find that people who were mentored themselves are more willing to mentor and make better mentors," Townsend said.
Lindsay said he picked Hallenbeck to mentor because the two established a rapport when they spent the day together in the fall. Lindsay said he wasn't necessarily interested in picking the student body president, just someone with leadership potential. But he was impressed by Hallenbeck. "I could see that he was smart, resourceful, and able to calibrate his actions according to the setting," Lindsay said. "Those skills are difficult to interview for, but when you see them in someone you appreciate it."
The work Hallenbeck does in Lindsay's office varies. Some days Hallenbeck does traditional office assistant tasks such as filing or drafting reports and making phone calls. Other times he does more "intellectual labor," as he calls it, helping Lindsay think through issues. He will also accompany Lindsay on visits to meet with local officials or other campus leaders.
Hallenbeck said observing soft skills, such as noticing how Lindsay changes hats from one meeting to the next, is what he'll really take away from the experience. "At this point, I'm a senior about to graduate in May, and I can say with certainty that I am learning more out of the classroom than in it," Hallenbeck said. "The time spent, the time I've invested here two hours a night, I've learned more about how the professional world actually works and the work that professionals do. I've learned how to read a situation."
Hallenbeck is not sure about his own leadership path. He is a biochemistry student at Gordon and is planning to attend graduate school next year. He doesn't know what kind of leadership opportunities will present themselves in the future.
Because Hallenbeck's position as student body president sometimes requires him to take different positions, the two have had to make adjustments to their relationship.  There is a specific chair that Hallenbeck occupies in Lindsay's office when he is representing the student body, but the two noted that he can switch back and forth with ease. Lindsay said he does not share everything with Hallenbeck, but that the senior is exposed to sensitive material in the course of his job, and that he trusts Hallenbeck to be professional in dealing with it.
In general, Hallenbeck said, working with Lindsay has improved the dynamic between his and Lindsay's presidencies. Hallenbeck can provide broad student input to the decisions Lindsay is making, and the office role gives Hallenbeck a broad understanding of the institution and the president's decisions that he can relay back to students.
Lindsay said Hallenbeck's presence in his office has been helpful for him as well. For one, he gets an extra set of hands to help him with the never-ending workload of the presidency. It also helps him, as a first-year president, to have some institutional memory around.
Lindsay said he's interested in continuing to mentor students on a small scale like the relationship he has with Hallenbeck, but will likely not continue to work solely with the student body president. He did say, however, that he likes having someone in his office who can view the institutions broadly.
Last week, Lindsay asked Hallenbeck whether he needed to attend Gordon Globes, a student film festival. "It's the kind of thing where, if he's not there, no one will miss him," Hallenbeck said. "But if he's there, people will notice and appreciate it."
"It's the kind of thing we can triage," the two said.