You have /5 articles left.
Sign up for a free account or log in.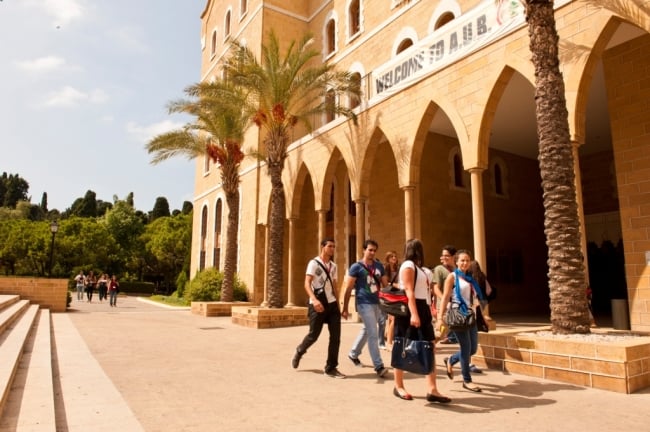 Not so long ago, Western students wanting to study in the Arab world flocked to Cairo and Damascus.
But as last year's Egyptian uprising and enduring unrest in Syria made those once-secure locales more dangerous, Americans wanting a safer semester abroad started going in larger numbers to a place long synonymous with war and danger but of late experiencing peace: Beirut.
While the Arab Spring uprisings toppled governments in Egypt, Libya, Tunisia and Yemen and led to crackdowns in Bahrain, Syria and elsewhere, the Lebanese capital remained relatively calm.
The small country that remains officially at war with Israel and torn from a series of armed conflicts -- including periodic fights with Israel since the 1950s and a civil war that spanned parts of the '70s, '80s and '90s -- is home to the American University of Beirut, an institution that has provided a U.S.-style education primarily to students from Lebanon since its 1866 founding by Christian missionaries.
The college has a long history of Western study abroad students, though their numbers dwindled as war after war broke out in the nation of 4 million people bordered by Syria, Israel and the Mediterranean Sea.
Lebanon, about 60 percent Muslim and 39 percent Christian according to the CIA, has returned to a sense of normalcy and peace since its 2006 conflict with Israel. The U.S. State Department maintains a travel warning, advising U.S. citizens to avoid the country on account of "safety and security concerns" and because "the potential… for a spontaneous upsurge in violence remains." The State Department also has travel warnings in effect for Israel and Syria, though not Egypt.
Many American universities will not support study abroad programs in countries with travel warnings, and sometimes refuse to accept transfer credits from institutions in those nations or withhold financial aid for students traveling there against the advice of the government and college. Universities with strict travel warning policies have moved some of their Egyptian and Syrian programs to Jordan, Morocco and the United Arab Emirates, said Peggy Blumenthal, senior counselor to the president at the Institute of International Education. While almost all colleges take the warnings seriously, she said some are known to be more "creative" if they trust the host university to evacuate their students quickly if trouble strikes.
American University in Beirut doesn't have an official position on the U.S. warning, but Katherine Nugent Yngve, the college's director of international programs, wrote in an e-mail to Inside Higher Ed that she believes the benefits of studying in Lebanon outweigh the risks.
"Many U.S. students tell us that they feel the State Department's travel warning is an unfair impediment to studying abroad at AUB, as do their parents, and sometimes their study abroad advisers," she wrote, adding that the U.S. government warns against travel but awards Tomorrow's Leaders scholarships to Arab students pursuing degrees in Lebanon.
About 700 U.S. citizens and 2,000 Westerners now attend American University in Beirut, which has seen about a 50 percent increase in its Western population every year since 2007. Many of those students are seeking degrees in Lebanon, while others are there for shorter-term study abroad trips. About 15 students in Egypt transferred to Lebanon last spring when violence broke out, Nugent Yngve said.
Among them was Dylan Sodaro, now a junior at Syracuse University.
Sodaro spent the fall of 2010 at American University in Cairo and returned for the spring semester on the day protests broke out in Tahrir Square. Sodaro wasn't directly involved in the demonstrations against President Hosni Mubarak, but was staying with a friend in an apartment near the square at the time.
When Syracuse called and told him to evacuate, he told them he wanted to stay. They negotiated a compromise: a semester in Beirut.
Sodaro said it was a great choice, giving him the chance to volunteer in Palestinian refugee camps and continue mastering Arabic. He hopes to one day work with the United Nations, perhaps in Lebanon.
But Sodaro, who is Jewish, took precautions in Lebanon. He told fellow study abroad students about his heritage, but never mentioned it to his Lebanese friends, something he said he now regrets. He was more open about being Jewish in Egypt, which has diplomatic relations with Israel.
Still, the Connecticut native said it was a great semester in a place that he said is often misrepresented in news accounts.
"I loved the country," Sodaro said. "The perception in the West is it's not really safe because we don't really hear updates about what normal life is like in Beirut.
"It's hard to put into words because it just seemed so normal, but every once in a while you would turn the corner and see a bombed-out apartment" from previous eras of violence.
He wonders whether the travel warning is more a political statement than a frank assessment of today's Lebanon, and said he's thankful Syracuse is not among the universities that always restrict study abroad experiences in those countries.
The flow of American students out of less stable parts of the Arab world and into Lebanon appears to be continuing. Justin Lynch spent last fall in Cairo, but felt uncomfortable and transferred to Beirut.  The political science and economics major from the University of Maine at Orono said he's felt safer since arriving in Lebanon last month. He wanted to immerse himself in a different culture, but wanted to do that somewhere he felt secure.
"I think if you want to study the issues in the developing world, you have to go there," he said.
But Lynch isn't wearing American flag T-shirts around Beirut. And if a stranger asks, he claims to be from Germany. But even though relations between the U.S. and Lebanon are strained, he said he doesn't feel targeted and has enjoyed Beirut and its people.
For many decades, the American Universities in Beirut and Cairo were among the only Western-style colleges in the Arab world. Both institutions -- which are independent -- educated generations of the region's future leaders while weathering periodic unrest.
But their vibrancy is in ways tied to that of their host nations. As Egypt prospered under the Mubarak dictatorship, Cairo became a popular study abroad destination. With more fluid security in Lebanon in recent years, Western interest wasn't always as high.

Now the tides seem to be shifting, with Egypt's budding democracy continuing to brew some unrest. Lebanon, on the other hand, seems to have found stability.
An American University in Cairo spokeswoman was unable to provide current data, but a July article by the Daily News Egypt confirmed anecdotal evidence and showed fewer international students enrolling.
The Egyptian university remains open, and has a safety website to advise its students. Mubarak was deposed more than a year ago, and though unrest continues (including a crackdown on U.S. nongovernmental organizations) the fact Lynch was allowed to study in Cairo in the first place shows some American universities are still sending students.
But Beirut – despite a reputation that sometimes casts it as a Middle Eastern version of Pyongyang or Mogadishu – is thriving and Western interest is growing, American University officials there insist.
That's indicative of a larger trend as more Americans look to study in the Middle East and North Africa, Blumenthal said. Students are expressing interest in studying in Syria or Egypt when conditions improved, she said, and are looking to other nations in the interim.
Enrollment numbers in long-established spots like Egypt tend to recover quickly when conditions improve, she added, citing quick bouncebacks after Japan's tsunami and China's SARS outbreak.
"While it looks awful on TV and university legal counsel is very interested in keeping students out of harm's way," she said, "the numbers will rebound."