You have /5 articles left.
Sign up for a free account or log in.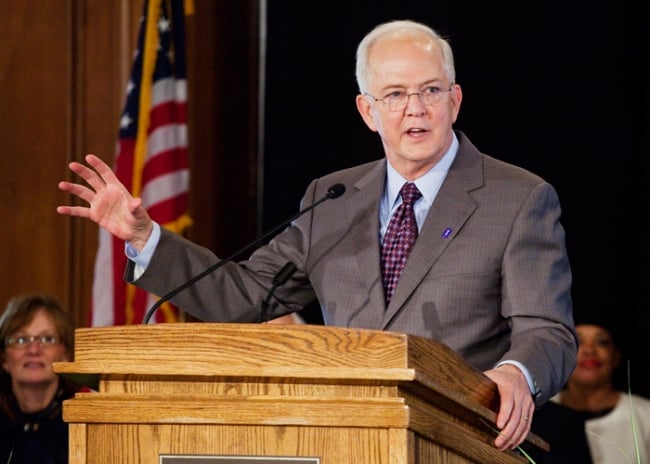 University of Illinois President Michael Hogan, who took office in May 2010 in the wake of an admissions and enrollment scandal and in the face of an administrative vacuum and state funding problem, announced Thursday that after 20 tumultuous months in the job he would step down as president.
During his tenure, Hogan faced criticism from faculty members and the public for attempting to centralize some administrative services. Professors also complained that Hogan micromanaged the system's three campuses, which have traditionally acted without much system interference. That criticism came to a head in the past month, when a group of distinguished faculty members sent the Board of Trustees two letters calling for Hogan's resignation.
Board of Trustees Chairman Christopher G. Kennedy announced Hogan's resignation in a system-wide e-mail Thursday afternoon. In an interview, Kennedy said Hogan decided to step down after the board's last meeting March 15, where the leadership of the systemwide faculty body said it would support Hogan's enrollment management program, one of his chief priorities. "The agenda that he had when he came to the University of Illinois had largely been completed," Kennedy said. "At this point we decided that we needed to go through a reflective process and articulate a long-term strategic plan. And that was better left to somebody else."
Thursday's announcement came as something of a surprise, since the board had expressed support for the embattled Hogan just two weeks ago. In public statements and an interview at that time, Hogan did not sound like someone getting ready to close out his agenda. He was public about his desire to mend his relationship with the faculty, saying that moving forward he planned to meet regularly with faculty groups on each of the system's three campuses: Urbana-Champaign, Chicago, and Springfield.
But in a larger sense, many in higher education said it is not a surprise at all that Hogan's presidency at Illinois did not last long and was marred with controversy. They point to his administrative track record as president of the University of Connecticut, which was as rocky as his time at Illinois. The question those critics raise is why, given the very public problems Hogan had at the University of Connecticut, the search committee at Illinois deemed him to be the best candidate.
When asked about the criticism Hogan faced at Connecticut and how it was considered in the Illinois search, Kennedy said that he did not have much understanding of those problems and that the reference interviews about Hogan lined up with the board's philosophy about the search, which was to go out and find someone who had "great success in a similar job somewhere else."
The board will not conduct another search for Hogan's replacement. Instead, Robert Easter, who has served in various administrative roles within the system, will officially replace Hogan as the permanent president starting July 1.
A Track Record of Problems
Hogan, a historian by training, became president at the University of Connecticut in 2007 after serving as provost at the University of Iowa for four years. He had been an unsuccessful candidate for at least one other presidency, the University of Delaware, before landing the Connecticut job.
From the beginning, his time at Connecticut was marred by the types of controversies that grab newspaper headlines. Hogan refused to live in the university-provided house, saying his wife was allergic to mold there, so the university paid for Hogan to stay in a different house. He ordered an expensive renovation of the university's main administrative building -- including new furniture -- that totaled $475,000 and was paid for through operating funds made up mostly of tuition revenue.
He held a costly inauguration ceremony, complete with fireworks. He also spent the university's money on a series of life-sized cardboard cutouts of himself that were placed around campus.  While none of these measures made a serious dent in the university's overall budget, they did not look good as the economy entered a recession and the state started cutting funding for higher education.
But while those issues made the news, faculty members said the bigger problem was how he treated them, particularly at a time when the university was making significant cuts.
Tom Peters, a professor of computer science and a leader in the UConn chapter of the American Association of University Professors when Hogan was president, said Hogan gave the impression that he did not care what faculty members thought on major issues. Peters said Hogan interacted with the union only in formulaic ways and did not broadly incorporate faculty input into his strategic plan.
That sentiment was echoed by other Connecticut faculty members who were interviewed. "There was a general impression that he liked to form his own opinion without consulting others, except perhaps for his chief of staff," said Gaye Tuchman, a retired professor of sociology at Connecticut and author of Wannabe U.
When Hogan left Connecticut for Illinois, people in the state were surprised (and some were angered) by the decision, but several Connecticut faculty members said they were not disappointed to see him leave.
Issues Re-emerge
When Illinois hired Hogan in 2010, the system was in a bad spot. The university had lost much of its administration -- including trustees -- to a scandal in which politicians pressured the university to admit politically connected applicants to various programs. The state was also two years into the recession, and significantly delaying payments of state appropriations to the university.
The job would be a rough one to step in to, and it is easy to see why the search might not have attracted many sitting presidents, despite the search committee's hopes. The position was also as the head of a system rather than a campus, and presidents often view the two as quite different. Many say the latter can be less desirable work. "President Hogan joined the University at a very challenging time, when it had just weathered a long and very public controversy around admissions and enrollment practices, had major gaps in the administrative team, and was under such significant financial constraint that furloughs and salary freezes were required," Kennedy wrote in the letter announcing Hogan's resignation. "The Board sought out a reform-minded leader and was glad to find Mike Hogan, a veteran and accomplished educational leader with a distinguished record, who was committed to carrying out an exhaustive mandate of change with a sense of necessary urgency."
The News Gazette, of Champaign, Ill., through records requests, learned the names of two runners-up for the position: Kumble Subbaswamy, provost at the University of Kentucky, and David Daniel, president of the University of Texas at Dallas. Given that the search committee was looking for someone who had already led an institution similar to the University of Illinois, it makes sense that it would have picked Hogan over Subbaswamy, who had never served as president, and Daniel, whose institution is not a state flagship and does not engage in the same level of research activity that the Illinois campuses engage in collectively.
Hogan's tenure at Illinois was as controversial as his experience at Connecticut, and many of the same issues re-emerged, with faculty members complaining about his disregard for their opinions and centralization of power in his office.
After filling a significant number of administrative vacancies, Hogan's chief initiative was to implement an enrollment management program centralized at the system level. That proposal met resistance from faculty members, many of whom felt it would harm each campus's individual reputation.
In January, faculty members accused Hogan's chief of staff of posing as a faculty senator in anonymous e-mails to influence the senate's debate about the enrollment management plan. A faculty investigation found that Troyer was the likely author, but she denied sending them.
The shared governance contention came to a head in the past month, with more than 130 faculty members sending a letter to the board calling for Hogan's resignation.
Earlier this month, the board met with Hogan to discuss his deteriorating relationship with faculty members and push him to repair that relationship. At that time, Hogan accepted responsibility for the breakdown and said he understood how it could seem like he was not communicating effectively with faculty members. "We were getting things done so fast that I just gave people the perception that I was more interested in getting things done than I was in hearing opinions," Hogan said in an interview then.
In an interview around that time, Charles Zukoski, a professor of chemical and biomedical engineering at the university's flagship campus in Urbana-Champaign, and one of the faculty members who signed the original letter to the board, said that he signed the letter in part because of how Hogan was leading the institution. He never tried to persuade faculty members about his plans or lay out a grand vision for where he wanted to take the institution that university constituents could buy in to.
Despite Hogan's assurances that he would repair the relationship, many of the same professors who signed the first letter filed a second letter, again calling for Hogan's resignation and calling his tenure a "failed presidency."
Searching for Answers
Some faculty critics and higher education observers say Hogan's problems at both institutions represent a broader failing of the presidential search process, in which boards are so eager to secure experienced presidents that they are willing to overlook flaws and too concerned with protecting the anonymity of candidates to properly vet them.
Labor economists have documented that, in professions such as entertainment and management, previous experience is overvalued. Boards would prefer someone who has demonstrated some level of competency rather than take a risk on someone not working out, and they are willing to pay large salaries for that experience.
"Any profession where the ability of inexperienced workers is subject to much uncertainty, and where performance on the job is to a large extent publicly observable, is a likely candidate for market failure in the discovery of talent," wrote Marko Terviö, an economist at Aalto University in Finland, in a paper entitled "Superstars and Mediocrities: Market Failure in the Discovery of Talent." "This market failure would manifest itself as a bias for hiring mediocre incumbents at excessive wages."
Terviö even notes that college and university presidents are ripe for this type of failure. He quotes Raymond Cotton, a Washington lawyer specializing in contracts for college and university presidents, as saying, "What all universities are trying to do is find a successor who has been someplace else as president." Throughout the Illinois search, board members repeatedly said they were looking for someone who had held a similar role.
According to the American Council on Education's most recent survey on college and university presidents, about 20 percent of higher education chief executives held presidencies immediately prior to stepping into their current roles.
The desire to secure experienced candidates drives an increased level of confidentiality in searches. Search consultants and many board members say keeping the names of candidates confidential -- in many cases until a selection is made -- attracts a better pool of candidates, many of whom would be reluctant to enter out of fear of backlash on their home campus.
"Sitting presidents require a degree of confidentiality that other candidates don't," said Susan Resneck Pierce, a former president of the University of Puget Sound who now consults with governing boards and presidents, and who has written for Inside Higher Ed. She said that seeking another presidency is viewed by boards and campuses as an effort to abandon the current institution. That can damage everything from fund raising to faculty relations, proponents of confidentiality argue. For provosts and other senior administrators, the presidency is a step up so it's less of an issue if their names become public.
But many faculty members don't buy that argument. By keeping searches secret, they say, boards are discounting the importance of the relationship between faculty members and presidents, which is essential to university governance.
In the corporate world that might be fine. But at large research universities such as the University of Connecticut and the University of Illinois, faculty members hold tenure, have a significant voice in institutional governance, and are likely to outlast even long-serving presidents. Presidential agendas don't get put in place without faculty consent, they say.
Anonymous searches also don't give faculty members and the broader community the opportunity to raise issues that search consultants or references might not raise, critics say. The more eyes looking into a candidate, the likelier it is that problems will be addressed before they get on campus, they say.
Both the search that landed Hogan at Connecticut and the one that landed him at Illinois refused to make finalists public. Tom Peters at Connecticut wonders whether the secrecy in Hogan's searches helped mask problems. "In both circumstances, the search process was completed with little faculty input," Peters said. "And in hindsight you look back and question whether that was the foundation for many of the problems." While neither of the searches was public, Hogan's problems at Connecticut were covered extensively by local papers, and faculty had been vocal about their problems with him.
The selection of Easter, who is widely supported by the Illinois faculty, is a dramatic departure from Hogan's selection. The board did not launch an extensive search, instead asking Hogan who he would recommend, Kennedy said. The university's news release also notes that the board conferred with faculty members about the decision.
The decision might also indicate a change in leadership style. Throughout Thursday's news release, administrators and faculty members noted Easter's understanding of shared governance as an administrator and his support among the faculty.
"The trustees' decision to select Dr. Easter reflects the best aspects of shared governance," Don Chambers, chair of the University Senates Conference, which represents faculty on the university's three campuses in the shared governance process, said in the university's release. "The faculty senate's leadership was pleased to have been consulted before a decision was made, and that their views were embraced."