You have /5 articles left.
Sign up for a free account or log in.
A cartoon in the University of Texas at Austin student newspaper suggests the media is sensationalizing Trayvon Martin's killing because a "big bad white man killed the handsome, sweet, innocent colored boy." The cartoon went viral, and not because of admiration -- setting off debate on campus and in the blogosphere.
Ashley Robinson, president of the university's Black Student Alliance, took offense. She understands that political cartoons are meant to be provocative, but questions the timing and the use of the word "colored."
"The cartoon they chose was very insensitive and inappropriate," the senior television and film major said. "It's 2012, and that's not language I hear."
The drawing was pulled from The Daily Texan's Web site Tuesday afternoon but was later reposted with an editor's note saying it had been offline because increased traffic had threatened to crash the site. Gawker was the first to report on the cartoon, which refers to the shooting death of Martin, a 17-year-old from Florida who was killed while walking home from a convenience store last month. Martin, who is black, was shot by a neighborhood watch volunteer who has white and Latino parents. That volunteer, George Zimmerman, has not been charged with a crime.
The Texan cartoon shows a woman sitting in a chair with "THE MEDIA" written in block letters. She is reading to a little girl from a book with "TREYVON MARTIN AND THE CASE OF YELLOW JOURNALISM" written across its cover.  Martin's first name is spelled incorrectly in the cartoon.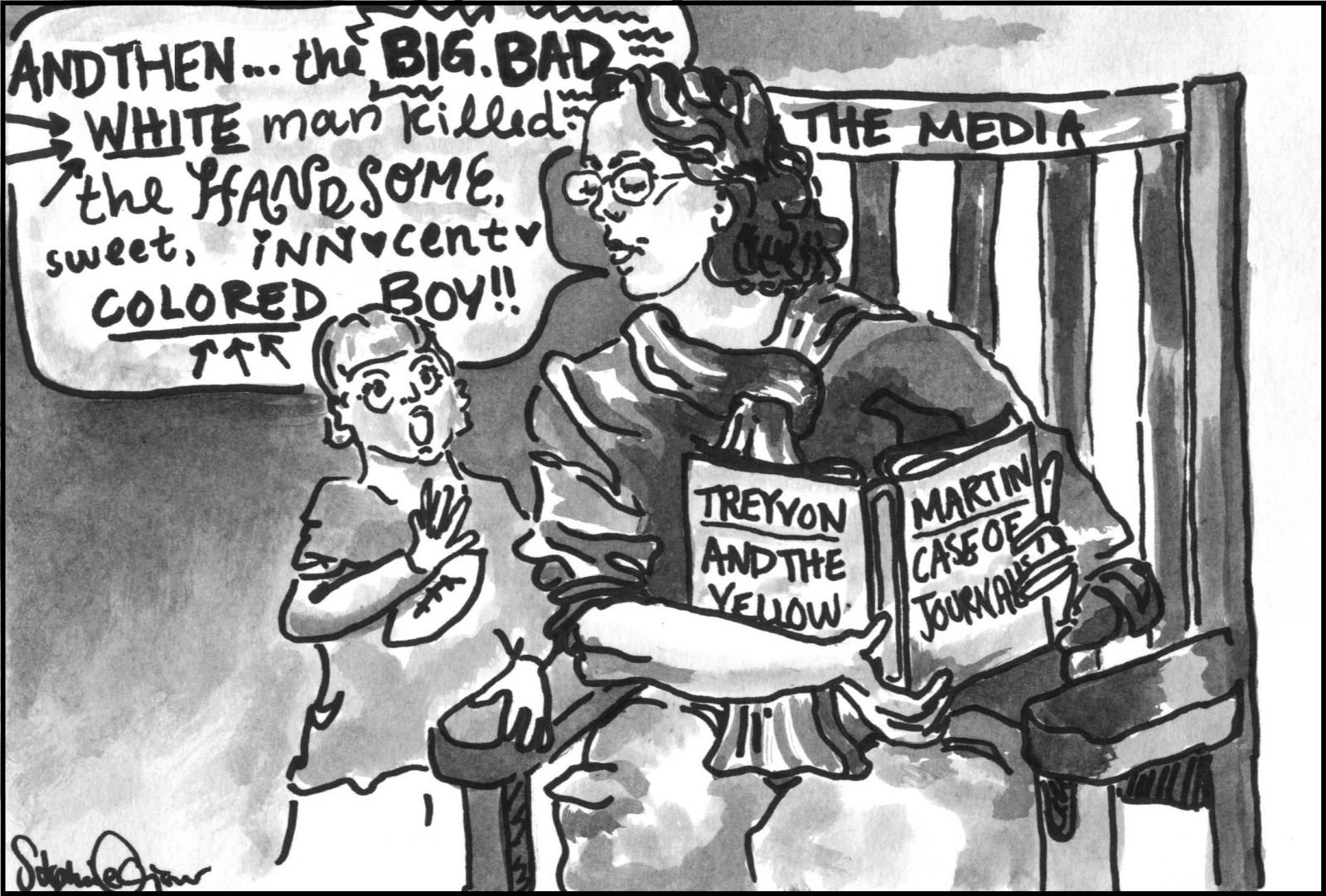 Daily Texan managing editor Audrey White referred all questions to editor-in-chief Viviana Aldous, who did not immediately return phone calls or an e-mail seeking comment. Attempts to reach the cartoonist, Stephanie Eisner, were unsuccessful. She didn't immediately return a voicemail, e-mail or Facebook message. According to the university directory, Eisner is a junior majoring in public health and economics. Her other cartoons can be viewed here. A native of the Houston suburbs, Eisner received a comprehensive four-year merit scholarship, has made malnutrition kits for UNICEF, and won a Hispanic Heritage Award.
The Texan editorial board posted a statement Tuesday evening saying it "recognizes the sensitive nature of the cartoon's subject matter" and that "the views expressed in the cartoon are not those of the editorial board." But the statement added that it publishes columns and cartoons "even if we disagree with them."
Twitter users skewered the cartoon Tuesday. One called it "racist," another simply said "Idiots" and another wrote "hey @thedailytexan.. you actually thought this was a good idea?" Among the dozens of tweets, none seemed to express support for the cartoon.  The cartoon also had 31 comments on the Texan Web site as of 7 p.m. Tuesday. None expressed support for the drawing.