Gains in Access, Less in Success
Four years ago, nearly two dozen state university systems committed to improving recruitment and retention of underrepresented students. Here's an update on their progress.
In 2007 -- long before President Obama pushed to make college attainment a national priority and three years before the phrase "completion agenda" first appeared in these pages -- a group of public university systems put themselves on the spot.
Working with (and to some extent prodded by) Education Trust, which promotes the educational success of low-income and minority students, the 22 systems of two-year and four-year colleges and universities committed to increasing their attainment levels, in large part by closing the gaps in performance between underrepresented students and their peers within a decade. And they committed, too, to documenting their progress by collecting and publicly reporting detailed (and in some cases, previously unreported) data on student access and success.

In a report released Thursday, Education Trust and the National Association of System Heads, collaborators on the "Access to Success Initiative," lay out how the initiative as a whole and the individual systems have fared at roughly the midpoint of the project.

The results, as one might have predicted, are mixed. On the positive side, the 300-plus community and four-year colleges in the 22 systems collectively enrolled 42 percent more low-income students and 23 percent more black, Latino and American Indian students in 2009-10 than they did in 2005-6. The four-year institutions among the group's member systems also cut to 6 percent from 12 percent the difference between the representation of low-income students in their freshmen classes and the proportion of high school graduates who are from low-income backgrounds.

As seen in the figure below, most of the 22 systems had either met (or made meaningful progress toward) their goal of cutting in half the access gap for low-income students. But the figure shows significantly less success in reducing the gap for underrepresented minority students.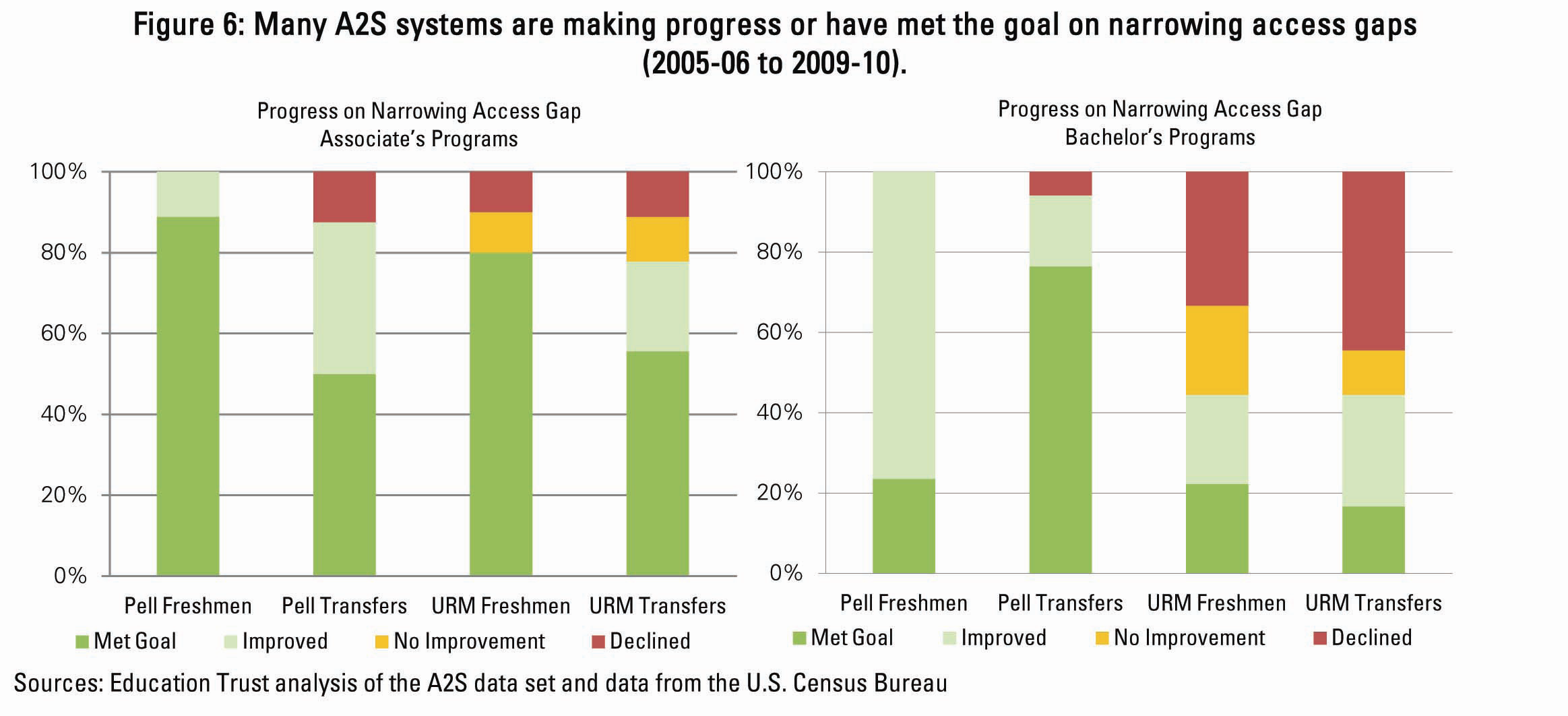 As seen in the figure below, though, the public-college systems (whose enrollments range from roughly 35,000 in the Connecticut State University and South Dakota systems to those in California and New York that are more than 10 times that size) have made far less progress so far on measures focused on student persistence and completion rather than enrollment.
Systems of two-year colleges were as likely to see their success rates for low-income and minority students decrease than improve from 2005-6 to 2009-10, and the gap between the success rates for low-income and minority students and those for all other students grew in many systems.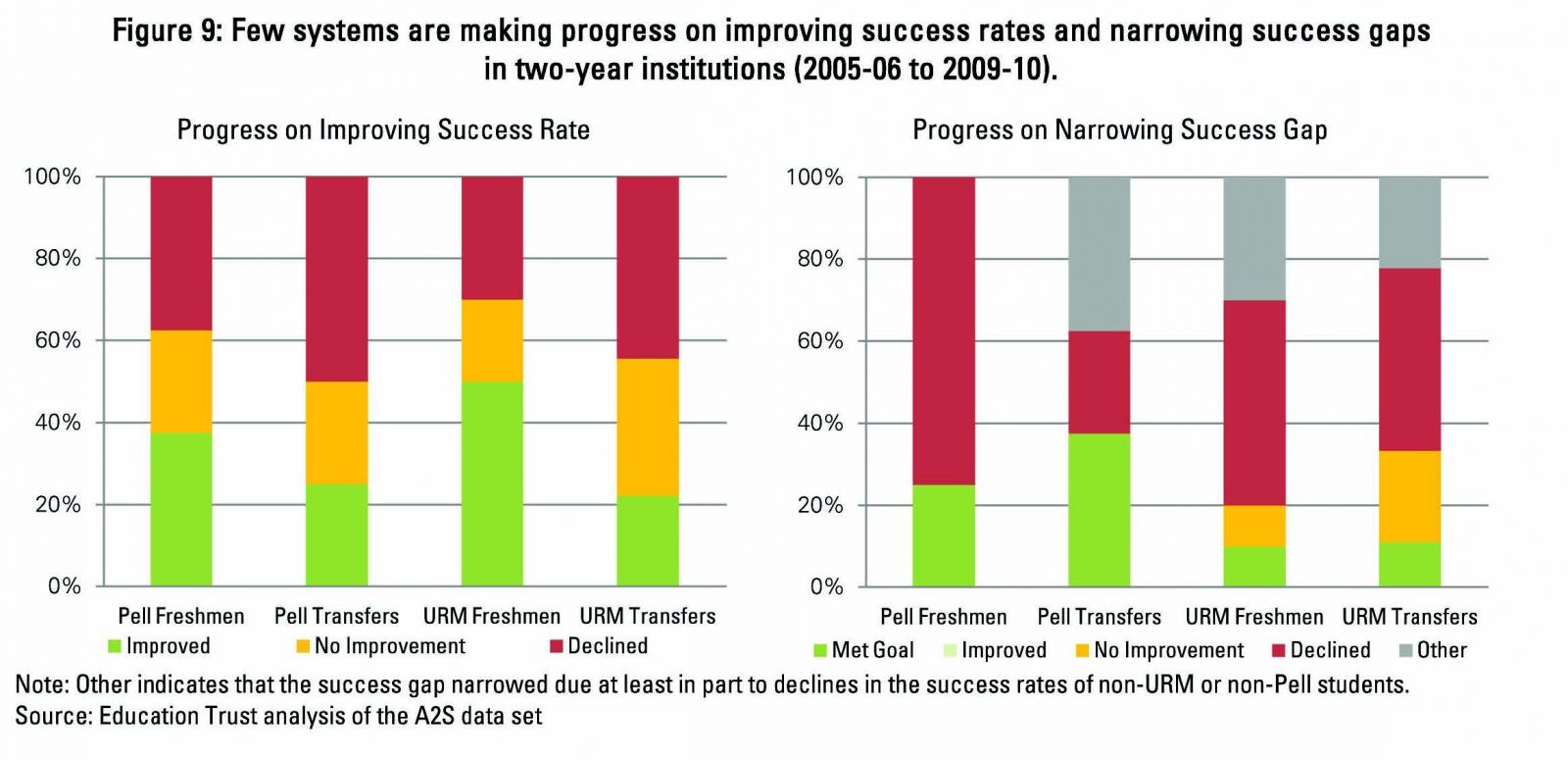 More than three in five of the participating Access to Success systems, meanwhile, have seen their six-year graduation rates for minority and low-income students rise at their four-year colleges, though the relatively few have made progress on closing the success gaps for those students.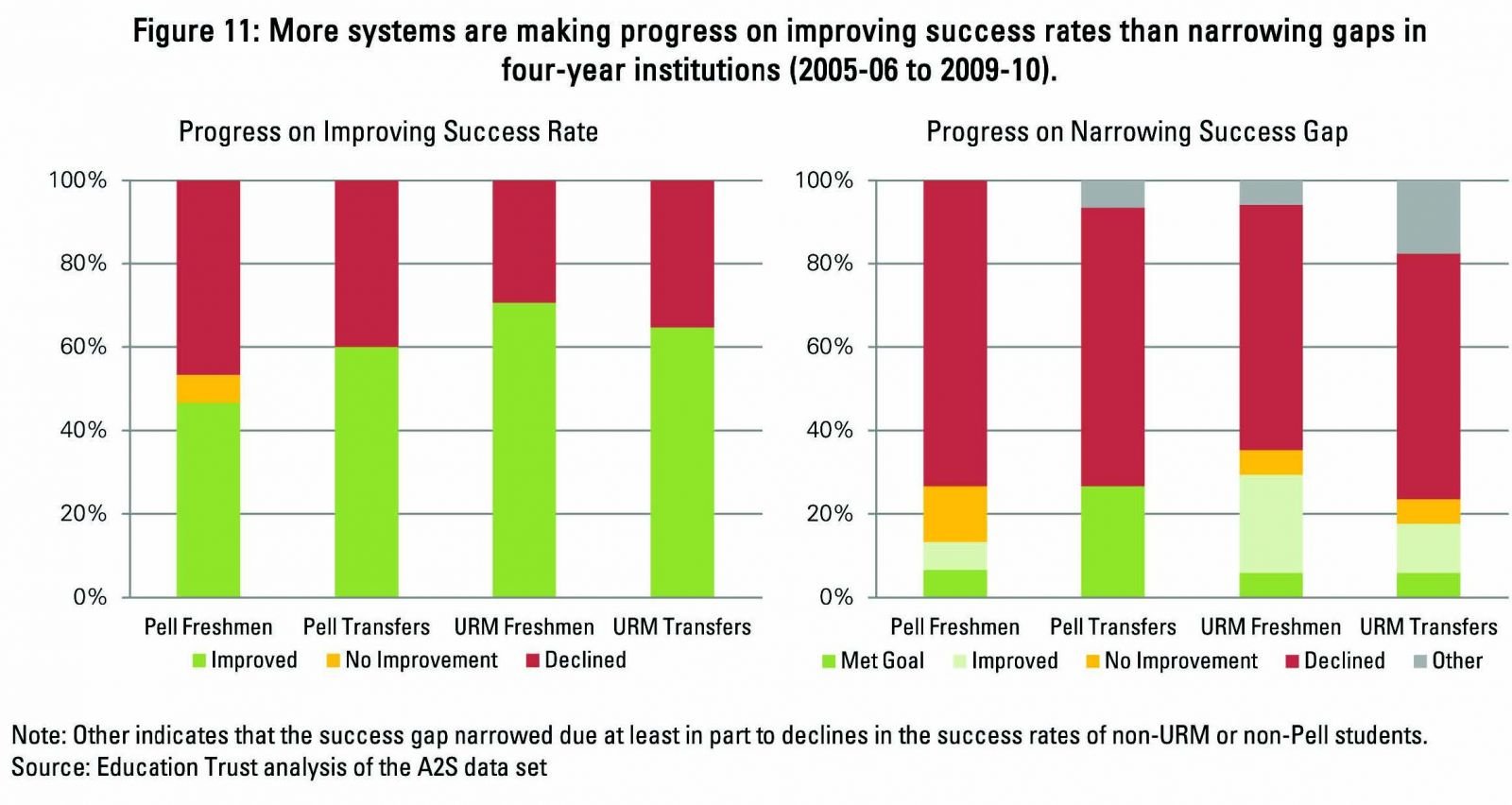 The report calls out individual institutions and systems that have made particular good progress in various areas (San Diego State and Florida State Universities for closing racial and socioeconomic gaps, for instance, and the City University of New York and University of Wisconsin Systems for improved success rates in two-year institutions). Its authors, in interviews, note that the work that these systems began when they committed to the project in 2007 has been made much harder, in many cases, by a combination of exploding enrollments and vanishing budgets in the wake of 2008's economic downturn.
"It speaks volumes about the willingness and commitment of system leaders that regardless of what the context looks like or the boundary conditions they're facing, they're showing there is still work that can be done toward increasing educational attainment," said José L. Cruz, vice president for higher education policy and practice at Education Trust and one of the report's authors.
He said it was particularly noteworthy that two systems, the University of Texas and Colorado State University Systems, have newly joined the Access to Success group.
Read more by
Today's News from Inside Higher Ed
Inside Higher Ed's Quick Takes
What Others Are Reading
Past:
Day
Week
Month
Year