You have /5 articles left.
Sign up for a free account or log in.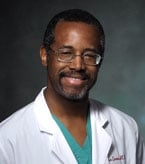 Ben Carson delivered 73 commencement speeches between 1989 and 2011, his C.V. attests. While each ceremony is unique, the Johns Hopkins University neurosurgeon and humanitarian said the overall message is often the same. "I want the young people to go away with a sense that they've achieved something significant -- and it's just the first step," said Carson, who received the Presidential Medal of Freedom in 2008. "A lot of things can be done when you utilize your potential to uplift other people."
Commencement address No. 74 will come this month when Carson speaks at Emory University and receives an honorary doctorate. Unlike the previous speeches, this one will come with a bit of controversy.
About 500 Emory employees and students signed a letter, published in the campus paper, drawing attention to the fact that Carson doesn't believe in evolution. The letter acknowledges the surgeon's accomplishments and doesn't ask that Carson be disinvited, but it suggests some of his views fail to align with Emory's values. Other letter writers have defended the invitation, which was made after a group of seniors presented a shortlist of potential speakers to administrators. The surgeon is the cofounder of the Carson Fund, which has presented more than $4 million in scholarships to students with outstanding academic and humanitarian achievements.
Carson will still speak in Atlanta, though campus spokesman Ron Sauder said Emory wasn't aware of Carson's views on evolution until after extending the invitation. The invitation isn't necessarily an endorsement of Carson's opinions. "Our position is to follow the research and the scientific method where it leads," Sauder said. "Our leading life scientists would define our views on evolution, and the number of signatories on that petition would probably speak to that."
This episode is the latest act of an annual melodrama in which commencement guests, often at religious and other private universities, become fodder for politically charged debate.
Many protested when the University of Notre Dame invited President Obama to speak at graduation a few years ago, citing political views at odds with Roman Catholic teachings. The newly inaugurated president addressed the graduates and received an honorary degree. Victoria Kennedy, Senator Ted Kennedy's widow, was disinvited from giving a graduation speech at Anna Maria College this year after the local bishop said he wouldn't attend because of her views on gay marriage and abortion.
In 2008, Washington University in St. Louis gave conservative activist and lawyer Phyllis Schlafly an honorary degree despite widespread protest. This year, the college is honoring Gloria Steinem, a feminist whose political views are widely divergent from Schlafly's.
Most recently, George Washington University became a target of criticism from a Latino rights group for inviting Mexican billionaire Carlos Slim to receive an honorary degree. George Washington touts Slim's humanitarian work, while protesters say Slim's Telmex has wrongly oppressed millions in Latin America. The organization, Two Countries One Voice, is asking for George Washington to sever all ties to Slim.
Belief in an Intelligent Creator
But Carson – a well-respected academic lauded as an inspirational speaker – is perhaps a more surprising target of commencement controversy. A native of inner-city Detroit known for performing the world's only successful separation of a certain type of conjoined twins, Carson is also a devout Christian.
He believes in natural selection, but not in the traditional evolutionary sense. "They say that natural selection is proof that things can change," Carson said. "I say natural selection is proof that we have an intelligent creator who gave his creatures the ability to adapt to their environment."
Arri Eisen, an Emory biology professor, was one of the four writers of the letter expressing concern about Carson's speech. Eisen said the biology department became aware of Carson's views after a student in an evolution class stumbled across a creationist text quoting the Johns Hopkins surgeon.
In that text, the Adventist Review, Eisen and his colleagues understood a quote by Carson to suggest that evolutionists don't have ethics. "By believing we are the product of random acts, we eliminate morality and the basis of ethical behavior," the Review quoted Carson as saying. "For if there is no such thing as moral authority, you can do anything you want. You make everything relative, and there's no reason for any of our higher values." Eisen said that quote, coupled with the fact Carson is a scientist, compelled Emory biologists to take a stand.
"We thought his personal beliefs in this case do matter because he's a representative of science and medicine," Eisen said. "We thought that the best way to use the moment was kind of a teachable story. We tried to write a letter that was balanced but made the strong point that there is a lot of evidence for evolution and taking a position like his seems to be driving a wedge between people."
Carson told Inside Higher Ed he doesn't believe that people who believe in evolution are unethical. The Adventist Review condensed that quote, he said. Carson wishes the Emory letter writers had asked him for clarification before writing their letter.
"It would have been extremely courteous if they had asked me whether it was true that I said people who are evolutionist are unethical, which I never did," Carson said. "Those of us who believe in God and derive our sense of right and wrong and ethics from God's word really have no difficulty whatsoever defining where our ethics come from. People who believe in survival of the fittest might have more difficulty deriving where their ethics come from. A lot of evolutionists are very ethical people."
Emory's spokesman said the college is looking at the debate as a meaningful and positive dialogue on a difficult issue, which Eisen said was the original goal of the letter. Eisen said he's confident the surgeon will be a compelling speaker. In fact, Eisen said Carson was a childhood hero of his and someone he still deeply respects.
Carson said he never intended to use the speech to discuss evolution and creationism, but that the debate hasn't scared him off.
"I wasn't going to talk about that anyway," he said. "I recognize that you always have a group of people who are going to be offended by something. You can't live your life based off that."
More from Specialized Colleges