You have /5 articles left.
Sign up for a free account or log in.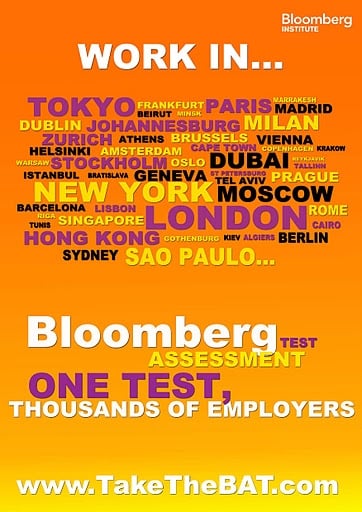 Perhaps signaling that a glowing transcript and fancy degree aren't always enough to win a job at leading financial firms, tens of thousands of students are taking the standardized Bloomberg  Assessment Test, or BAT, and sharing their results with mammoth corporations.
Michael London, CEO of Bloomberg Institute, which administers the BAT, said the test allows firms to broaden their recruitment pools and reach talented students they might otherwise overlook. It can also serve as a sort of tiebreaker. "Let's face it," London said, "there could be two people who majored in math at MIT who both got 3.8 [GPAs]. The world at large believes those are both math geniuses. But if one got a 53 on our test and the other got a 94," companies can use that data point to differentiate between the candidates.
It's worth noting that the 53 isn't quite as horrible as it sounds. The average score, on a 100-point scale, is about 55. No one has ever gotten a perfect score.
The test, which Bloomberg has yet to aggressively promote, is growing at a time of public debate over whether a college degree is enough of a signifier of accomplishment as it should be, and as some clamor for the use of "badges" to indicate specific skills. The BAT may in some ways be similar to a badge in that it relates to various forms of knowledge and skills, irrespective of one's major or alma mater.
More than 46,000 students at 770 colleges have taken the BAT since it was first offered in 2010. Bloomberg created the exam after finance professors said there should be a better way to screen students for careers at prestigious firms.
The BAT's strength is in its depth, not breadth. Unlike the ACT and GRE, which evaluate math, verbal skills, and writing, the BAT focuses solely on skills relevant to careers in finance. Students are tested in 11 narrow categories – among them investment banking, math skills and financial statements analysis – that allow companies to match candidates with positions best suited to their strengths.
The BAT is free for students and colleges, though Bloomberg officials say that could one day change, and ostensibly requires no preparation. Students choose whether to release their scores to companies.
London said 34 companies and one U.S. government agency pay $1,000 a month to access the BAT database. London wouldn't release the names of those companies, citing confidentiality agreements, but a University of Hong Kong Web page said Barclays, Suisse Bank, HSBC and Morgan Stanley are among the businesses that look at the test scores. No one at any of those firms was available for an interview Friday.
After taking the test, students choose whether to put their scores in the BAT database. If they do so, a company will see only see that student's test results and her university. Companies can then send an e-mail to the student, who would decide whether to release her name to the hiring manager. Students aren't able to withhold individual subscores, and must release all or none of their data.
While the opportunity to quantify candidates' skills on a common scale is valuable, London said employers shouldn't overdo it or use it as the only measurement of an applicant. "Sometimes it's possible that someone who's getting near-perfect scores isn't always the perfect fit," he said.
The Duke University finance professor Emma Rasiel consulted with Bloomberg and evaluated some early BAT questions. She thinks the test is valuable, especially as a way for companies to get acquainted with students outside their core recruitment area. It also helps companies assess the skills they value most, something a transcript doesn't always do.
"A score on the BAT differentiates a student who really understands from a practical perspective how these numbers are used, relative to most finance classes where academic finance is more theoretical," she said.  "In the real world, you have models that do the formulas for you. It's more about how do you use them to make a sensible trade based on what is happening in the market."
And as more companies adopt the BAT, Jim Beirne of Washington University in St. Louis said, more students are signing up to take it. Beirne, director of external relations for Washington's career center, said students in finance and other disciplines are signing up. The test is designed so that both finance majors and talented students with other academic backgrounds but strong financial acumen can succeed.
"It's a way for students how to signal how strong their skill set and knowledge is," said Beirne, who used to recruit for HP.  "As an ex-recruiter, if I can get another solid data point that is not biased -- because GPAs at different schools mean different things -- that gives me more insight."
The test is global and growing, London said, and being offered at all types of universities. Bloomberg would work with any university that wanted to offer the BAT, he said. A quick Web search reveals test dates at Cornell, Duquesne, and Kansas State Universities and the State University of New York at Stony Brook, among others. About 40 percent of the colleges that have offered the BAT to date are in the Americas. The other 60 percent are scattered across the globe.
The BAT's newness makes long-term reliability claims impossible, but London said the test questions were developed and reviewed by both industry leaders and academics. Companies so far seem satisfied with the results, he said. Bloomberg, a global financial power in its own right, is studying its own employees' performance relative to their BAT scores. London wouldn't discuss whether Bloomberg uses the BAT to find workers.
Going forward, London sees opportunity for the BAT to grow in market penetration and for deeply focused standardized exams to emerge in other fields.
"Students today are looking for ways to further market themselves," London said. "Employers are finding value using the data to help them find great people. If you think about it, it's a very logical way to be able to improve the way students market themselves and the way that employers find talent."