You have /5 articles left.
Sign up for a free account or log in.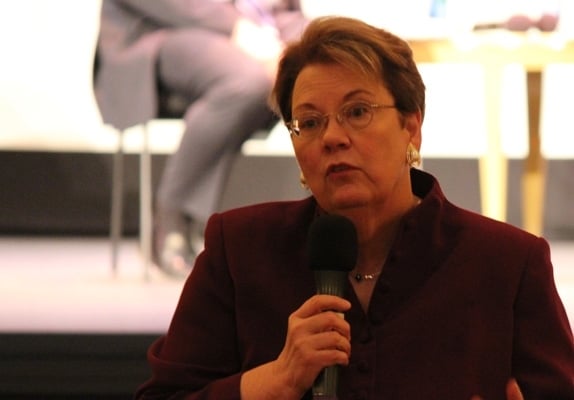 Early Sunday morning, the University of Virginia sent out a notice announcing that the Executive Committee of the Board of Visitors would have an "emergency closed meeting" at 2 p.m. "to consider amending the contract of a university employee." A little later, the university announced that Teresa A. Sullivan would be leaving the presidency on August 15, after only two years in office, by mutual agreement with the board.
The announcement stunned faculty and student leaders and many alumni, who took to Facebook and Twitter to ask what was going on, and to praise Sullivan. She has given every indication in recent weeks that she was building momentum for her agenda -- and several university sources said that they had seen no signs that her tenure would be cut short.
In a brief statement, Sullivan referenced an unspecified "philosophical difference of opinion." She did not respond to an e-mail request for an interview.
The university did release the remarks of Helen Dragas, the rector (or board chair) made at a meeting of vice presidents and deans, in which she praised Sullivan, acknowledged that the news would be "a great shock" for the university, and suggested that Sullivan was insufficiently bold and adaptive to the many changes swirling around the university and higher education.

"The board feels strongly and overwhelmingly that we need bold and proactive leadership on tackling the difficult issues that we face. The pace of change in higher education and in health care has accelerated greatly in the last two years. We have calls internally for resolution of tough financial issues that require hard decisions on resource allocation. The compensation of our valued faculty and staff has continued to decline in real terms, and we acknowledge the tremendous task ahead of making star hires to fill the many spots that will be vacated over the next few years as our eminent faculty members retire in great numbers. These challenges are truly an existential threat to the greatness of UVA," said the statement.
The statement added that with "no bright lights on the financial horizon," the board members believe the university must "be able to prioritize and reallocate the resources we do have, and that our best avenue for increasing resources will be through passionate articulation of a vision and effective development efforts to support it. We also believe that higher education is on the brink of a transformation now that online delivery has been legitimized by some of the elite institutions."
Dragas added: "The board believes this environment calls for a much faster pace of change in administrative structure, in governance, in financial resource development and in resource prioritization and allocation. We do not believe we can even maintain our current standard under a model of incremental, marginal change. The world is simply moving too fast."
The rector held a brief press conference Sunday afternoon at which she summarized parts of her statement, but declined to answer anything specific. The first question was "what in the world could have changed" so dramatically in two years that the board wouldn't have known about it when Sullivan was hired. Dragas replied "I believe I've answered that question." Another reporter asked about what the philosophical differences were with Sullivan, and Dragas said that "I won't get into more specifics."
She ended the press conference after about 10 minutes, saying she had to go to the board meeting.
Sullivan was the first woman to lead the University of Virginia, which didn't admit women as undergraduates until the time she was earning her bachelor's degree in 1970. A sociologist by training, Sullivan held high-ranking positions at leading public research universities (vice president and vice provost at the University of Texas at Austin, executive vice president for academic affairs of the University of Texas System, and provost of the University of Michigan) before being named to the Virginia presidency.
She took over at a time that the university -- like most of higher education -- was dealing with constrained resources. Much of her emphasis has been on getting the university on stronger fiscal footing. Early on at Virginia, as other universities were spending big bucks to hire outside consultants, Sullivan assembled a team of faculty members with expertise in business and economics to advise her on financial strategy. Last year, she instituted a new budgeting system, giving individual units at the university more control over the funds in an attempt to encourage them both to find new savings and to be creative about new revenue streams.
Robert M. O'Neil, a retired president and law professor at the university, said that the budgeting changes were "brilliant," and long overdue. "I have nothing but the greatest admiration for what she has done in terms of moving the institution in terms of fiscal structure, and some things that frankly John Casteen [who served as president in between the two] and I were trying to work on. My sense is that Terry really came in and tightened things and focused things that John and I didn't have the opportunity or need to do."
O'Neil said he was "baffled" by Sunday's news, and had heard only good things about Sullivan.
Siva Vaidhyanathan, Robertson Professor and chair of media studies at Virginia, said via e-mail: "President Sullivan is the best president I have ever worked for. She has made every place she has worked a better place to study and teach. I wish the University of Virginia had let her do her job. This is a great loss to Virginia and a terrible mistake by its politically appointed board."
Given the out-of-the-blue nature of Sunday's announcement, many UVa watchers scoured the rector's statements for clues about what may have caused the rift. Some focused on the references to health care, leading to speculation that a conflict over the university's hospital was to blame. Others cited the rector's reference to recent moves by Ivy League and other leading research universities to move aggressively into online learning, suggesting possible board dissatisfaction with the fact that UVa has not made such a move.
When the university's board last month adopted the budget for the coming fiscal year, some board members expressed concern about a lack of money for increases in most academic operations, and called for more work to set priorities. An article in The Daily Progress quoted Vice Rector Mark Kington as saying "We have to rethink the scope of our operations," and "as long as we don't make the tough choices, we're dragging the entire institution down."
Sullivan has taken high profile positions against the positions of the two most powerful Republican politicians in the state (while she has also worked with them on other issues). She has questioned the push by Governor Bob McDonnell to cap the use of tuition dollars to pay for financial aid for other students. (Governor McDonnell issued a statement of praise for Sullivan on Sunday.)
She also resisted many of the efforts of Attorney General Kenneth T. Cuccinelli II to obtain records of a former faculty member who works on climate change. Cuccinelli argued that the records might show flaws in climate change research while many academic groups argued that he was trying to intimidate researchers who hold the consensus view that climate change is real. The Virginia Supreme Court in March backed the university's position that Cuccinelli did not have a right to all of the papers.
The university's Facebook page on Sunday afternoon was the site of much digital protest of Sullivan's ouster. There were a few anti-Sullivan comments, with one post calling her "politically correct." But the vast majority of comments were a mix of praise for Sullivan (she was called "a breath of fresh air" and praised for concern for students and faculty members) and anger over the explanation offered by the university. "The public statement is total doublespeak and the university community deserves more," said one comment. "This smells to high heaven," said another. Much of the criticism focused on the rector's statement, with one alumnus calling it "appalling."
This being a controversy about the University of Virginia, Mr. Jefferson was quoted. One comment addressed to the Board of Visitors said: "BOV how about the Truth, wherever it may lead ... sound familiar??"