You have /5 articles left.
Sign up for a free account or log in.
A much-awaited survey on adjunct working conditions, released today, finds what many have long suspected: Adjuncts don't make much money, they receive little support in terms of professional development from the institutions where they teach, and most would accept a full-time tenure-track position if it were offered to them.
But even though the findings may sound familiar, experts said the crowdsourced survey, which received 10,000 responses from part-time faculty members, provided detailed knowledge of adjunct work conditions. They hoped that as a result of the study, college administrators would pay more attention to part-time faculty, the largest group of postsecondary teachers in the country.
The survey, by the Coalition on the Academic Workforce, a group that includes 26 disciplinary associations and unions among others, found that pay for adjunct and part-timers was "strikingly low," with half of those who answered the 2010 survey saying that their annual personal income is less than $35,000 and two-thirds saying that they make under $45,000. "A significant number of these faculty members were part of a household that fell below the 2009 median household income in the United States: 21.6 percent reported a household income under $35,000, and 30.2 percent reported a household income under $45,000," said the report. (According to the American Association of University Professors, an associate professor at a master's-level public university had an average salary of $60,612 in 2010-11.)
The coalition reached respondents mainly through its member associations. And though crowdsourcing is different from a traditional statistical method (which would use a random, representative pool), those associated with the survey said they were confident in the results because of the large number of adjuncts who responded.
Maria Maisto, president of the New Faculty Majority, who has been a part-time faculty member herself at the University of Akron and Cuyahoga Community College in Ohio, said the survey provides evidence about adjunct work conditions that had been lacking. "This is particularly important since the Department of Education no longer collects data as it once did," she said. "This report challenges several myths about part-time faculty, such as that they are all retirees, or newcomers, or that they do not depend on the compensation they receive for their teaching."
Maisto said the survey would help her organization advocate more effectively for "teaching and learning conditions that all students and faculty deserve." She hoped administrators would look at the data more closely, and try to collect more data for individual universities.
According to the survey:
Eighty percent of those who responded have taught as part-time faculty for at least three years, while 55 percent have been teaching part-time for six years or more. "These figures suggest that most respondents to the survey see teaching as a long-term, professional commitment rather than as something 'adjunct' to another career," the report said.
About 19 percent of part-time faculty were teaching three courses in the fall of 2010, 30 percent taught two courses and nearly 25 percent of respondents taught one course. The rest taught four courses or more

.

The median pay for a three-credit course is $2,700, though those with a professional degree earned a median salary between $2,800 and $2,937, while a contingent faculty member with a doctorate degree earned a median salary of $3,200 for a course.
About 18 percent of part-time faculty receive their health benefits from a nonacademic employer and 37 percent receive similar benefits from a partner's or spouse's work place. About 23 percent of such faculty members had access to health benefits through their academic employer.
Part-time faculty who teach at a unionized campus are more likely to be paid for class cancelations and attending departmental meetings and receive regular salary increases than those teaching at a non-unionized campus. About 34 percent of those teaching at a unionized campus said they received regular salary increases while 12 percent of part-timers at a non-unionized campus received regular increases.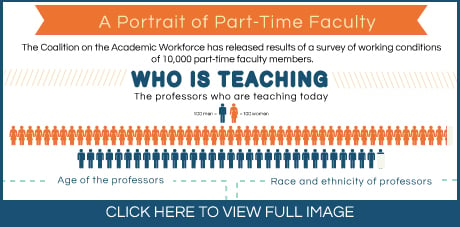 Coalition members reacted with optimism to the survey as a tool for reform. Rosemary Feal, executive director of the Modern Language Association, said contingent faculty tend to be invisible, with most people on campuses unaware of their work conditions. "It takes a lot of effort to have awareness happen," Feal said, hoping that the survey would have a snowball effect with more people finding out about the treatment of part-time faculty members.
Feal said the survey is one more tool to ensure that adjunct faculty do not remain invisible. The MLA, she pointed out, issued guidelines and recommendations in 2011 for non-tenure-track employment. "Academic institutions in the U.S. would not be able to function without contingents, and legislators and the public need to know more," she said.
John Curtis, director of research for the American Association of University Professors, said the strength of the survey was in the number of respondents, which was more than 10,000 for part-time faculty. "We did get a very large response, and we definitely have more information on compensation and working conditions," he said.