You have /5 articles left.
Sign up for a free account or log in.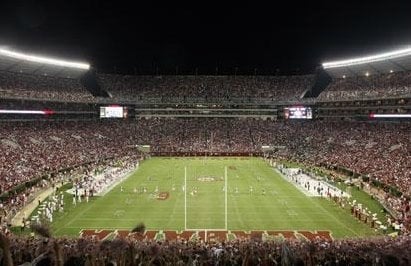 A win on the football field gives both fans and administrators a reason to celebrate, according to a new report that found football success increases a college's alumni donations -- especially to athletics programs -- along with its academic reputation and the quality and quantity of applicants.
The working paper -- "The Benefits of College Athletic Success: An Application of the Propensity Score Design with Instrumental Variables" -- was published by the National Bureau for Economic Research, which has published before about the relationship between academic success and alumni giving.
Other reports have found correlations between athletic success and positive effects such as an increase in alumni giving, but they have been criticized for creating a cause-and-effect relationship that could actually be operating in the reverse -- colleges' athletics programs could be flourishing because of increased donations, instead of the other way around.
But Michael Anderson, an assistant professor of agricultural and resource economics at the University of California at Berkeley and the report's author, used propensity score design -- comparing colleges that have an equal chance of winning a game -- to create his data and adjust for a lot of the ambiguity in previous reports. When possible, data from 1987 to 2009 were collected.
"The basic intuition there is, 'O.K., well let's get the odds from Vegas, and let's match up teams that had the exact same chance of winning going into the game, and then one of them won for whatever random reason,' " he said, adding that since the colleges had equal chances of winning the game, the effects they experience from winning or losing can be attributed to the outcome of the game and not found to be preexisting factors.
Anderson's report found that for NCAA Division I Football Bowl Subdivision teams -- teams that compete during the season and are potentially eligible for postseason bowl games -- winning football games increases alumni athletic donations, enhances academic reputation, increases the number of applicants and in-state students, reduces acceptance rates and raises average incoming SAT scores.
He identifies differences in the impact in the six conferences that participate in the Bowl Championship Series -- Atlantic Coast Conference, Big East Conference, Southeastern Conference, Big 10 Conference, Big 12 Conference, and Pacific-12 Conference -- and everyone else. Colleges from these conferences saw larger effects from athletic success than what he calls the "non-BCS" colleges in most of those categories.
Non-BCS colleges experienced a larger effect from athletic success in enrollment of in-state students and average SAT rates. "Both these measures pertain to attracting students rather than satisfying alumni, and it is possible that winning seasons have a larger effect on visibility for lower-profile non-BCS schools than for high-profile BCS schools," according to the report.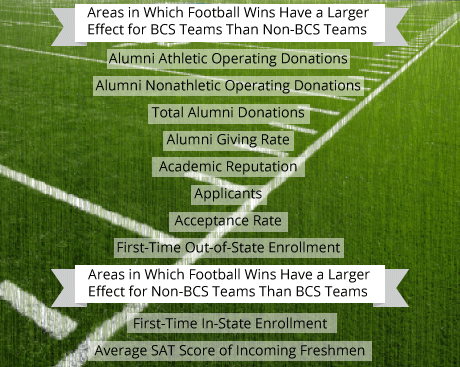 Anderson said previous research findings have been split about whether athletic success has any effect on these aspects of institutional development: "I think the previous research had been pretty mixed," he said. And even though his findings reveal effects that are up to three times greater than those in previous studies, he said these "spillover benefits" are still not enough to justify athletics expenditures.
According to the report, if a college improves its season wins by 5 games, it can expect alumni athletic donations to increase by $682,000 (28 percent), applications to increase by 677 (5 percent), in-state enrollment to increase by 76 students (3 percent) and incoming students' 25th-percentile SAT scores to increase by nine points (1 percent). But Anderson said these positive effects would not recoup however much money a college invested in its athletics program.
Jason Lanter, an assistant professor of psychology at Kutztown University and past president of the Drake Group, a faculty organization that has urged greater scrutiny of big-time athletics in higher education, said colleges need to look at the report with a grain of salt and realize that athletic success has a minimal impact on academics.
He said he is concerned about how an investment to boost athletic success would impact opportunities for students. "We need to think about the impact that this has on an institution as an educational system," he said. "If our mission is to educate young people, help them prepare for after college, then what does athletics do to help benefit that after college component?"
He and Anderson both said that since a lot of Football Bowl Subdivision teams still lose money, the positive effects outlined in this report aren't enough to justify additional spending.