You have /5 articles left.
Sign up for a free account or log in.
Electronic textbooks and computing tablets have a lot of buzz, but the old bound volumes and desktop models still dominate on four-year college campuses, according to a new survey.
The Apple iPad, which many pegged as the device that would finally make electronic textbooks appealing to students, is enjoying a great deal of hype and steadily growing user base, according to data collected this spring by Student Monitor, a market research firm. Sixty-six percent of respondents to the firm's latest survey -- which queried 1,200 full-time students at four-year colleges and universities -- said the iPad was "in" on their campuses. Fewer, about 12 percent, actually own an iPad, but students are adopting the iPad at a faster rate than the laptop computer when they were first released, according to Eric Weil, the president of Student Monitor.
(An earlier version of this article suggested that the iPad had made sluggish progress on campuses based on the fact that under 6 percent of students reported owning an Apple tablet computer. This was a misleading data point; twice that many students later reported owning an iPad, suggesting that many students do not classify their iPads as "tablets." This article has been edited since publication to reflect that misunderstanding.)
Meanwhile, rumors of the demise of the immobile desktop computer have been greatly exaggerated; 19 percent of students own a desktop unit, compared to 10 percent who said they own a tablet. (Many students did not identify their iPads as "tablets.") Laptops continue to dominate campus computing, with 88 percent of students owning one.
E-textbooks show signs of finally gaining traction, although they still account for a smaller share of all textbook purchases than any method of acquiring a print textbook. Twenty percent of students in this year's survey either bought or "rented" an e-textbook this spring. Over all, electronic versions accounted for 9 percent of all textbook purchases.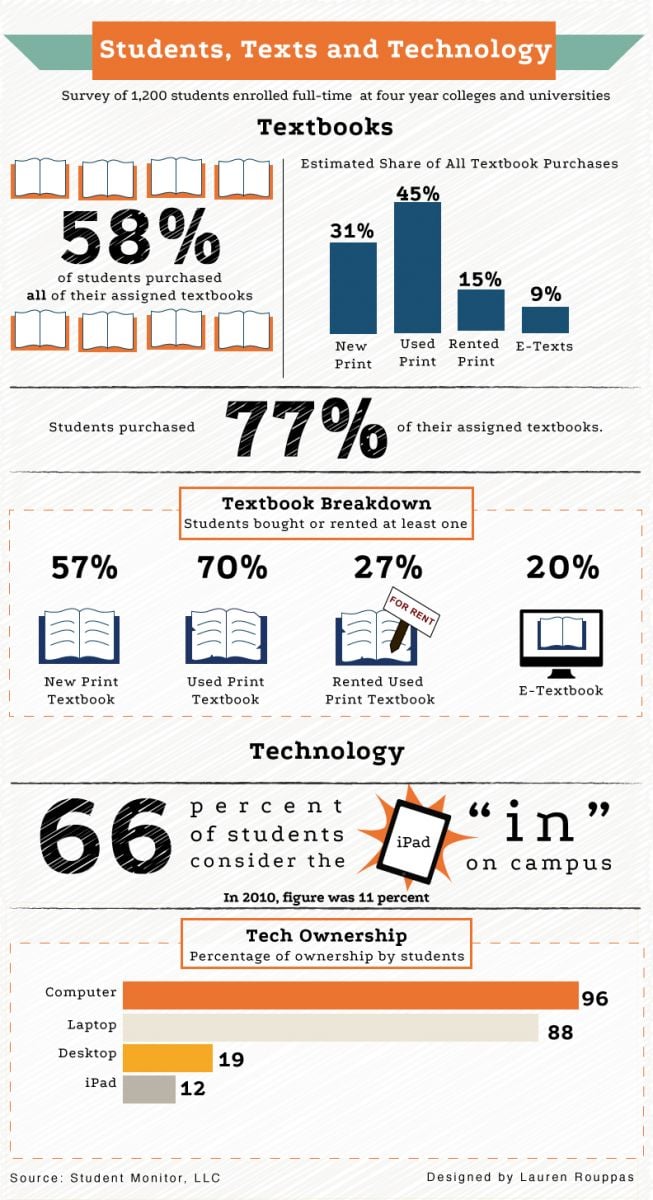 Print textbooks are nowhere close to extinction. Used print editions accounted for the lion's share of textbook purchases, at 45 percent. New print editions accounted for 31 percent of purchases, with print rentals clocking in at 15 percent.
The most common motivation for buying an e-textbook was still a mandate from the professor, with 32 percent of students reporting that they bought a digital version under direction of an instructor.
Nevertheless, students' allegiance to print appears to be eroding; among those who did not purchase a digital text, only 39 percent said they "prefer traditional print textbooks" — down from 50 percent two years ago and 59 percent three years ago.
For the latest technology news and opinion from Inside Higher Ed, follow @IHEtech on Twitter.