If state employees generally have salaries frozen amid budget cuts, should a single public university award generous raises?
Governor Christine Gregoire of Washington State is considered a friend of public higher education, someone who has backed universities during tough fiscal times.
But in the last month, she found herself frustrated by one of those universities. So much so that the Democratic governor recently wrote a strongly-worded letter to Bruce Shepard, president of Western Washington University, criticizing a decision by the university to give raises to faculty members as part of a new contract. It was clear from the governor's letter that she expected small or no raises this year for state employees, including those at public universities, and the Western announcement had caught her by surprise.
"In the worst economic times in 80 years, I am surprised that Western has entered into a collective bargaining agreement that provides for a salary increase of 5.25 percent effective in 2012-2013, a 4.25 percent salary increase each year during the 2013-2015 biennium, a 10 percent increase for faculty and instructors who are promoted, and an additional 15 percent increase in stipends for department chairs," she wrote.
She berated the university for ignoring the sacrifices made by state workers, most of whom haven't had a raise for four years. Some workers have been furloughed, while faculty salaries at the University of Washington and the Washington State University remain frozen.
"I sincerely hope that the faculty salary increases will not be paid for by the tuition increases Western imposed upon its students," the letter said, referring to the 16 percent tuition hike at the university set to take effect this fall. The tuition increase is higher than at other regional universities in the state, and the same as those adopted by the University of Washington and Washington State University.
The letter set off a furious debate, with Shepard defending the raises in a blog post while union leaders at Western said the raises would make the university more competitive when it came to hiring new professors. But an official at the University of Washington, the state's preeminent research university, was sharply critical of the raises, and so was Marty Brown, director of the state's Office of Financial Management. 
Western Washington isn't the only place to cause offense by awarding raises when other campuses (or units of state government) were under the impression that this was a "no-raise year." Last year, Richard Lariviere, the University of Oregon president, lost his job after state officials said that they were upset about his plan to give $5 million in pay raises to administrators and faculty members, even as the state waged a campaign to cut costs at universities in the Oregon system. The raises immediately caught the attention of faculty members at other public universities, who weren't so fortunate as to be receiving more money.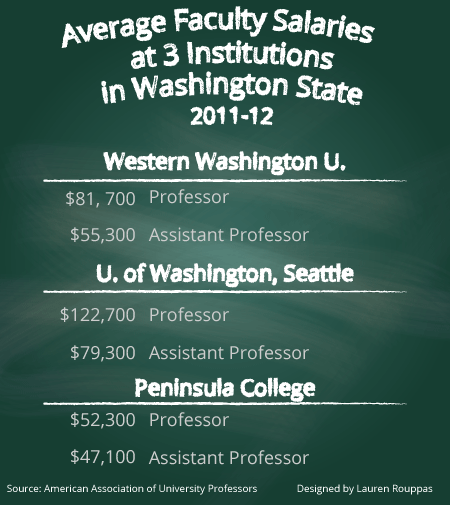 Washington State officials said that the governor wrote the letter because she was disappointed and had fought to prevent cuts to higher education in the past legislative session. "At no time were blanket pay raises discussed – especially when most state employees have had their pay reduced or frozen," said Karina Shagren, a spokeswoman at the governor's office.
Brown, who is Gregoire's budget director, said the raises will lead to challenges from faculty members at other public universities. "Their faculty is going to say, 'What about us?' " he said, adding that every other university in the state can make the same argument -- that raising salaries will help retain faculty. Brown said the decision would make the collective bargaining process with other universities and state workers in other sectors much more difficult. "I would say that we don't have the money to give raises like that, and it is a mistake that Western did it…. The legislature will look at how this occurred."
Brown's concern reflects reactions at the University of Washington, where Randy Hodgins, a spokesman, said that faculty members at his university were likely to feel resentful and unhappy because of raises at Western Washington University. "They are getting a pay raise when no one else is. Our concern is that shared sacrifice isn't as shared as we thought," he said.
Defending the Raises
Steve Swan, vice president of university relations at Western Washington, defended the salary hikes, which will cost the university $3 million this year, about 1 percent of its budget. "It was imperative to raise salaries in order to protect the excellence of our institution," he said.
Swan said the university has had a difficult time trying to retain faculty since the pay freeze in 2008, and in many instances, searches for faculty openings have been futile. "This is a commitment to ensuring the academic quality of the university," Swan said about the pay hikes.  
President Shepard, in his blog post, pointed out that the average annual salary for an assistant professor at the university was $55,300 while the average salary of an associate professor was $65,355. Both, he said, were lower than the average salary of a high school teacher in the state's Bellingham School District, located in the same areas as Western Washington University. The university addressed the concern now because a contract had to be negotiated for the coming academic year, he said.
"The governor provided us with very clear direction:  protect core functions, make the hard choices, focus on service to Washington, avoid the easy road of across-the-board cuts, figure out new ways of doing business.  That is exactly how we have proceeded," he said in the blog post.
When officials at the university were asked whether it was fair for faculty members to get raises when other state workers did not, they pointed to Shepard's blog post, which says: "Western is out front in addressing this issue because we were the first to be required to negotiate a contract for the coming year.  We are not alone in addressing the issue, though… The increase we settled on is less than the increases that accumulated elsewhere under other contracts and while we were providing no raises."
Steven Garfinkle, president of the United Faculty of Western Washington, which is affiliated with the American Federation of Teachers and the National Education Association, said he was disappointed with the governor's letter. He said that instead of pitting public employees against each other, he hoped that Western Washington was leading the way when it comes to fairer compensation for state workers.
Competitive Edge in a 'National Market'
Saranna Thornton, a professor of economics at Hampden-Sydney College and co-author of the American Association of University Professors' annual salary survey, said in an e-mail that average salaries for faculty members at public universities nationally increased by 4 percent (when not adjusted for inflation) in the last three years. "If all of the public universities in Washington do not start increasing the salaries of their faculty -- they will find it harder to recruit and retain good faculty -- who can find better pay outside of the state university system," she said.
Thornton said a national job market exists for faculty members, and Western Washington's commitment to pay raises was a strategic move. "This investment in faculty will buy much higher quality faculty in the current labor market, than it would in four to five years when the economy has recovered," she said. The risk, Thornton said, is that public universities might lose their talented faculty members to private universities.
Western Washington officials were asked to give the number of faculty members recruited elsewhere but could not provide it.
And even though University of Washington officials have criticized the raises, Janelle Taylor, outgoing president of the university's AAUP chapter and associate professor of anthropology, defended the hikes. "Why is it so terrible for a university to invest in its faculty?" Taylor said. "They can invest in its infrastructure and its buildings, but not its people?"
Still, there are plenty of others who question the timing of the pay hikes.
"I am sure that the raises they want to give are deserved, but so are the raises that we want to give," said Hodgins, the spokesman at the University of Washington.
"Given the general fiscal situation in the state and the tenuousness of the state's funding for higher education, the raises are unfortunate," said Kriss Sjoblom, a vice president and economist at the Washington Research Council, which calls itself a "business-supported research organization." Sjoblom said the raises were an effort to prop up the "long-term health" of the university, but they would complicate negotiations with other state workers.
Paul Guppy, vice president for research at the Washington Policy Center, a nonprofit that advocates public policy based on free-market solutions, said he wanted the government to be more disciplined when it came to the budget. "My independent view is that if faculty members are not happy with their salaries, they are welcome to seek opportunities elsewhere," he said.