You have /5 articles left.
Sign up for a free account or log in.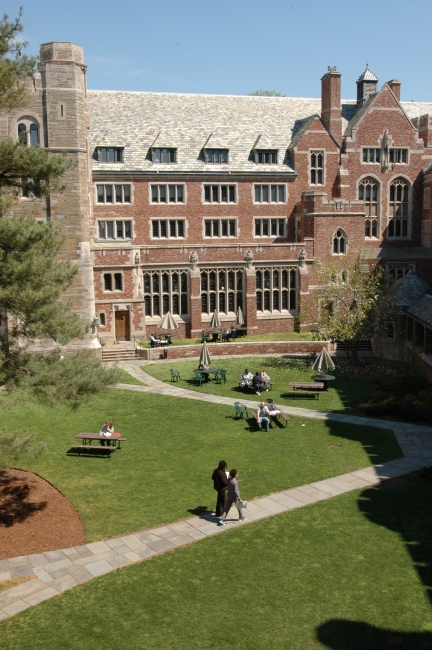 Yale Law School -- already one of the nation's top breeding grounds for law professors -- will expand its degree offerings with a Ph.D. program starting in fall 2013.
The three-year program will be open to applicants with American J.D. degrees and will offer two semesters of coursework in research background and skills, followed by two years of dissertation work, concurrent with two semesters of teaching experience. The program will pay for Ph.D. candidates' tuition, along with providing health insurance and a stipend to cover year-round living expenses.
Currently, many law professors hold a J.D. and an additional qualification -- practice experience, fellowship experience or a Ph.D. in a different discipline, such as economics, philosophy or political science -- but not necessarily a credential designed for law professors.
Gordon Silverstein, assistant dean for graduate programs at the law school, said it will accept five students a year for the first three years -- a total of 15 students on campus. It will eventually aim to have about 20 Ph.D. students on campus at one time.
Silverstein said this program is different from other Ph.D. programs offered in conjunction with law schools -- such as the University of California at Berkeley's Ph.D. in jurisprudence and social policy and Vanderbilt University's Ph.D. in law and economics -- because it focuses on the full field of law, not specific aspects of it.
"We sort of like to think of this as the study of law from the perspective of law, rather than the study of law from the perspective of economics," he said. "Law is maturing enough that we might be able to start thinking about it as a discipline instead of a kind of collection of concentrations on different aspects of law."
Filling a Need
Silverstein said graduates of Yale's program will fill a need, but he doesn't think every law professor should hold a Ph.D. in law.
"You couldn't imagine a law school without great clinical faculty and great practitioners," he said. "I hope sometime down the road it would also be very hard to think of a great law school that wouldn't also have some people who are also Ph.D.s in law with this broader and more disciplinary perspective."
But Kyle McEntee, executive director of the nonprofit advocacy group Law School Transparency, said he is concerned that Yale might be looking in the wrong direction for the future of legal education: "Is this something where they're just content with saying [they'll] be a feeder to the elite law schools?" he asked.
"I think right now the legal education needs leaders," he said. "And it needs the leaders to come from elite schools to show the rest of the schools the way legal education should go in the 21st century."
He said these leaders must decide whether every law school should develop an elite Harvard- or Yale-type model. He said schools catering to local students are generally more focused on practical rather than theoretical approaches, and faculty members' backgrounds should reflect these missions.
"If these people are going to go work for a state university in the Midwest, why are we asking whether we want them to have a Ph.D. in economics or a Ph.D. in law?" McEntee said. "We should be asking, why don't they have experience 15 years as a litigator and then teach litigation practice?"
Competing for Jobs
Silverstein said more and more aspiring law professors hold both a J.D. and a Ph.D. in a related discipline, such as political science or philosophy. "There's no question that the competition for these positions has become much more intense than it once was," he said. "Schools that are hiring can -- and do -- demand more of the candidates that they're interested in hiring."
He said another qualification law schools desire in applicants is publishing experience, which can be gained either through less-structured fellowship programs or supervised Ph.D. programs
Yale's Ph.D. program will pair candidates with a supervisory dissertation committee. "It's those elements that there is a real demand for in the market," Silverstein said. Candidates' mandatory dissertations will either be one book-length piece or three shorter, related publishable pieces, he said.
Silverstein said the Ph.D. program will also provide extensive training in teaching experience and professional development -- offerings that distinguish it from fellowship programs, which are also a widely accepted pathway to law professorship.
The market for law professors has been active compared to other fields, so becoming a law professor has necessitated additional degrees and credentialing, said Michael Olivas, a law professor at the University of Houston and director of the university's Institute for Higher Education Law and Governance. "It's clear that people today who are hired into law teaching are more highly credentialed on average."
But Olivas, who also served as the immediate past president of the Association of American Law Schools, said it's hard for aspiring professors to develop expertise in certain types of law -- for example, immigration law -- without clinical experience.
According to Yale Law School's website, applicants to the Ph.D. program do not need to have practical law experience. Since they must have their J.D. in hand when applying, applicants will have spent at least one year out of law school before entering the Ph.D. program, but according to the website, this can be "experience in a pursuit largely unrelated to law."
A Different Type of Doctorate
Some law schools -- Yale included -- offer S.J.D. (doctorate-level) programs for students who hold J.D. and LL.M. (master's-level) degrees. Olivas said Yale's new program resembles a typical S.J.D. "It looks very much like an S.J.D. called a Ph.D."
But Silverstein said it's not. Yale's S.J.D. program (also called a J.S.D.) is open to students who have already earned an LL.M. from Yale -- a degree that is overwhelmingly pursued by students holding a foreign law degree, he said.
"I don't think any of the S.J.D. programs would have anything like the sort of full-scale attempt to build on law as a field or law as a discipline that this program contemplates," Silverstein said, adding that neither the LL.M.. nor the S.J.D. programs offer the same type of extensive coursework and training seminars as the Ph.D. program.
Olivas said he thinks some law schools will decide to offer a Ph.D. because they think it's more noteworthy than the S.J.D.
The program has garnered some critics. Brian Leiter, a law professor at the University of Chicago, opined about the new program on his blog, calling it "the worst idea in the history of legal education," and not a true Ph.D. program because of the dearth of required coursework or systematic teaching and research. He wrote that other than providing Ph.D. candidates with an opportunity to beef up their writing portfolios, the program won't give them the same advantages that earning a Ph.D. in a different discipline would.
Silverstein said he thinks some people have misconstrued the program's concept. "I think that it may just be the nature of the blogosphere that people have kind of made some quick conclusions about this, which maybe are a little bit off."
He said that while administrators at Yale think the program is innovative and original, they recognize that there are other advanced law degree programs available to students, such as the programs at UC-Berkeley and Vanderbilt.