You have /5 articles left.
Sign up for a free account or log in.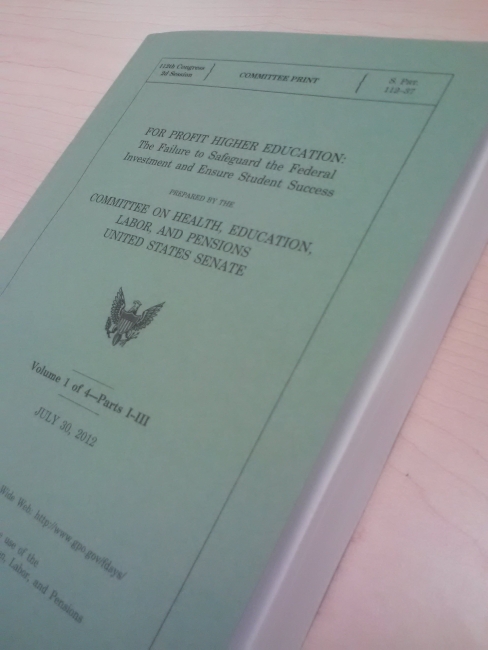 WASHINGTON -- Sen. Tom Harkin's two-year investigation of for-profit higher education has ended, and was capped with a four-tome final report that many -- at least critics of the industry -- see as definitive. The for-profit policy battle is far from over, however, although it probably won't fire up again until 2013.
The report was accompanied by a shift in tone by the Congressional Democrats who are leading the ongoing pursuit of the for-profit-college industry. Instead of taking on the entire sector, or questioning whether profit and higher education are compatible, lawmakers at the report's Monday release on Capitol Hill said for-profits are here to stay and will continue to help more disadvantaged and nontraditional students attend college.
"Their success is in the national interest," Harkin said, offering praise for several for-profits -- a rare occurrence for the Iowa Democrat.
He said American Public Education, Strayer Education, Walden University and National American University have largely risen above problems found in the report, which was prepared by staff at the Committee on Health, Education, Labor and Pensions, which Harkin chairs.
Receiving a more nuanced compliment were Kaplan Higher Education, DeVry and the Apollo Group, all of which have had "very serious problems" in the past, according to Harkin, but are now moving in the right direction.
He didn't specify what those large, publicly traded institutions had done to clean up their acts. But both Kaplan and Apollo's University of Phoenix have moved to become more selective and to make it easier for unprepared students to leave or be shown the door without taking on debt. Those changes have contributed to steep enrollment declines.
Harkin said he hopes more for-profits will improve voluntarily. But self-correction alone will not fix the industry, he said, because its ills are too widespread. The investigation, which targeted 30 for-profits, questioned federal investment at those with high dropout rates and that saddle students with debt by offering expensive degrees of questionable value in the workplace.
For-profits and their advocates said the report was just the latest in a string of unfair attacks, and that Harkin and committee staff had cherry-picked data to make for-profits look bad. Steve Gunderson, president and CEO of the Association of Private Sector Colleges and Universities, the sector's trade group, said Harkin, an old friend and colleague, was "misrepresenting" for-profits as part of his "ideological cause."
Bill Pepicello, president of the University of Phoenix, sent a message to the university's 350,000 students over the weekend, telling them more attention would soon be paid questioning Phoenix's "commitment to your success." He also said many politicians misunderstand "how we fit into the higher education landscape," thinking, for example, of college students as being teenagers, not the working adults who primarily attend Phoenix.
Despite his praise for some in the industry, Harkin said Congress must act to protect the federal investment in higher education, which is often wasted at for-profits.
"Billions of taxpayer dollars are being diverted from the main purpose of educating students," he said.
One reason for more legislation, Harkin said, is the industry has become adept at "regulatory evasion," such as by gaming the 90/10 rule, which requires that institutions receive no more than 90 percent of their revenue from federal sources, primarily student aid and loans.
But Harkin acknowledged that any new or pending legislation that seeks to tighten the screws on for-profits has little chance of moving forward in the coming months in a badly split Congress in an election year. A better bet, he said, would be for bills to be considered in 2013, as Congress moves to reauthorize the Higher Education Act.
"Honestly, this year I don't think we're going to get much done," he said.
Stage-Setter
The report was not officially endorsed by other Democrats on the committee, and was submitted instead by committee staff. That may be a sign of a lack of legislative urgency behind its recommended fixes, some observers said.
"This is not a committee report," Gunderson said. "This is a staff report."
Republicans clearly aren't backing it. The committee's GOP staff criticized the investigation for not being conducted in a bipartisan manner and for unfairly singling out for-profit institutions for problems shared by some nonprofit colleges.
Harkin, however, does have allies on the Hill, two of whom appear to be angling to join him and Sen. Dick Durbin, an Illinois Democrat, as leading critics of the industry.
Sen. Kay Hagan of North Carolina, also a Democrat, has been vocal on legislation that seeks to protect veterans and members of the armed service from aggressive marketing by some commercial colleges. And Richard Blumenthal, a Democrat from Connecticut, appeared with Harkin at the event Monday and promised to introduce a new bill to encourage more disclosure by for-profits to prospective students.
Gunderson said Harkin, Blumenthal and Hagan were probably not going to "give up their interest in this issue."
Beyond the legislation, Harkin said the investigation and report have helped in "setting the stage" for the news media and public to ask tough questions about for-profit institutions. Indeed, Harkin has succeeded in getting people to pay attention to his pursuit of the industry.
"This report has put the nation on notice that there is a problem here," Blumenthal said.
For-profits have often complained that they are being subjected to a double standard, and that traditional higher education should also receive scrutiny by Harkin and others on Capitol Hill.
That might actually happen to some degree, as there were signs Monday that Harkin would include nonprofits in future legislative gambits. For example, he pointed to a bill he proposed with Hagan that would ban the use of revenue from federal financial aid for advertising, marketing and recruitment. That legislation would apply to all colleges, Harkin said Monday.
Another proposed reform that would also target nonprofits is the report's call for the U.S. Department of Education to collect more "comprehensive" data on student outcomes, such as more and deeper graduation and retention rates. For-profits back that idea, Gunderson said.
If Harkin succeeds in getting Congress to tighten controls on federal aid during reauthorization next year, for-profits might not be only ones feeling the heat.
For example, on Monday Harkin said the "efficiencies of online education are not passed on to the students." While he was talking about for-profits, that statement should make some nonprofit colleges nervous.