You have /5 articles left.
Sign up for a free account or log in.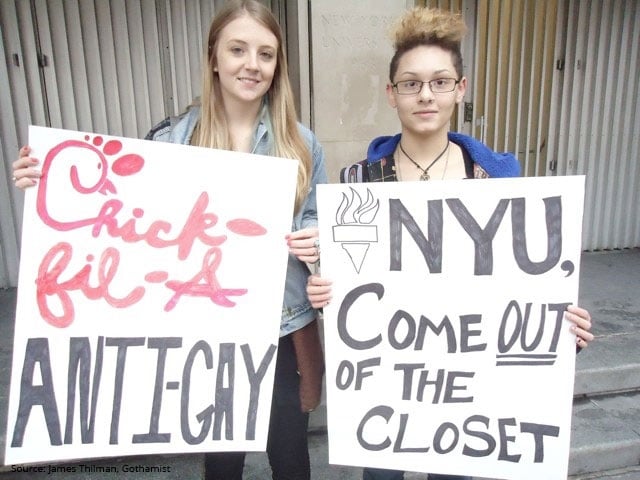 Two days after spicy chicken sandwich lovers across the country answered former Arkansas Governor Mike Huckabee's call to celebrate "Chick-fil-A Appreciation Day" in support of the now-controversial fast food chain, many students who did not will likely instead take part today in "National Same-Sex Kiss Day at Chick-fil-A."
And tomorrow, the petitions to remove the restaurant from dozens of campuses will continue. The Chick-fil-A dispute is resonating strongly with students. 
Chick-fil-A is hardly the only campus vendor with political ties that offend some students. They have taken issue with other food products, for instance – take a movement nearly two years ago to boycott hummus from Sabra Dipping Company, whose co-owner made financial contributions to the Israeli Defense Forces. (Students at Princeton University rejected a boycott move, with many saying that their food choices shouldn't become part of a political debate.) Students have taken on Sodexo, one of the major food service providers that contracts with Chick-fil-A, because of worker rights issues and accusations of union stifling. Or, there's the anti-sweatshop protesters who for decades have urged universities to cut ties with apparel companies including Nike and Russell Athletic. (Sodexo, Nike and others deny the various charges and have largely not lost business.)
Many of the protests over various campus foods or vendors have gone on for years, but the anti-Chick-fil-A movement has spread rapidly in a short period of time. But it's not a coincidence that the Chick-fil-A issue is drawing a larger – or at least more vocal – range of students (anti-Chick-fil-A petitions have surfaced at more than a dozen campuses, from California to Kansas to Georgia). As political debates go, one would be hard-pressed to find an issue these days on which more college students – on the left or the right – are coming to agree on. (An annual survey of incoming freshmen this year found that 71.3 percent either believe "strongly" or "somewhat" that gay couples should be allowed to marry, up 6.4 percentage points from two years ago.)
"They're in general not likely to get a huge backlash from their fellow students, and in fact are likely to get a lot of support," said Angus Johnston, a student activism historian and adjunct assistant history professor at the City University of New York's Hostos Community College. (It's also worth noting that while many local-level campus protests regarding any given issue may be playing out on various campuses at any given time, they gain momentum when the story emerges at the national level.)
But how exactly students choose to proceed is a different – and interesting – matter, Johnston said. While some have found it perfectly sufficient to simply not spend money at Chick-fil-A, and to encourage others to do the same, many won't be happy until the restaurant is off the campus for good. And that may be a product of their environment.
'A Sense of Ownership'
"Students feel a sense of ownership over, or citizenship in, the campus. They don't see themselves as consumers of a product who are going to the campus…. They're responding out of that sense of community, that sense of obligation," Johnston said. "In general, if there's going to be an organized effort, the organized effort is going to be to, if it's actually on the campus and the campus is implicated, then students are going to look for ways to kick it off campus."
Marsha Herman-Betzen, executive director of the Association of College Unions International, said these are precisely the sorts of debates should play out in a student union, where many campus Chick-fil-As rent space. And while most student union leaders likely support gay marriage, they would be reluctant to give Chick-fil-A the boot.
"The whole premise of a college union is to bring faculty, staff, students, guests of the institution together under this one roof," Herman-Betzen said. "So, you know, this happens all the time."
For example, she said, university bookstores selling apparel sometimes found themselves stuck in the middle the long-running student protests against Russell.
Opposition to campus ties to Chick-fil-A continues to grow. On Thursday, Campus Pride, a national group that advocates for gay students, called on colleges to kick out Chick-fil-A or any vendor that works with the company, and to also pull out of conferences or athletic events with the company as a sponsor. "If colleges wish to create an atmosphere that is respectful, inclusive, diverse and fosters safety for all students, then associating with Chick-fil-A, which is on record funding documented hate groups, is downright wrong and has to end immediately," said Shane Windmeyer, executive director of Campus Pride. "Saying 'no' to Chick-fil-A is saying 'no' to hate."
The organization and others are also calling for the National Collegiate Athletic Association and university teams to refuse to participate in the Chick-fil-A Bowl, or early season games linked to the bowl game.
The most-publicized protest against the fast food chain has been unfolding since March at New York University, where rallies and a 10,000-signature petition failed to convince the student government to ask the university to consider Chick-fil-A's removal. "To ban any entity from campus for ideological reasons is, in most every case, to limit freedom of expression," the NYU Student Senators' Council wrote in a statement.
At the University of Kansas, meanwhile, conflicting petitions have surfaced. One to remove the Chick-fil-A in Kansas' student union has garnered about 2,150 signatures, while two others saying the restaurant should stay open have a combined 700 signatures.
"The place for social change is at the ballot box, not the fast food restaurant. Do not deprive students of a tasty meal because of the personal beliefs of a few," reads one pro-Chick-fil-A petition at Kansas. "Furthermore, the Chick-Fil-A and its executives have a Constitutionally protected right to proclaim their opinions - no matter how popular or unpopular these opinions may be. Chick-Fil-A has done nothing that violates existing anti-discrimination laws.  As a public institution, the University of Kansas has no right to ban Chick-Fil-A from operating on campus based solely on the company's religious and political stances."
In most cases restaurant franchises do not contract directly with universities but with the food service company that's on the campus. A Sodexo spokesman said that in fact, the company chooses "restaurant partners" based on feedback from administrators, faculty, staff and students, and "provides a variety of options" from which the campus may choose.
Students have been protesting Chick-fil-A since before the summer -- Northeastern University in February scrapped plans for a campus Chick-fil-A after the student government voted not to allow it -- but they took it up with renewed vigor after the company's CEO, Dan T. Cathy, caused a firestorm with a June radio interview in which he said he is very "supportive of the family – the biblical definition of the family unit." The company has donated nearly $2 million to Christian groups supporting anti-gay causes that go beyond the question of marriage.
"We're inviting God's judgment on our nation when we shake our fist at him and say, we know better than you as to what constitutes a marriage," Cathy said. "And I pray God's mercy on our generation that has such a painful, arrogant attitude that thinks we have the audacity to redefine what marriage is all about."
Liberty University -- which already has a Chick-fil-A -- on Thursday announced that it was opening a new Chick-fil-A location on campus, with plans for yet another. The announcement noted that the university was doing "the opposite" of other institutions, and that Liberty has honored Chick-fil-A's founder with an honorary degree.
Administrators Vow Not to Eat There
Some administrators are even getting involved. On Thursday, Oakland University in Michigan responded to mounting pressure with a statement calling Cathy's remarks "certainly regrettable," adding that they "do not in any way reflect the views of Oakland University." The campus houses the state's only Chick-fil-A franchise.
The president and provost at the University of Louisville sent a statement to the campus LGBT group saying they "won't be eating at Chick-fil-A anytime soon." University spokesman Mark Hebert said the statement was a "personal response" to Cathy's remarks, not to an online petition calling on Louisville to boot the restaurant from campus, which had more about 1,300 signatures as of Thursday.
But after meeting with various students and campus groups, the administrators decided to take no action.
"[Louisville is] a university that steadfastly supports free speech – even if that speech goes against our values. We respect an individual's right to disagree. We respect an individual's right to choose where to spend their money," President James Ramsey and Provost Shirley Willihnganz said in a statement sent to campus Wednesday afternoon. "We as a university will continue to stand for diversity and to celebrate our differences."
The handful of college administrators who have spoken about the Chick-fil-A controversy, including those at Emory University, have taken the same tack of touting diversity and freedom of expression, not directly commenting on whether the local franchise should remain but rather distancing themselves from Cathy's comments and declaring students' rights to patron whichever establishments they please.
But Louisville student Byron M. Fisher, chair of the campus College Republicans, while agreeing with administrators that diverse viewpoints should be valued on campuses, doesn't get why they would feel compelled to speak to the issue in the first place – and is disturbed that they would even consider banning the restaurant, as they did at Louisville.
"I thought to myself, well, if they can ban a business, how long before they're going to start banning us?" said Fisher, a chair of the Louisville College Republicans and an opponent of same-sex marriage. "I mean, where does it end? Are people going to be denied admission based on their beliefs?…. If the only people you tolerate are people who agree with you, that's not tolerance."
The students do wield power, Johnston said – but perhaps not as much as they might like.
"I think that in many cases it's going to be not so easy to dislodge a contract that's already in place," Johnston said, "but I certainly would not look for Chick-fil-A to be expanding its presence on campuses anytime soon."