You have /5 articles left.
Sign up for a free account or log in.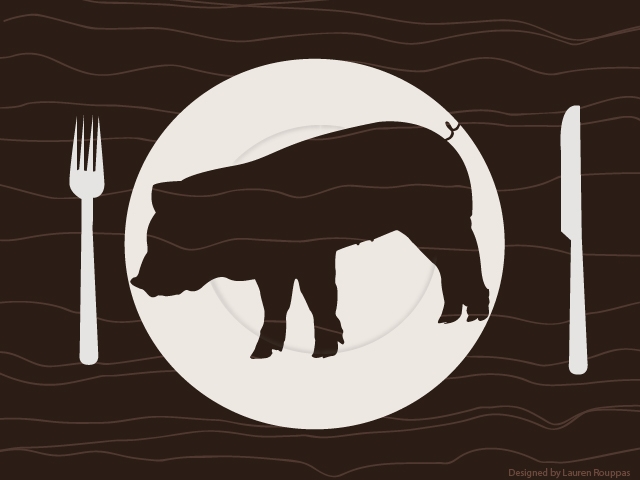 You, too, can be O.K. without pork.
That's the message of Michael J. Sorrell, president of Paul Quinn College in Dallas. Well, part of the message at least – after all, Sorrell didn't ban pork from his campus dining facilities arbitrarily. No – the decision to stop offering any pork products was based in a much broader institutional philosophy, the president says.
"When you come to college, you come to be educated," Sorrell said. "We thought we could do more in the area of promoting healthy lifestyle choices and healthy eating habits."
In a brief statement announcing the decision Tuesday, Sorrell put it like this: "Eating pork can lead to high blood pressure, high cholesterol, cancer, sodium retention and heart problems, not to mention weight gain and obesity. Therefore, as a part of our continued effort to improve the lives and health of our students, Paul Quinn College and its food service partner Perkins Management have collaborated to create a pork-free cafeteria."
"That applause you hear in the background is the blood pressure of our students, faculty and staff." --Paul Quinn College President Michael J. Sorrell
In a subsequent interview with Inside Higher Ed, Sorrell framed the move as just another step in Paul Quinn's crusade for healthier students, staff and community members. The college had already started reducing the availability of fast food, pork and other fatty and sweet foods, adding salad options instead. After the football team got cut a few years ago, the president turned the field into an organic garden (which has since produced 6,000 pounds of food, much of which is donated or goes to the campus cafeterias). The college has also taken up a number of other projects, like the American Heart Association's Heart Walk and AIDS testing.
The health problems Sorrell wants to head off are more common among the demographic the historically black college serves: low-income, minority students. When Sorrell got there five years ago, he couldn't believe the menu.
"There was a proliferation of ranch dressing on everything. I mean, it just was typical choices that you would see made by folks who weren't creative enough to manage the economic constraints with the need to create healthy options. I mean, we were no different than many other small colleges that service students from underrepresented communities," Sorrell said. But campus food is on a continuum. "If I'm a betting person, I bet the future holds a 100-percent healthy dining campus. We're not there yet, but we're gradually working our way there."
But the no-pork idea is unlikely to catch on at other colleges, said Rachel A. Warner, director of communications and marketing at the National Association of College and University Food Services.
"Colleges and universities will cater to whatever their student population wants," Warner said. "So if there was a large demand, for example, for a specific type of protein or menu item, they'll usually provide that. But normally our schools try to increase the diversity of their menu, as opposed to decrease it."
Such was the case a year ago when Paul Quinn's neighbor 40 miles up the road, the University of North Texas, drew praise for introducing the nation's first vegan cafeteria. The only goal of opening the cafeteria (which debuted the same day as another new campus dining hall that serves Southern comfort food) was to give students more variety, North Texas officials said – not to make a statement about student health, sustainability or animal welfare.
Paul Quinn offered pork in the dining halls at least once daily: bacon at breakfast. But pork could also be an ingredient in any number of dishes: loaded mashed potatoes and pulled pork sandwiches, for instance. Annual per capita consumption of pork in the United States was 50.5 pounds in 2007 and represented 36.7 percent of meat consumption, according to the American Meat Institute. (Red meat products made up a little more than half of meat consumed that year.) The Texas Pork Producers Association awards scholarships to college students involved in pork production or study meat or animal science. The association also puts on a "Pork Leadership Camp" and "Pork Youth Symposium" for youth in the state. 
"It's certainly a popular item," Warner said.
But eliminating meat – even just once a week – has caused anxiety on some campuses. Last year when Bowdoin College observed Meatless Mondays, the national nutrition and environmental awareness campaign in which a few dozen colleges officially participate, students protested with a barbecue outside the dining hall.
"The assumption that is implied by saying we need to raise awareness by having Meatless Monday is that people aren't aware," a Bowdoin student protester said. "I think taking away the option to moderately eat meat from those who are aware of the issues – it upset me, that they decided I shouldn't have access to meat on Monday, denying the option to eat meat even moderately."
The same argument could certainly be made at Paul Quinn – and almost certainly will be. But Sorrell has his retort ready.
"We told our students that we're going to promote healthy living. We told them that we wanted them to have long, productive and healthy lives," Sorrell said. "Now, if one or two people don't like that…. then they aren't being true to the institutional ethos."
However, Ceci Snyder, a registered dietician and spokeswoman for the National Pork Board, disputed Sorrell's claims regarding the health risks of consuming pork. "It's just not based in fact at all," she said, noting that pork tenderloin has the same amount of fat as a skinless chicken breast, and chops, which come from the loin, contain six grams or fewer of fat.
"You can cook any meat incorrectly and add fat and salt," Snyder said. Of Paul Quinn's pork ban, she added, "We're for sure surprised – I've never seen anything like that before."
Pork has been the center of a campus controversy before – under vastly different circumstances. Brandeis University unsettled some of its Jewish supporters in 1987, when the administration added pork and shellfish to campus dining halls to appeal to international students. The university already served many non-Kosher options, but pork and shellfish are of particular symbolic significance to many Jews.
At Paul Quinn, meanwhile, students are about to see their poultry consumption go up.
"We'll still cook green beans, we'll just cook them with turkey instead of ham," Sorrell said. "The reality of it is, it's not as big of a deal as people make it out to be. You can be O.K. without pork. I think they'll survive."