You have /5 articles left.
Sign up for a free account or log in.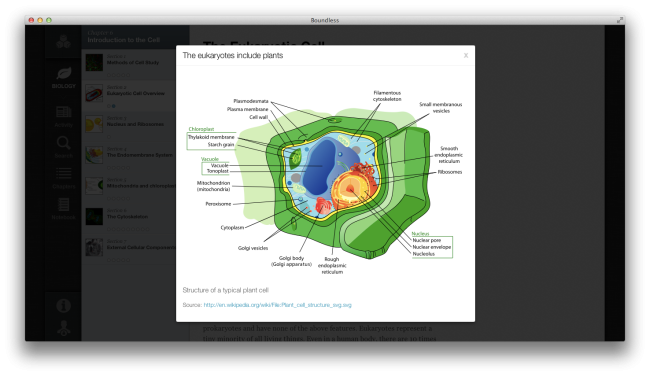 Textbook publishers have almost boundless disdain for Boundless Learning, and it's not hard to see why.

The company, which unveiled an upgraded, public iteration of its software Wednesday after a year in beta, offers college students free, open versions of textbooks that would normally cost them scores if not hundreds of dollars. It describes what it does as "textbook replacement."
It does so, essentially, through reverse engineering -- identifying widely used textbooks in certain fields (three last year, seven now) and then stitching together the best freely available material it can find and presenting it to students as an alternative (without charge, at least for now). Its model has earned it more than $9 million in investor funding -- and a big fat lawsuit last spring from several leading publishers, who accused the company of violating their copyright by copying "the distinctive selection, arrangement and presentation" of their textbooks.
"Notwithstanding its spin about being on the cutting edge, Boundless gets an 'F' in originality for deliberately copying the creative, scholarly and aesthetic expression of Plaintiffs and their authors," Pearson Education, Cengage Learning, and MacMillan Higher Education wrote in their federal court complaint.
Copyright law may be the wedge that the publishers have at their disposal to challenge Boundless, but their legal strategy is really a business strategy aimed at knocking the legs out from under a potential competitor eyeing their profits, says Cable Green, director of global learning at Creative Commons, which champions open content. "Boundless is upsetting to the existing business models in the publishing industry for various reasons," he says. "So it's not surprising that the publishers are going after someone arguing that the commercial textbook market is so out of whack in how they are priced."
Wide Open Market
The college textbook (and broader educational materials) market -- valued at roughly $4.6 billion a year and increasingly criticized as an unnecessary of student expense -- has many moving pieces. There is the traditional print side, which includes components that sell books new and used, and a growing market of companies (and a growing number of college bookstores) that will rent textbooks. (The latest entrant into the latter category is the behemoth Amazon.) Then there is the emergent digital textbook market, driven (though more slowly than many advocates would like) by the growth in usage of the iPad and e-readers such as the Kindle and Nook.
Challenging that cluttered landscape is the open educational resources (OER) market (though true believers prefer to refer to it as a movement rather than a market). Its goal is to develop free, high-quality textbooks that can be shared and adapted by users, creating a loop where they are constantly improved. Many of the players in it are nonprofit organizations (and, increasingly, governments) whose goal is to drive down student spending or institutional costs. But there have also emerged companies (such as Flat World Knowledge) that produce revenue through sales of non-digital versions of the books, study aids, and other materials.
This is the space into which Boundless Learning has crept. Unlike Flat World and some other open access providers, which seek to persuade institutions and individual instructors to offer their textbooks to their students, Boundless aims directly at students themselves, promising them the highest-quality open-access content in the best possible technology platform. Their primary targets, says Ariel Diaz, one of its founders, are the third or more of all students who don't buy their textbooks at all, often citing price as the reason.
The company does not want to stop at those who are currently nonconsumers, though; its pitch to students who are now paying $60 to $125 or more per textbook is plain: "Replace your assigned text for 100% free."
Last year students "across a thousand" colleges and universities used the company's replacement textbooks in economics, psychology and biology, Diaz says, though he declines to disclose an exact number of students. (This year Boundless is adding texts in four additional subjects -- sociology, writing, history and anatomy/physiology.)
Students choose a course and the company points them to the alternative to the leading textbook or textbooks in the field; in the case of Biology 101, the standard (and Boundless's target, essentially) is Pearson's Biology, commonly known as Campbell Biology after its lead author, the late Neil A. Campbell.
Some of the material Boundless curates for students as the alternative to Campbell comes from scholarly repositories such as Biomed Central, but much of it is from Wikipedia, which for some faculty members is likely to be a yellow if not a red flag. E-mail messages to about 10 college instructors who use Campbell Biology and McGraw-Hill's Economics (Boundless's choice for Econ 101) seeking feedback on the quality of Boundless's alternative materials all went unreturned, one of the hazards of trying to reach many academics in early August.
Poor Reviews From Publishers
If getting instructor feedback on Boundless proved difficult, publishers have shown no such reticence, especially in the legal system.

The three major publishers who sued Boundless in April (and presumably others) believe that it is leeching off the intellectual property its authors have created, copying the structure and form of their books (with similar numbers of chapters, using images in the same places, etc.) in ways that mimic the originals. Boundless, the plaintiffs write, "openly brags that it is making and distributing textbooks that are based on, prepared from, and substantially similar to plaintiffs' leading textbooks."
"Boundless chose to bypass the creative process necessary to produce a legitimate textbook of its own by simply copying the original selection, arrangement and other protected expression that is the essence of plaintiffs' textbooks," the complaint adds. "Such infringement by defendant, along with its confusing and misleading marketing, damages plaintiffs' businesses and investments in their copyrighted works."
The company has asked a judge to dismiss several of the claims against it, though it plans to fight the assertions of copyright violations. In the meantime, it is forging ahead to see how much of the publishers' business it can snag, and how it might contribute to driving down textbook prices.