Net Price vs. Out-of-Pocket
Net price calculators were meant to make what students actually pay for college more transparent. But advocates worry that some are misleading students about how much they will really pay. 
Prospective students wanting to know how much a given college will cost them might end up putting their family income and grades into a net price calculator, meant to provide a personalized idea of about how much they will pay after grants and scholarships.
But on the same results page with that information is often another dollar amount, far lower than the federally defined net price. After loans are taken into account, colleges say, you will actually pay very little -- or nothing at all.
The net price calculator started as a federal requirement to make the price of a given college more transparent before students apply. Many families don't actually pay the sticker price that colleges charge, either because they receive need-based aid like the Pell Grant or scholarships and grants based on other factors. But students often didn't find that out until financial aid award letters arrived, meaning that the sticker price might have already shaped their college searches.
The online calculators ask prospective students a series of questions about their (or their parents') income and sometimes their grades and test scores, then returns an estimate for what the student will actually pay. Even before the mandate went into effect last October, officials at some colleges embraced the calculators, saying they could be valuable tools for marketing to prospective students.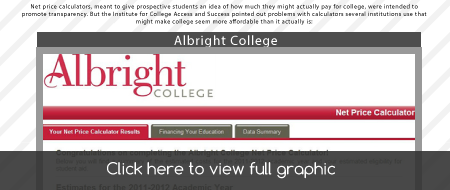 A year later, many calculators use many of the practices sometimes criticized in financial aid award letters, often accused of misleading students about college costs. The Obama administration is urging standardization of those letters, asking colleges to use a standard "shopping sheet," greeted with pushback from some in higher education. The calculators, intended to help students decide which colleges they can afford, sometimes will give students more than one price -- the federally mandated net price after grants, and the "out-of-pocket cost," or the price "after all financial aid" -- including at least some loans. In some cases, the federally mandated net price disclosure is listed far below a different -- and lower -- number.
Critics argue that this can encourage students to take on debt by making college appear more affordable than it actually is. "Students may not realize that all those loans have to be paid back with interest," said Diane Cheng, a research analyst at the Institute for College Access and Success who studies the calculators.
Colleges, and the companies that create their calculators, say the opposite. They say that including the loans makes for more transparency and disclosure, and that it's the federal requirement that is misleading, because the federal net price doesn't capture the full scope of a financial aid package -- such as aid based on factors other than need or federal work-study. Some calculators also include a separate page to calculate the monthly payment for any recommended loans.
"I can imagine a student being confused by a net price calculator result on a federal template, but not a net price result on a custom calculator," said Mary Fallon, communications consultant at Student Aid Services, Inc., which provided several college calculators that the Institute for College Access and Success said could be misleading.
The federal template for the calculator is basic: it asks only a few questions, and returns a results page with just net price and estimated grants. Many colleges opt for versions they can customize more thoroughly, including asking students for G.P.A.s and test scores so they can estimate aid not based on need.
The formatting of results from those custom calculators can vary widely, showing the different ways colleges can present themselves while still legally satisfying the federal requirement.
Albright College, a private nonprofit college in Pennsylvania, puts its federally mandated net price first. But after accounting for several federal loans -- including a Parent PLUS loan -- the calculator's results page also lists, highlighted in red, an estimated "out-of-pocket cost" of $0. A separate section allows students to calculate monthly loan payments.

"We feel that including loan information is a critical part of the decision-making process for students and families," said Tom Durso, Albright's associate vice president for communications and marketing.
If Albright officials heard complaints or concerns from students, they would reconsider, he said. "Confusion is the very last thing we want out of this practice," he said. "We want our prospective families to be clear about their financial obligations when it comes to attending Albright."
Full Sail University, a for-profit college in Florida, goes further, listing only "direct costs" (just tuition, about $22,000 per year for a bachelor's degree), then subtracting loans, for an "estimated remaining tuition" of $0, listed prominently. The federal net price disclosure -- for one student, a total of $43,466 -- is in a gray box much lower down, below a list of expenses, a large graph showing the breakdown of loans (student vs. parent), and "next steps" to apply and enroll.
In a statement, Full Sail said it believes its calculator goes "above and beyond." "When potential students are looking at a net price calculator, they are not only looking for a clear cost comparison, they are also starting down a path that will lead to a better understanding of the funding process," the university said in a statement.
And CollegeAmerica, another for-profit college, includes a "high school scholarship" that requires an additional test (the Otis-Lennon School Ability Test, not usually required for college admissions) and private or parent loans before calculating "estimated remaining expenses," placed higher on the page than the federal net price. CollegeAmerica did not respond to a request for comment Monday.
In all cases, the loans are labeled, and are clearly separated from grants. And loans can be included in a responsible way, said Cheng, citing the University of Tulsa, which highlights the federally mandated net price first, then includes a price after federal student loans (but not parent loans) and work-study funds.
Highlighting the price after loans "undermines the spirit of the net price calculator," Cheng said, adding that the practice can also give some colleges an advantage: if one college includes loans and another does not, the first college will appear more affordable -- whether or not that's really the case.
When proposals to standardize financial aid award letters come up, colleges and consumer advocates often debate whether students really confuse grants and loans. The net price calculators are no different.
The estimated out-of-pocket cost means that students (or their parents) won't have to write a check from their own funds in order to enroll, said Fallon, whose company provided the calculators for Albright, Full Sail and Tulsa, citing calculators like Albright's -- which allow students to figure out an estimated monthly loan payment after they receive the net price results -- as an example of exceeding the federal transparency mandate.
As for including loans: "They are going to college. You know a loan means you're borrowing money," said Fallon, whose company provided the calculators for Albright, Full Sail and Tulsa. "That's a pretty basic piece of knowledge to have when you're going into college."
Today's News from Inside Higher Ed
Inside Higher Ed's Quick Takes
What Others Are Reading
Past:
Day
Week
Month
Year