You have /5 articles left.
Sign up for a free account or log in.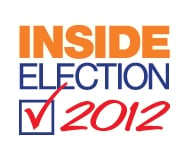 CHARLOTTE, N.C. -- As the Democratic National Convention officially opened here Tuesday night, President Obama's actions over the past four years on higher education -- especially the Pell Grant -- were front and center.
Tuesday night's proceedings, the first of three nights officially kicking off Obama's re-election campaign, featured two speakers from higher education. Nate Davis, the director of veterans' services at Xavier University, spoke about his work on education benefits and his own history going to college on the Post-9/11 G.I. Bill. And Ryan Case, a University of Colorado at Boulder senior taking time off to work on the president's campaign, was one of many touting the administration's support for the Pell Grant for low-income students.
"I've worked and saved and have a great family," Case said. "But there's just no way I'd be able to pay for school without the Pell Grant funding President Obama doubled."
Along with the administration's high-profile health-care overhaul, its support for the Pell Grant was a centerpiece of Tuesday's event, which focused on domestic policy and concluded with a keynote address from San Antonio Mayor Julián Castro and a speech from First Lady Michelle Obama. Speaker after speaker, including members of Congress, big-city mayors like Castro, and Obama supporters like Case and Davis, mentioned that the president has doubled the amount of funding available for Pell Grants. They criticized the Republican nominee, Mitt Romney, whose running mate, Representative Paul Ryan, is the author of a budget they said would devastate the program.
"Our president has already doubled Pell Grants, raised education standards, invested in research and development at our universities and early childhood education in our neighborhoods," said Newark Mayor Cory Booker, who presented the party's platform in an impassioned speech early Tuesday evening, using words that many other speakers later echoed. "Our platform and our president state it clearly: our nation cannot continue to be the world's No. 1 economy if we aren't committed to being the world's No. 1 educator."
Many speakers also included tributes to their own college education, including Obama, who recorded a video about his administration's education policy that mentioned his education at Occidental College, Columbia University and Harvard Law School. "I had a chance to go to great colleges and a great law school," the president said. "I didn't come from a rich background, but I was able to get scholarships and loans and those doors were open for me."
Each time speakers mentioned Pell Grants, the tens of thousands of delegates in the Time Warner Cable Arena here roared in approval. But the program hasn't fared as well over the past four years as Tuesday's speeches might suggest.
The Obama administration made sustaining the maximum Pell Grant -- right now, it's $5,550 -- a priority in each of its annual budgets. Preserving the $5,550 grant required tradeoffs. Those came partly in cuts to other federal financial aid programs (graduate students can no longer take out federally subsidized loans, and some benefits for subsidized undergraduate borrowers have been reduced), but also in changes to the Pell Grant Program itself. Eligibility changes that took effect this summer cut more than 100,000 students from the program, including some part-time students and those who have been enrolled for more than six semesters. An earlier change ended the summer Pell Grant, a cut that many community colleges fear will slow down students on their way to graduation.
The speakers' message: Romney -- and Ryan -- would be far worse for federal financial aid. "It's a choice between a nation that slashes funding for our schools and guts Pell Grants -- or a nation that invests more in education," said Castro in his keynote speech Tuesday night.
Higher Ed and the Economy
Earlier Tuesday, delegates, charitable foundations in Charlotte and representatives from Chambers of Commerce across the country heard a pitch for the economic benefits of higher education from the Lumina Foundation. A panel discussion about a recent report from the foundation and the Georgetown Center for Education and the Workforce argued that the delegates should consider higher education an economic necessity.
Mick Fleming, president of American Chamber of Commerce Executives, took on recent criticisms of the idea of "college for all": Some business leaders might say not everyone needs to go to college, he said, but few are satisfied with the level of education in their communities.
The delegates in attendance didn't seem too concerned about "college for all," focusing instead on how federal policy makers could help more students, especially members of minority groups, graduate. One, from Texas, where affirmative action has been under fire in a case that will go to the Supreme Court this fall, asked how colleges could assure opportunity for students of all races in the future. Another, from Indiana, said that it took federal accountability standards for his state to pay attention to the achievement gap at the elementary and secondary level, and suggested similar steps might be needed for colleges.
For their part, the panelists focused on oft-repeated calls to increase the number of Americans with degrees. "The people who say we have too many college-educated people are college-educated people," said Charlie Nelms, the former chancellor of North Carolina Central University.