You have /5 articles left.
Sign up for a free account or log in.
The buzz surrounding massive open online courses, or MOOCs, has grown nearly as massive as the courses themselves. MOOCs are the new "thneeds," the oddly-shaped items peddled by the Once-ler in The Lorax: Everybody seems to want one, even if nobody yet knows exactly what they are or what they mean.
But amid all this MOOC mania, the University of Maine at Presque Isle is attempting a different kind of free online offering — one that would swap the scale of a MOOC for the high-touch experience of a conventional online course.
Michael Sonntag, the provost, calls it a "LOOC": a little open online course.
Small-scale open courses are not an entirely new concept; David Wiley, an associate professor of instructional psychology and technology at Brigham Young University, began including small groups of non-enrolled learners in an online course at Utah State University when he taught there in 2007.
While Wiley's foray was an individual effort, Presque Isle's open courses are an institutional initiative. Officials at the university say they want to experiment with open teaching to the extent that its modest resources will allow. And while they know the "LOOCs" will never be a cash cow or a disruptive force in higher education, they hope the program might at least help Presque Isle recruit enough students to keep things on an even keel.
"We can't compete with Stanford and the MOOCs" on scale and prestige, says Ray Rice, the coordinator of the OpenU project. But what Presque Isle can offer, says Rice, is a sort of anti-MOOC experience for non-paying students: one that is identical in nearly every way to that of tuition-paying students who are enrolled at the university. "In fact, the OpenU students will learn side-by-side, virtually speaking, with Presque Isle students who are taking the courses for credit."
The lack of "scalability" in the Presque Isle experiment makes it much less significant than the MOOCs as far as redrawing the economics of higher education. But it could shed light on some issues relevant to open education in general. For instance, how important is brand prestige in generating interest in an open course? And how crucial is student accountability and regular contact with an instructor in such courses to performance and attrition rates?
The four open courses at Presque Isle, which the university is piloting this semester under the brand OpenU, are vanishingly small by MOOC standards. Each has admitted two to seven nonpaying students in additional to the 15 or so who are taking the course for $220 or more per credit at the university. (MOOCs have been known to attract tens of thousands of registrants, thousands of which stick around for the duration.)
Like MOOC registrants, the OpenU students will not be vetted ahead of time and will not receive formal credit for completing the course. However, unlike the institutions that are offering MOOCs, Presque Isle is pledging to draw no further distinctions between its paying students and its nonpaying participants.
"Students are not paying, but they are getting the full experience," says Sonntag. "If they want to write every paper and take every test, our faculty members have agreed to give them feedback."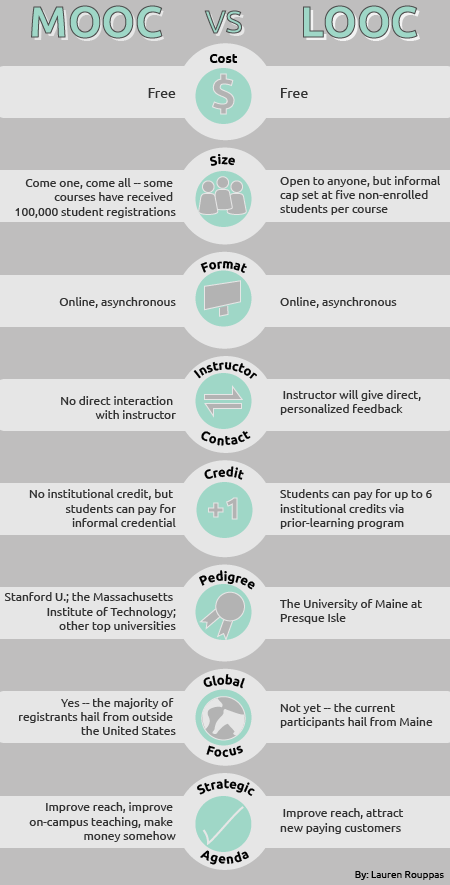 The great impasse of the "MOOC" movement is idea that massive open online courses can never fully replicate the experience of a normal course. It is a matter of simple economics: professors cannot give tens of thousands of students their individual attention. They cannot apply an expert critique to every essay. They cannot hound them if they are not keeping up with the work. In the absence of such instructional rigor, the high-profile universities that have so far signed up to offer MOOCs say they cannot in good conscience give institutional credit to even their most successful MOOC students.
Presque Isle's project has no burden of massiveness. That means both instructional rigor and pathways to credit are potentially on the table.
Melissa Crowe, an assistant professor of English at Presque Isle, says she plans to dutifully critique the contributions of her nonpaying students — and that sense of duty will cut both ways: the "open" students will be expected to submit essays, participate in workshops, and generally adhere to the same standards as her regular students. If they don't, Crowe says she will not hesitate to call them at home — and, if necessary, give them the boot.
If a student wants to redeem his efforts for formal credit, Presque Isle provides an option. Through its prior learning program, the university says it wants to give OpenU students an efficient pathway to at least some formal credit.
"At some point in the future, if you become an UMPI student, you may be able to earn a total of 6 credit hours of prior learning credit from your UMPI OpenU participation," reads a note on the university's website.
Alternatively, OpenU participants have the option of enrolling as tuition-paying students if they get hooked before the end of the customary add-drop period.
That is where the strategic side of university's OpenU agenda kicks in. "If in fact there truly is this large amount of people out there who would like to come back but who are scared, timid, unsure of themselves," then a free trial becomes a persuasive recruiting tool, says Sonntag. And if they like it, "Well, sure, pay your money and go forward," he says.
For the latest technology news and opinion from Inside Higher Ed, follow @IHEtech on Twitter.