You have /5 articles left.
Sign up for a free account or log in.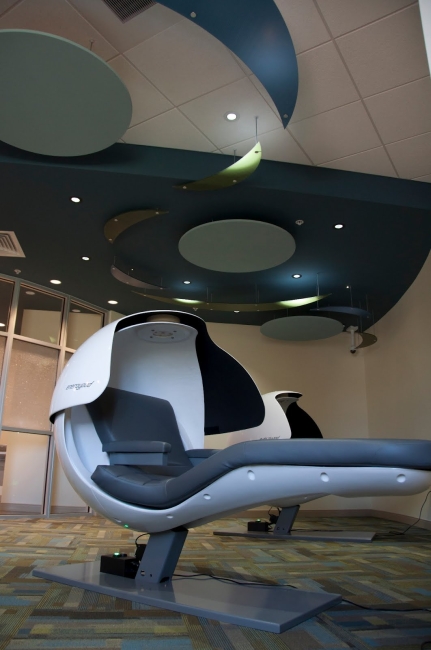 The newest building at Saint Leo University houses nap pods, an electronic gaming area with four flat-screen televisions, a giant fish tank, and an arcade complete with skee-ball, pinball machines, and air hockey tables. It's not a student center, though; it is a residence hall.
The building, which opened this month, houses 154 students in suite-style rooms – each suite has four single bedrooms, two bathrooms, and a common room with a television – but also serves as a community gathering space for students and faculty. 
"What we tried to do is not only build a state-of-the-art residential facility, but to build a space that all students could use as a common living space to really enhance the sense of community on the campus," said Kenneth Posner, associate vice president for student services at Saint Leo.
To accomplish that, the university designated the whole first floor of the building as common space. Any student can access the first-floor amenities by swiping an ID card, but only students who live in the building have access to the second floor and above.
The first floor boasts plenty of attractions to draw students in. There is the arcade room, the gaming room, and the nap pods, which feature an ergonomic design, a shield to block light, soothing sounds, and a gradual wake-up system. In addition, there is a small workout area and plenty of televisions. In a twin residence hall set to open next fall, there is a multipurpose room that can be used as a theater or a classroom. There's also a 2,100-gallon saltwater aquarium that is home to 25 lion fish, chosen because of the university's mascot, the Saint Leo Lion. The university and the fish tank will be featured in an upcoming episode of the Animal Planet show "Tanked."
The project cost $22 million, but Posner said the university had no hesitations about money.
"We knew we wanted to design a state-of-the-art living/learning space," he said.
Saint Leo has about 2,100 traditional undergraduate students, according to Posner, and houses about 1,400 of them. With the opening of this new building, the university wanted to give those commuter students a place they could go to relax during the day. University officials also hope the building will bring students together, whether they live there or not.
This represents an emerging trend in residence hall design, according to James Baumann, director of communications and marketing for the Association of College and University Housing Officers – International. More and more, Baumann said, universities are finding that students want privacy, but they want a chance to engage with other students, too.
"The lobby is not just where you go to get your mail anymore," Baumann said.  "What's happening with residence hall design is they're building in more private space… but at the same time putting a lot of effort into developing communal areas, whether that's a kitchen or a study lounge."
Though Baumann has not heard of another university installing a massive fish tank, he said more and more workout rooms, game rooms, and lounges are starting to pop up in new residence halls.
So far, Posner said, the new building is doing its job.
"It's packed all the time," he said. "It's great – from faculty and staff going over the day and relaxing and interacting with students to students taking breaks and gathering to watch TV shows."
Not surprisingly, demand was high for spots in the residential part of the building. Saint Leo assigns housing based on a lottery system, and Posner said the new residence hall, which is open to everyone except freshmen, was the second building to fill up, after all the apartment-style spots were taken. All housing at Saint Leo is priced on the same scale, so a room in the new building costs about the same amount – $3,000 – as a suite-style room in any other residence hall.
The first floor of the second building is already open so classes and others can use the multipurpose room, and the rest of the residence hall will open next fall, housing another 154 students.
"I hope this will become much more than a dorm, which to me means a place you sleep," Posner said. "We want this to be a place people live."