The 'You' in 'University Tour'
Lynn University retooled the campus visit for prospective students, trying to personalize the experience, a switch administrators say is paying off in higher enrollment.
Lynn University is so invested in prospective students enjoying their time on campus that even before students enroll, the university has parking spots with their names on them.
Every prospective student who comes to visit the campus gets his or her own spot. A series of well-marked signs directs them from the parking lot to the admissions building. A screen in the admissions office welcomes students to the campus by name.
But that's just the beginning. Around campus, it's like the student has been there for years. Everyone knows that prospective student's name, potential areas of study, and hometown. Current students take prospective students around to see whatever they want on campus and talk about majors and extracurricular activities, and faculty members in their potential majors dine with them to talk about courses.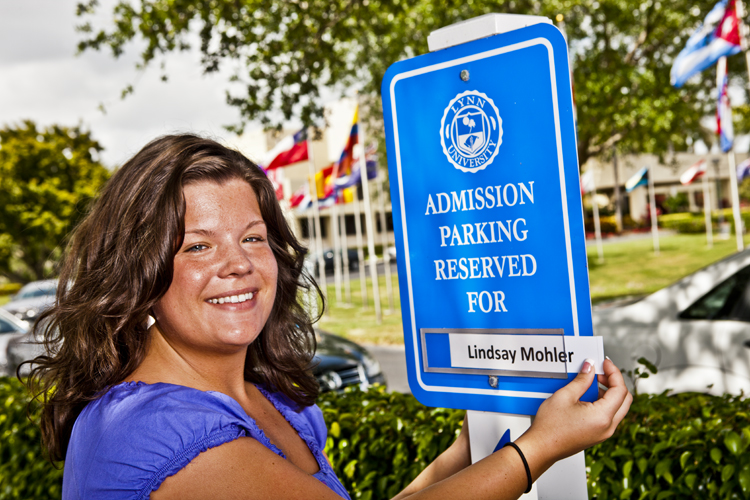 The highly individualized campus visit experience is the result of a process that began slightly more than two years ago, when, faced with revenue constraints, campus administrators began thinking about how they could generate a better return on recruiting dollars. "We saw that we were more likely to enroll a student if they had visited campus. If we could get students on campus, they were more than likely to end up on our doorsteps come the fall semester," said Gareth Fowles, the university's vice president for enrollment management. "How do we position ourselves to make the experience that much better than the other institutions they were visiting?"
The result is an experience that departs significantly from the traditional tour and Q&A session that dominate the world of campus visits. It is a resource-intensive model, requiring significant participation from students and faculty members, but it is an investment that Lynn administrators say has paid dividends. Last year the college had 1,600 visits, a 14 percent increase over the previous year. It also enrolled the largest incoming class in the past five years.
The emphasis on improving the campus visit experience, and selling the campus in the process, also reflects increased competition among non-elite private colleges such as Lynn, which often charge significantly more than public colleges and universities, but don't carry the same type of brand recognition as the elite private institutions -- a precarious position at a time when students and families are questioning the return on high tuition prices.
Searching for a Better Model
The general philosophy behind Lynn's approach is to give students a sense of what being a Lynn student might be like, "an insider's view of Lynn," Fowles said. Administrators said the traditional tour experience, in which a student tour guide took prospective students and their parents from building to building, answering questions and occasionally bumping into faculty members, wasn't really conveying everything they wanted.
They also noticed that their prospective students were applying to and visiting more and more colleges every year.
So they began to rethink the structure, in the process pulling an admissions counselor, Taryn Hamill, off the road and putting her in charge of the campus visit experience. The university also brought in a consultant, TargetX, to help figure out exactly how they should change things.
Hamill, who now serves as the campus visit coordinator, and Fowles said they wanted students to experience the things that interested them in the short time they were on campus rather than some prepackaged tour. And they wanted the experience to be longer and more engaging. "If you can't afford to give us at least two hours of your time, maybe we're not the right institution for you," Fowles said.
The university dropped from offering four scheduled tours a day to only two. The university tries to limit each slot to only seven students so Lynn can offer the kind of personalized experience they want.
A Personal Tour
The customization process begins long before a prospective student steps on campus. The college has a website where students and families can register for a visit, and the university tries to have families register at least a week in advance.
Students fill in a bit of information when they register, but the college also goes to great lengths to learn as much as possible about the student. Hamill tries to call each student within 24 hours of that student registering for a tour. She talks with each student about what they are interested in and what they might like to see during the visit. If students don't leave a phone number, the admissions staff will try to look one up, Hamill said.
When talking about what students might like to do on campus, Hamill doesn't let the students off with an "I don't know" or "undecided." She actively tries to tease out what students might find interesting. "If they say, 'I have no idea what I want to study,, we might ask 'What do you do when you're not in school? What do you enjoy? What would you be doing if you could do anything? What is your dream job?' " she said.
Based on that information, Hamill begins to line up students and faculty members to meet with the prospective students. Some of the students in the admissions office are paid staff members, but Hamill said she regularly has students volunteer to meet with potential applicants.
Once on campus and past the parking lot, prospective students sit down with staff members in the admissions office who go over all the information again to make sure it's up-to-date to further figure out what they should take students to see. They also do an "information dump," Hamill said, in which they get out of the way a lot of the information admissions offices typically spend time on.
The admissions staff then separates the students and parents into different groups. "Many times, we felt like parents were dominating the conversation and students weren't feeling comfortable asking questions," Fowles said. Hamill said the staff wants students interacting with one another, as well as with the rest of campus. "We have a lot of expectations for what they do when they're here," she said. "They're on their own and we want them talk with each other and exploring. We don't want anyone to be holding their hands."
Student guides take students and parents around to see the parts of campus they're interested in, meeting with students, faculty members, coaches, and others who have been lined up by the admissions office or who volunteer once they hear who's on campus. Administrators had a hard time describing a "schedule" for a given tour, since they vary so widely. "No two kinds of programs mirror themselves," Hamill said.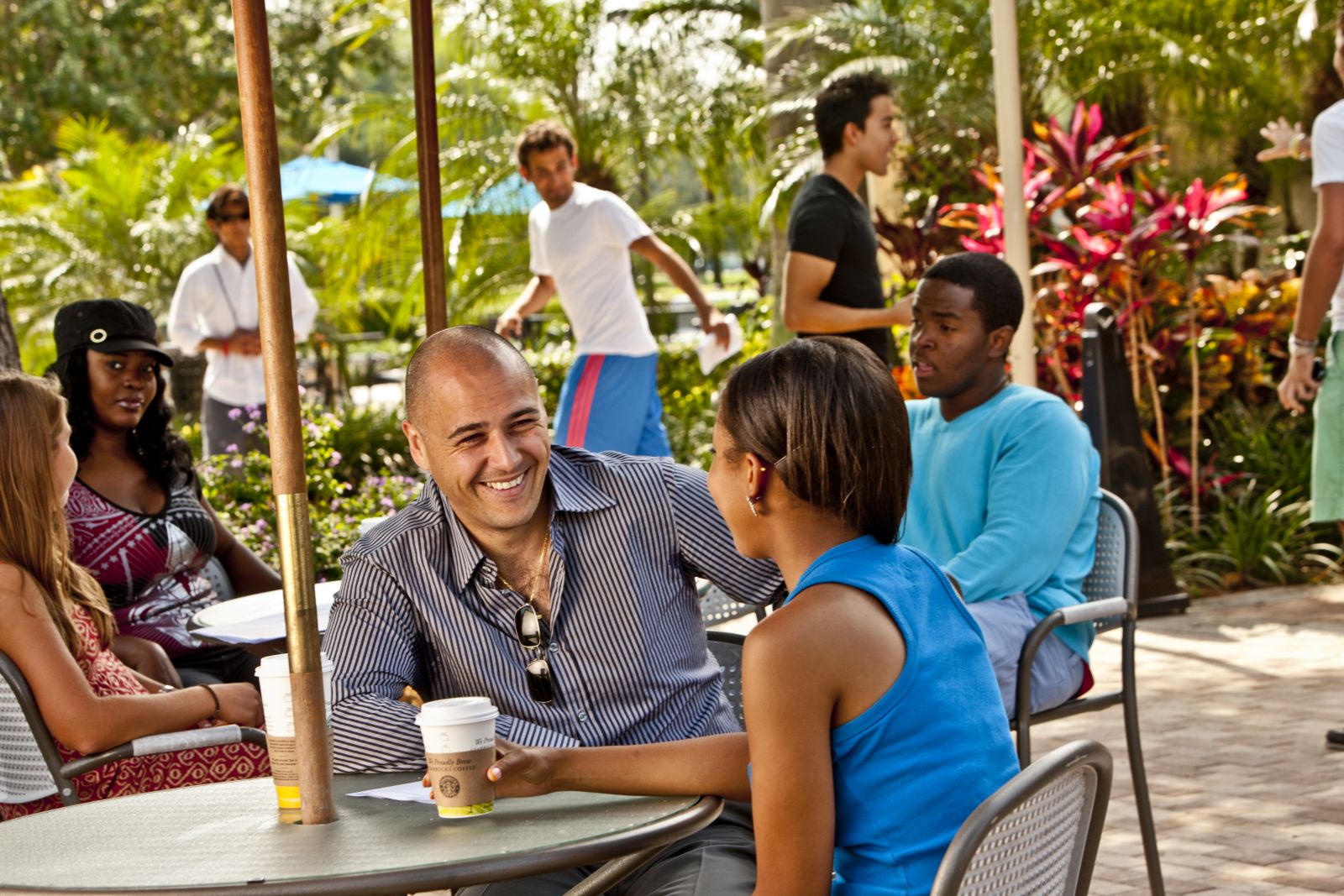 The admissions office is meticulous about pairing current and prospective students. "We like to pair people up with current students who are like-minded, and from similar geographic areas," Fowles said. "So if we've got a prospective student from New Jersey who's interested in biology, we're going to do our utmost to pair that student with a biology major who's also from New Jersey."
Once the tour part is over, the students and their parents eat lunch with selected faculty members at the campus's dining hall. Part of the goal is to give students an idea of the diversity on campus: international students make up about a quarter of the university's student body.
Attention to detail underlies the entire process. The security guard at the entrance to campus knows the name of each student. The seating in the admissions office is designed to get prospective students and their families engaging with staff, current students, and each other.
The university also revamped one of the first locations families inquire about once they get on campus -- the closest bathroom. "We realized the bathrooms probably weren't up to speed, and we need them to be," Fowles said. The university made the bathrooms closest to the parking lot more inviting, with pictures of campus and information about the university on the walls.
While details like parking and bathrooms aren't often the types of things that college decisions can hinge on, admissions officers said, they can color the rest of the process. They don't want students or parents unhappy before the tour starts because it was difficult to find parking.
Buy-In
Lynn's admission administrators say the whole program would not work unless there was broad buy-in from the campus, which so far they have had. Fowles said between 60 and 70 faculty members have been involved in the campus tour process since the university started the model two years ago.
In addition to approaching specific faculty members and students about being a part of the experience, Hamill sends an e-mail to the campus every morning letting them know the names, hometowns, and interests of the students coming. She says she regularly hears back from individuals on campus who want to meet and talk with the students.
Hamill said the first day she sent out an e-mail, she got responses from the president, the tennis coach, and several professors interested in meeting with the student.
Ted Curtis, a sports management professor at Lynn, said he meets with prospective students several times a week. During the busy part of the year, he said he might do it as often as every day. He likes to meet with students who express interest in his department, but he said he also goes out of his way to meet with students from towns he's heard of or has some connection to.
He said the enthusiasm among the faculty members was a reflection of how the campus is generally. "This is what we do. It's who we are," he said. "We're a very personal school, and we're invested as faculty in the lives of our students."
Curtis also said meeting with prospective students is good for him and his department. "As early as possible, the sports management faculty wants to know who is really interested in sports management, who wants to come here to study with us, who's fired up about working with us."
This summer Curtis even reached out to prospective students on campus when he was in London, where he was working with students at the Olympics. He'll also follow up with all the students after he's met with them on campus, friending them on the department's Facebook page.
Administrators said they regularly hear positive feedback from visitors about how the visits go. Students and parents regularly comment on how different the experience is from the tours they've gone on at other colleges and universities.
The college is, however, concerned about its capacity to continue to grow the program. Since the tours are so labor-intensive, and because the intimate feel is central to the program, the admissions office tries to limit itself to about 14 students a day.
You may also be interested in...
Today's News from Inside Higher Ed
Inside Higher Ed's Quick Takes