You have /5 articles left.
Sign up for a free account or log in.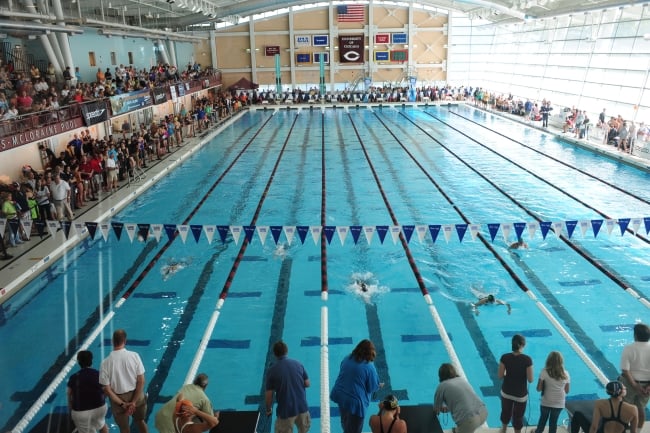 The University of Chicago this month became the latest institution to drop a swimming proficiency test required for graduation. But Chicago made another change, as well: it will eliminate its physical education requirements and, in doing so, cut the fitness test students could take to place out of the fitness classes.
In a statement sent to all undergraduates, College Dean John W. Boyer and Karen Warren Coleman, vice president for campus life and student services, said students will instead "be invited to participate in an expanded array" of voluntary physical education, athletics and recreation programs.
"Whatever the reason for the initial decision [by the dean of students] in 1953, our students' needs have changed over the years," Warren Coleman said in prepared comments sent to reporters via e-mail. "Our community members can pursue their varied athletic interests without the need for a curricular requirement." She added that "more than half" of the university's peer institutions do not have physical education requirements for graduation. The number of PE courses in the catalog, which now will be taken voluntarily and not-for-credit, has "decreased," a spokesman said.
But, fitness courses such as cardio kickboxing, pilates, yoga and Zumba will now be open to undergraduate, graduate and professional students for free through the expansion of the Fit Chicago program, which previously charged a "nominal" fee. "We are continuing to offer some courses in the context of pilot efforts to gauge continuing interest in certain classes," Warren Coleman said in an e-mail. "The number of fitness and recreation classes that are listed in the course catalog does not reflect the range of opportunities now available to students. These opportunities are expanding to reach a broader base of students."
(Note: The above paragraph has been added to a previous version of this article.)
While further details on what the future of athletics and fitness at Chicago will look like are sparse – Warren Coleman will soon announce a task force to develop plans for PE offerings, athletics and recreation programming and to "promote a culture of physical fitness and athletics on campus" – for now, Chicago joins the ranks of institutions dropping these tests.
Many colleges have dropped their swim tests in recent years, and only a handful still require them – a few Ivy League institutions, the military academies, and a few women's and small liberal arts colleges, among them. One is Cornell University, which began testing female students in 1918 and all students in 1937. Four years ago, the faculty reviewed the policy and opted to keep it.
"Most drownings occur to families with parents who don't know how to swim…. They probably are not going to want their children to swim either because they're afraid of the water," said Fred DeBruyn, aquatics director at Cornell. "We try to break that cycle."
One big story from last summer sticks out in DeBruyn's memory as good reason to maintain the test: when professional football player Leonard Pope jumped into the pool to save a drowning child at a birthday party as a dozen people looked on. He apparently was the only one present who knew how to swim.
Of the 3,300 or so incoming freshmen each year, DeBruyn said, about 300 can't swim. Ninety-five percent of students pass the test, and almost everyone who takes it the second time passes. Having been on the job for 32 years, DeBruyn has noticed more students who can't swim coming in now than in past years, though the difference isn't huge.
"It's [Chicago's] choice as to what they want to do," DeBruyn said. "But I think it's a mistake. I think that teaching someone how to swim is a life skill."
Bryn Mawr College, Columbia University, Washington and Lee University and the Massachusetts Institute of Technology are among those still requiring the test.
For the Chicago swim test students swam continuously for 100 yards, or four pool lengths, with no time limit. The fitness test included muscular and cardiovascular components.
The physical education requirement previously awarded credits toward graduation. Typically, 45 percent of students passed the swim and fitness tests – the entire requirement – and so were relieved of all three athletic credit requirements. Most who didn't pass the entire requirement had to take one credit.
"The change in the college physical education requirement occurs in the context of a larger decision by the university to reimagine and expand our fitness and athletics programs to meet growing demand and the diverse needs of our community," the Chicago statement said.
It's unclear how many colleges require fitness tests, but like swim tests, they seem to be on the downturn. (Some colleges, though, have taken more novel approaches to combat obesity and heart disease. Coker College, for instance, last year started requiring a fairly extensive fitness assessment that involved, among other things, body mass index measurement and a one-mile run/walk – but students are not required to follow up on their results in any way, though they may be encouraged to do so. Lincoln University in 2009 dropped a controversial one-semester "Fitness for Life" class that it required of students with BMI scores of over 29.)
Hamilton College dropped its fitness test within the last year, said Dave Thompson, director of campus wellness there. Before Hamilton cut the test, it was part of a multi-part requirement, which includes three classes and (still) a swim test.
The fitness test, which required a class for students who didn't pass, was replaced with an "assessment." Students who fall below a certain threshold are directed to classes or counseling. Thompson says the assessment is less threatening to students than the test was; whereas the test was conducted in large groups of first-year students, the assessment is done more discreetly as part of the required PE classes.
"The kids that we're most worried about are the ones who are most adversely affected by the old testing method," Thompson said. "We felt like we were alienating kids or singling them out."
But Thompson still strongly believes that some physical education should be mandated.
"I think a lot of institutions are going in the wrong direction on this," he said. "I don't understand; it's so easy and they can get through it fairly quickly, and just given the evidence and the cost of health care, why wouldn't you want to make sure students have that exposure?"