You have /5 articles left.
Sign up for a free account or log in.
Professors are using more technology in the classroom than they were two years ago, and their students have a message for them: Keep it coming.
These are the findings are the 2012 ECAR Undergraduate Technology Survey, an annual study conducted by the research arm of Educause, a nonprofit that advocates for technology in higher education (ECAR stands for Educause Center for Applied Research).
This year's study, which was released last month, reflects well on instructors. Faculty members, contra their reputation for being change-averse, appear to be adapting well to the expectations of technology-thirsty students, according to the authors. "More students than ever gave positive marks for their instructors' use of technology," they wrote.
In 2010, 47 percent of students said most of their instructors were using technology effectively. This year that figure was 68 percent.
At the same time students are hoping faculty members will not rest on their laurels. If anything the gains in satisfaction have bred more demand for various tools.
Amid their ambivalence over instructors' use of technology in 2010, they did not yearn much for particular tools. In those days 32 percent of students wished their professors made more extensive use of the learning management system (LMS), 19 percent wanted more open educational resources (OER), 18 percent wanted more Web-based videos, and 15 percent wanted more game-based learning.
But as students' confidence in faculty technology deployment has increased, so has their desire for more technology. In the 2012 study, those numbers rose significantly. Now 49 percent of students want more LMS use, 57 wanted more OER, 46 percent want more videos, and 55 percent want more game-based learning.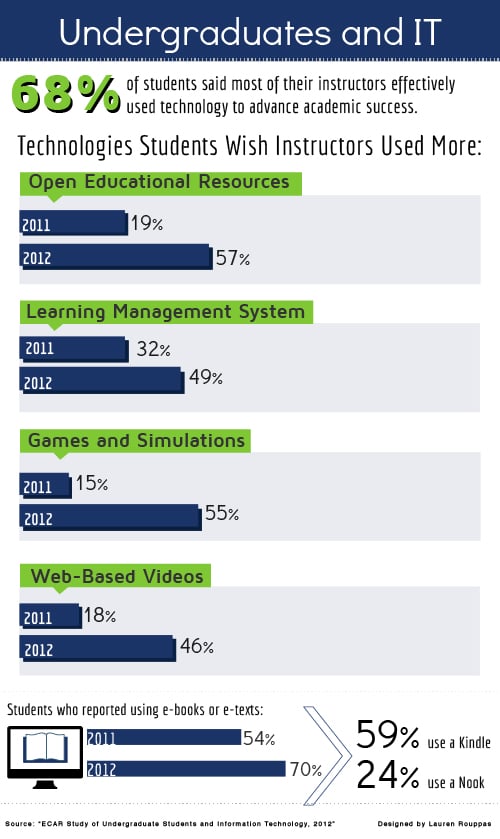 "It could be a function of exposure," said Eden Dahlstrom, a senior research analyst for Educause. "Students are more interested in these things because they hear about them, or have exposure to them in one class and are interested in having exposure to them in other classes."
This year's study also bore good news for those who patiently have awaited student adoption of e-textbooks. As recently as 2010, only 24 percent of students questioned by ECAR said they were using e-books or e-texts for a class. This year that figure was 70 percent. And that figure stands to rise further:  47 percent of students said they wished their professors would use more digital texts.
The findings of the survey are based on a representative sample of 10,000 responses from U.S. undergraduates from all  types of institutions. The margin of error is 5 percent.
For Dahlstrom the biggest surprise of the survey was not the rates at which students were using various classroom technologies but the rates at which students felt unprepared to do so. Two-thirds of students said they felt adequately prepared to use the technology their professors asked them to use — a solid majority, yes, but that other 33 percent of students is still a lot, said Dahlstrom. And only a slim majority of students said their professors provided adequate training for the technology that would be used.  
Dahlstrom said that, given the rate of consumer technology use in the same sample, she expected students would be more sure-handed. "There hasn't quite been a [transfer] between how students use technology in personal lives and their ability to use some of these same technologies as academic tools," she said.
For the latest technology news and opinion from Inside Higher Ed, follow @IHEtech on Twitter.
More from Tech & Innovation