You have /5 articles left.
Sign up for a free account or log in.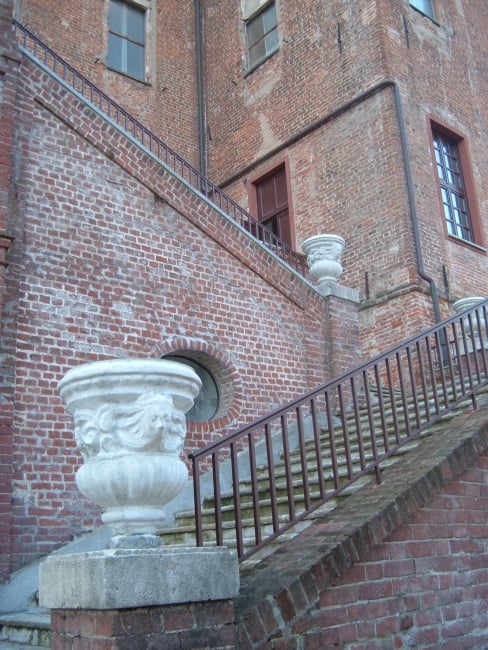 A for-profit college with a campus in Italy and a charter from the state of New Hampshire is the target of numerous legal challenges levied by former employees. The imbroglio raises questions about the ability of New Hampshire state authorities to oversee a university an ocean away.
St. John International University is a strange beast. Chartered by an act of the New Hampshire legislature in 2009, the institution has an office in Concord; if you call it, the phone rings at the campus in a castle outside Turin. The university is not accredited, but has approval to operate from the New Hampshire Higher Education Commission. It does not have parallel approval from an Italian regulatory body.
The university's finances are far from solid. In its own report, St. John acknowledges a net operating loss of $525,000 over the past year, and a host of former administrators have filed complaints seeking to recover unpaid wages. The former president, George J. Hagerty, filed suit in Merrimack County Superior Court, while five other former administrators filed claims with the New Hampshire Department of Labor. Two have been settled; one was rejected on Tuesday on the grounds that the employee's contract was governed by Italian law, not New Hampshire's.
Patricia Parpajola, a former marketing director at the institution, said she has claims pending to recover €22,500, or $27,900, with both New Hampshire's Department of Labor and in Italian court -- where, she said, the university is contesting her claim on the grounds that New Hampshire has jurisdiction.
Various accounts by St. John's former employees paint a portrait of an imperiously managed and under-financed institution that chronically missed payroll and, in the end, has served very few students. Only 77 students were enrolled in 2011-12 and, of these, only 16 were degree-seeking. Richard A. Gustafson, the director of New Hampshire's Division of Higher Education and the Higher Education Commission, said that concerns about St. John's financial viability prompted the commission to request a self-report, due Sept.  1. A site visit is scheduled for later this fall, after which the commission will vote on whether to extend St. John's approval to operate beyond Dec. 31.
"It's a mockery of American higher education," said Anne Blake, a former dean of admissions and student life at St. John who was dismissed from the university following Hagerty's departure in February and whose wage claim was denied in New Hampshire due to issues of jurisdiction. Blake recalled that when she worked at St. John she gave money for train fare to employees who hadn't been paid. A student once reported to her that he was being threatened with eviction because the rent hadn't been paid on his university-rented apartment. And the food services vendor threatened to quit if he didn't get paid soon.
Blake would like to see the commission revoke its approval of St. John. "They've got to pull the plug," she said. "What would they do if Keene State or Plymouth State weren't paying people?" (Both are public colleges in New Hampshire.)
James Bianco, a lawyer for St. John and a member of its board, said he expects the commission's site visit report to be favorable. He described the institution as a startup, with financial difficulties, sure, but enthusiastic students, too. St. John graduated its first class – of just five students – in the spring. "It would be unfortunate if the commission let the suit by President Hagerty and the wage claims interfere with issues of education," Bianco said.
Lapses in Leadership
Unsurprisingly, a lawsuit by the university's former president and a countersuit by the university offer quite different versions of how St. John's leaders have managed as stewards of the young institution. Many facts are disputed, but the legal filings nonetheless offer some insight into what's gone wrong.
Hagerty is the president emeritus of New Hampshire's Franklin Pierce University and the former provost of Hellenic American University, in Greece, also chartered by New Hampshire (more on that below). In his lawsuit against St. John, Hagerty charges that not only is he owed wages, but that his repeated attempts to alert the institution's Board of Directors to the university's perilous finances were resisted by the founder and board chair, Lorenzina Zampedri. The complaint alleges that Zampedri downplayed the university's financial difficulties in conversations with Hagerty, and asserts that St. John lacked a standard operating budget and a chief financial officer.
Zampedri comes across in Hagerty's complaint as an imperious leader. After Hagerty informed the board of his concerns about the university's finances, he received an e-mail from her: "I am surprised, disappointed and offended by your sending notices to some of the Board members before my Board meeting in which you make serious allegations without discussing them with me before. It is my memory that you work for me as Chair of the Board and majority shareholder and you [sic] conduct does not exhibit loyalty to me as shareholder and your employer."
In its answer to the suit, the university acknowledges that the email was sent by Zampedri. However, the university makes the case that Hagerty had full access to internal data on St. John's finances and was, indeed, responsible for managing them. It asserts that Hagerty, as president, controlled the institution's bank accounts and was responsible for payment of vendors and payroll, including payment of his own salary. The university's counterclaim also alleges that Hagerty breached his fiduciary duty to the institution by attempting to enter St. John into a partnership with Newbury Global, a company co-owned by his son in which he had a financial interest.
St. John claims that that Hagerty failed to disclose his relationship with the company to the board – a charge that Hagerty's lawyer denies, calling it frivolous and misleading.  "Because Dr. Hagerty insisted on getting paid for his services, they've thrown as much mud at him as they possibly can," said Donald C. Crandlemire, a lawyer at Shaheen and Gordon, in Concord.  "These people are trying to deflect responsibility for the situation of this university onto everyone else but themselves"
In addition to his original claim of unpaid wages, Hagerty has since levied charges of defamation against St. John. "In my view, Dr. Hagerty is the only representative of that university who met his fiduciary obligation to it," Crandlemire said.
St. John's lawyer, Bianco, said that Zampedri feels differently. "The disadvantage is this," he said:  "[Hagerty] knows a lot of people in the higher education community. He's well thought of by many. Mrs. Zampedri does not speak the language, is not from this country."
She hired Hagerty to improve the institution, he said. "She maintains he knew the resources were tight and he didn't really do his job."
The dispute will likely go to trial next year.  In the meantime, additional questions of leadership have emerged, specifically regarding the lack of Americans in the administration. Although an American-style education is promised, none of the administrators listed on the university's website hold degrees from American colleges. Bianco said the university is in the midst of hiring an American provost.
Good Idea Gone Bad, or Bad Idea?
The problems at St. John raise bigger questions regarding oversight. Can or should a state approving agency properly oversee universities overseas? What business does a U.S. state have in authorizing a university to offer degrees abroad? After all, St. John International University is not merely a branch campus of a New Hampshire institution: its only presence in New Hampshire (or the United States, for that matter) is its administrative office in Concord.
The American accrediting agencies have long offered their stamps of approval overseas, but state authorization is different from voluntary accreditation. "The difference between accreditation and authorization is that an accrediting body is not giving degree-granting authority to anybody, while the state of New Hampshire is doing that," said Alan Contreras, a higher education consultant and former state authorizing official in Oregon.
"Think about how it works inside the United States," he said. "The state of New Hampshire cannot authorize a university to operate in the state of Vermont." Why, he asked, should it then be able to do so across national borders?
"The question is, 'Is this a good idea gone bad? Or is it a bad idea, period?' I think it's a bad idea, period, for a state government to be attempting to authorize degree-granting institutions in a foreign country," Contreras said.
Philip Altbach, director of Boston College's Center for International Higher Education (and a blogger for Inside Higher Ed), offered similar sentiments. More generally speaking, Altbach is no fan of accrediting agencies going overseas, both because it's hard to keep close tabs on institutions beyond one's borders and because he doesn't believe American higher education should be imposing its values on foreign university systems. As for state approval, he said, "it's key because it gives the place the fig leaf of being an American institution. Then they can go out and recruit students by saying, 'We are approved in the United States.' "
But why, Altbach  asked, should a small state like New Hampshire want to take on that responsibility and risk its good name?"
New Hampshire State Senator Lou D'Allesandro, a Democrat from Manchester, sponsored the bill chartering St. John International University. He is also a member of St. John's board. He said he introduced the legislation because he wanted to provide more opportunities for international exchange for New Hampshire's students. "You have to be innovative and creative in the education business," he said.  "It's a global society; we're not restricted just to New Hampshire."
Gustafson, the new director of the Higher Education Commission – he was appointed in August -- likewise reiterated the goal of increasing New Hampshire's international reach. Asked about challenges of overseeing colleges abroad, Gustafson said, "I don't think there is inherently more difficulty in our overseeing an international institution than there might be [monitoring a university] here in New Hampshire. Certainly, all small schools and startups have challenges. We would expect to see that. For us, it's not an undue burden to do this."
New Hampshire's Higher Education Commission has approved three colleges whose sole campuses are based overseas: St. John, American Hellenic University, in Greece (which is a candidate for accreditation with the New England Association of Schools and Colleges), and, most recently, the American University of Madaba, in Jordan. At its May meeting, the commission authorized the Jordanian university to award degrees for a three-year term. It also required the institution to submit annual reports updating members on progress toward 12 different requirements.
The list of requirements, included in the meeting's minutes, encompasses virtually every major aspect of a university's academic and administrative operations, and suggests much left undone, including the development of a faculty handbook and the hiring of academic deans and chairs. Among other things, the commission calls for "a greater presence on the Board of Trustees of Americans with significant higher education experience, with a target of at least three such members," "a larger percent[age] of faculty members with significant American higher education experience, with a target of at least 30 percent of the total faculty," and "clearer assurances that the language of instruction must be English, except in foreign language courses or with discretion in historical and cultural topics."