You have /5 articles left.
Sign up for a free account or log in.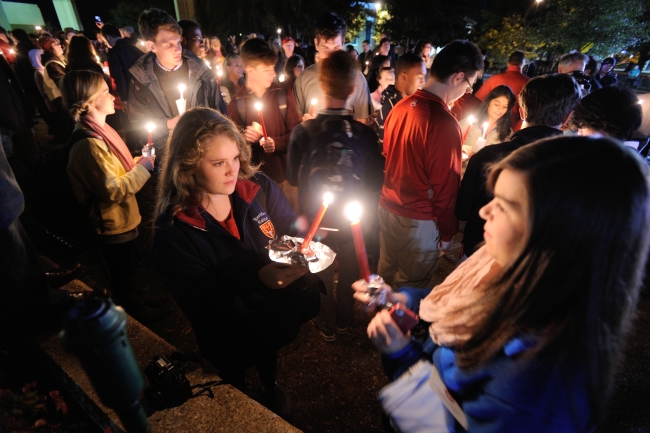 Five weeks ago, the University of Mississippi was celebrating how far it has come since becoming racially integrated on Sept. 30, 1962.
On Tuesday, 400 students gathered on campus protesting the re-election of President Barack Obama, shouting racial slurs and burning a campaign poster. Police arrested two students – one for public intoxication and one for failure to comply with police orders.
In a statement Wednesday, Mississippi Chancellor Dan Jones shamed "the few students" who damaged the university's reputation while pointing to "the vast majority of students who are more representative of our university creed."
Nearly 700 students (and faculty and staff) demonstrated that on Wednesday night, in a candlelight vigil put together in just five hours. The "counter-protest" affirmed the values of "the people who are building a new university, moving forward," said Susan Glisson, director of the university's William Winter Institute for Racial Reconciliation.
At the same time, nearly 300 people at the small, all-male Hampden-Sydney College near Richmond were assembling for the same reason. Hours after the election, about 40 students there threw bottles, shouted racial epithets and set off fireworks outside the Minority Student Union on campus. the Associated Press reported. Wednesday night, Chris Howard, the first black president of the college, gathered with others on campus to discuss and condemn the incident.
Both outbursts caused significant consternation on their campuses, but the Mississippi protest seemed particularly startling, given the sheer number of students and proximity to the anniversary, which has been widely celebrated on the campus (in various events since last spring) but also in the public and the press. 
University employees are now in reflection mode, Jones said, asking  why this happened, what can be done to prevent it, and what responsibilities they have moving forward.
"Sadly, it happened here. It shouldn't happen anywhere, it shouldn't happen here," Jones said in an interview with Inside Higher Ed. "I am proud to say that our students are providing leadership on this."
The protest started with 30 or 40 students but as word of a "riot" spread through social media it escalated to hundreds, Jones said, with "a handful" involved in hate speech directed broadly at ethnic groups and the president, but not at individuals on the campus.
The students' "asinine behavior," which followed a presidential vitriolic campaign infused with racist rhetoric, Glisson said, makes a new campus -- and nationwide -- conversation an imperative.
Glisson reinforced her agreement with controversial comments that one faculty member made during the celebration in September. Charles W. Eagles, a history professor and author of The Price of Defiance: James Meredith and the Integration of Ole Miss, said in an address that in highlighting its more recent history, the university was avoiding its less savory past.
"The doors were open for 50 years, yes, but they'd been closed for a century," Eagles said. "We don't want to talk about that, do we?"
Eagles took some heat for the comments -- but Glisson said she "absolutely" agrees.
"It's important to commemorate our history," she said, "but if you miss the reflection of that history and you don't try to repair the wounds of history, then it's all just PR."
However, while respecting criticism of the celebration from both sides (and there has been criticism), Jones countered that a number of events have reflected on and apologized for the past – in some cases, in "gruesome detail."
"When you're dealing with race, there's so, so many opinions, we just can't satisfy everybody," Jones said. (He also said understanding the history is "critically important.") "I'm sure that more could be done, but I don't think you'll find an absence of critical review of the past."
It's true that the conversation about history should be had, but it would be unwise to assume this is only an issue at Mississippi, said Beverly Tatum, president of Spelman College and author of Why Are All The Black Kids Sitting Together in the Cafeteria and Other Conversations About Race.
"Are there people in the world -- some of them at the University of Mississippi – who are still struggling with an old paradigm around issues of race? Absolutely. But that wouldn't necessarily mean the institution hasn't progressed. It would just happen that the story's taking place there; it could have happened somewhere else," Tatum said. "The fact of the matter is that for a lot of students their knowledge of social change and how it has taken place in our society is quite shallow, and we would all benefit, I think, from a deeper understanding of our own history."
Tatum also noted that this and other incidents do not undo 50 years of change or render the university's celebration of its progress illegitimate. This year's student government president is the fourth black student in campus history to hold the office. (And she recalled similarly distasteful protests by students at other universities before, during and after the 2008 election.)
"While the timing is ironic," she said, "if we were to go back 50 years, the response of the president of the university today is quite different than would have been the response of the president 50 years ago, in terms of clearly condemning the activity and responding."
Jones said the university is "initiating a thorough review of this incident to determine the facts and any follow-up actions that may be necessary."
There was one reassuring thing to come out of the protests, Tatum said, and it was very meaningful.
"Nobody wants to feel targeted…. But the silence of good people with more positive attitudes is often more damaging than the isolated negativity," she said. (Students continue to organize meetings and opportunities to discuss what happened and how things should change.) "Those who are wanting to emphasize a campus climate of civility and the importance of community – when those people speak up in voices louder or in greater numbers than the more negative points of view, it makes a difference."