You have /5 articles left.
Sign up for a free account or log in.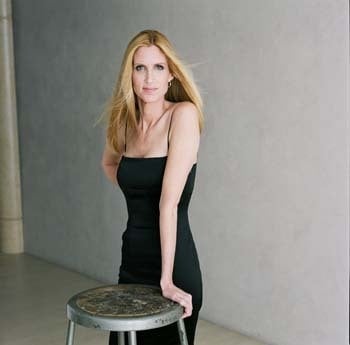 For years now, Ann Coulter debates on campuses have generally played out in one of two ways. She appears and her controversial comments about any number of groups lead to protests before and after her visit. Or the campus groups that invited her are blocked from holding the events, leaving Coulter and her supporters saying that free speech principles have been ignored.
The pattern appeared to be playing out last week at Fordham University. The College Republicans had invited Coulter to speak, and various campus groups were calling for the event to be blocked. A petition attracting support for such a ban said: "We concede there is room for discussion on both sides of the political spectrum. All voices, whether conservative or liberal, Republican or Democrat, religious or secular, or anything in between -- all human voices deserve to be heard. However, there is no room at a university whose motto is 'men and women for and with others' for the endorsement of hate speech, especially when portions of the club funding sponsoring this event no doubt come from the tuition paid by all students at Fordham -- including students of Muslim descent, black students, children of Hispanic immigrants, queer students, women, people with disabilities, and other groups Ann Coulter has belittled and insulted in the public sphere over the course of several decades, we feel something must be said."
The Rev. Joseph M. McShane, president of Fordham, responded to the controversy on Friday in a statement that simultaneously condemned the Republican group for inviting Coulter and affirmed its right to do so.
"To say that I am disappointed with the judgment and maturity of the College Republicans ... would be a tremendous understatement. There are many people who can speak to the conservative point of view with integrity and conviction, but Ms. Coulter is not among them. Her rhetoric is often hateful and needlessly provocative — more heat than light — and her message is aimed squarely at the darker side of our nature," Father McShane said. "As members of a Jesuit institution, we are called upon to deal with one another with civility and compassion, not to sling mud and impugn the motives of those with whom we disagree or to engage in racial or social stereotyping."
He added, however, that "to prohibit Ms. Coulter from speaking at Fordham would be to do greater violence to the academy, and to the Jesuit tradition of fearless and robust engagement. Preventing Ms. Coulter from speaking would counter one wrong with another. The old saw goes that the answer to bad speech is more speech. This is especially true at a university, and I fully expect our students, faculty, alumni, parents, and staff to voice their opposition, civilly and respectfully, and forcefully. The College Republicans have unwittingly provided Fordham with a test of its character: do we abandon our ideals in the face of repugnant speech and seek to stifle Ms. Coulter's (and the student organizers') opinions, or do we use her appearance as an opportunity to prove that our ideas are better and our faith in the academy -- and one another -- stronger? We have chosen the latter course, confident in our community, and in the power of decency and reason to overcome hatred and prejudice."
Shortly after Father McShane's statement was sent via e-mail around campus, the College Republicans announced that Coulter would not appear after all. "Looking at the concerns raised about Ms. Coulter, many of them reasonable, we have determined that some of her comments do not represent the ideals of the College Republicans and are inconsistent with both our organization's mission and the University's. We regret that we failed to thoroughly research her before announcing; that is our error and we do not excuse ourselves for it. Consistent with our strong disagreement with certain comments by Ms. Coulter, we have chosen to cancel the event and rescind Ms. Coulter's invitation to speak at Fordham."
The Republican statement went on to say that the group "made this choice freely before Father McShane's e-mail was sent out and we became aware of his feelings -- had the president simply reached out to us before releasing his statement, he would have learned that the event was being canceled. We hope the university community will forgive the College Republicans for our error and continue to allow us to serve as its main voice of the sensible, compassionate, and conservative political movement that we strive to be. We fell short of that standard this time, and we offer our sincere apologies."
Coulter did not respond to a request for comment on the rescinded invitation and she has, to date, been silent about the issue on Twitter.
Some columnists are praising Fordham for balancing commitment to free speech with criticism of Coulter, and the decision of the Republican students to withdraw the decision, calling the developments (in the words of one observer) "a sensible way to handle controversies over college speakers."
But Greg Lukianoff, president of the Foundation for Individual Rights in Education (an organization that opposes limits on campus speech), said via e-mail that he was not necessarily impressed with what transpired at Fordham. "I think you need to be extremely skeptical any time an official with great administrative power at a university, especially a university president, vehemently condemns a speaker and then the inviting group coincidentally happens to cancel that speaker, even if, as in this case, the president is saying that he supports free speech out of the other side of his mouth," Lukianoff said. "I've seen too many cases over the years where university officials have tried to claim that their strong condemnation of speech wasn't really a direct order for the students to self-censor, but then when you talk to the students themselves it's pretty clear that they understood they did not have much choice in the matter."
Further, he said that "Coulter was, in fact, inspiring rich, heated debate and discussion on campus; that might've actually been viewed by an earlier generation as a good thing. The fact that the first thing that occurred to some students was to try to get her from being on campus at all should be troubling to people even if they have no regard for Coulter. A better attitude about open debate and discussion is to have controversial speakers come to campus and see what surprising and interesting debate that will almost necessarily produce."