You have /5 articles left.
Sign up for a free account or log in.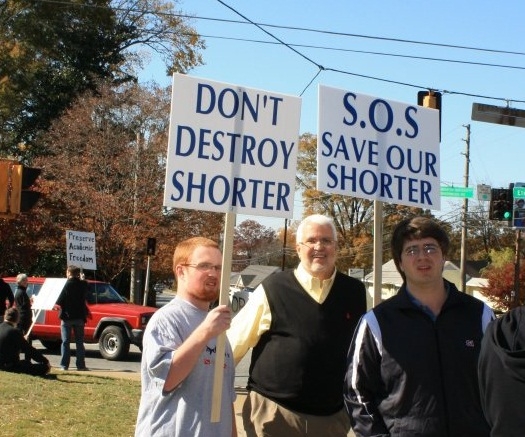 ROME, Ga. — On a fall afternoon a little more than a year ago, the faculty and staff of Shorter University filed through the doors of the college's chapel for a meeting with the Board of Trustees. The gathering opened with a prayer.
After they said "amen," the trustees told everyone there would be some additions to contracts for the next academic year — changes intended to amplify the liberal arts college's Christian mission. Then the faculty and staff filed out, past the large painting of the Prodigal Son in the hallway. Within the hour, they received two documents by e-mail. One was a statement of faith; the other, a list of "lifestyle" expectations.
Those who wanted to keep their jobs would have to sign both.
"We believe the Bible, consisting of the Old and New Testaments, is the inerrant and infallible Word of God," the faith statement began. "The historical account of creation found in Genesis declares that God is the personal and direct Creator of all that exists." The lifestyle statement began with a commitment to hire faculty "dedicated to integrating Biblical faith into their classrooms" and a requirement that faculty be loyal to Shorter as a "Christ-centered institution." It continued into a list of "thou shalt not"s. Premarital sex, drinking in public and accepting homosexuality were forbidden.
Some faculty members read the two documents with a sinking feeling. Among them was tenured librarian Michael Wilson, who had been at Shorter 14 years and was planning to stay longer. Wilson was pursuing an Ed.D. in instructional technology in hopes that it would help him in his future at Shorter. As Wilson, who is gay, read "I reject … all sexual activity not in agreement with the Bible, including, but not limited to, premarital sex, adultery, and homosexuality," he knew he would have no future at Shorter after all.
Another was Craig Allee, dean of the School of Sciences and Mathematics. A few days before, Allee had looked at his assembled math and science faculty with pride; the best group of his 43 years at Shorter, he thought. Now he knew many would not stay.
The faculty members, former trustees and alumni outraged by the statements could have seen it coming, and many did. Shorter was supported by the conservative Georgia Baptist Convention, but it had never worn its religion on its sleeve -- to the dismay of the Baptists who provided just over 4 percent of the college's operating budget. Seven years earlier, the Georgia Baptist Convention had taken control, appointing new, more conservative trustees without consulting the college's president. Shorter feared it would lose accreditation, and tried – and failed – to break away.
Ever since that thwarted bid for independence, many had expected the Baptists to crack down.
When the board did, last October, it was hardly subtle. The college's motto had once been Lux et veritas — "light and truth," a well-worn Latin phrase they shared with Yale University. At the same meeting that produced the faith and lifestyle statements, the trustees approved another change. Soon a new motto was branded on banners amid the red-brick, white-columned buildings of Shorter's campus: "Transforming Lives Through Christ."
The ensuing controversy would sow discord in a tight-knit academic community that boasted of its strength in the sciences, its performing arts department and its deep, inclusive faith. The next nine months would bring an exodus. Eighty-three of Shorter's faculty, staff and administration would resign, including 35 of its 94 full-time faculty members on the undergraduate campus. The college would lose four of its deans and a vice president. Science and performing arts departments, once the pride of Shorter, were hit hard.
Shorter's newly appointed president, Donald Dowless, an ordained Baptist minister with a Ph.D. from Baylor University, said the changes were necessary to make the 1,500-student college more Christian, and that they merely codified years of unofficial expectations. The faculty and staff who left -- and some who wish they had -- say the shift reversed decades of tradition.
A year after the faith statements were introduced, current and former Shorter faculty still seem stunned and disbelieving when talking about the controversy that engulfed campus. The underlying questions are profound: Which tradition is more powerful: articles of faith or academic freedom? Who defines Baptist values? And what does it really mean to be a Christian college?
Some critics are still hoping the college's accreditor will step in and force the Baptists to relent. But in extensive interviews this fall, many current and former faculty and administrators acknowledge that, for better or for worse, Shorter is forever altered. In the struggle for the soul of a religious college, the Georgia Baptist Convention won.
"I'm completely lost; I don't even know where I am," said one faculty member who stayed behind and requested anonymity, fearing reprisal from Shorter's administration. "I planned to spend my career there."
The main campus of Shorter University rises on a hilltop over Rome, Ga., a prosperous town of 40,000 about 90 minutes northwest of Atlanta. A twisting driveway leads up from a busy street, past a gatehouse to the Georgian quad where twin gates stand. The gates are emblazoned with mottoes: "ENTER TO LEARN" faces outward; "GO FORTH TO SERVE" faces inward. Even more than other liberal arts colleges, Shorter feels like a self-contained world – a campus upon a hill.
The university was known as Shorter College for most of its 139-year history. Its students, for the most part, are neither virtuosos nor valedictorians; the college's reputation is solid but unremarkable. Former faculty describe it as an idyll of academe: "a wonderful place to teach, live and work," said Joe Baskin, who retired as a professor of religion in 1988 after 22 years at the college. Older alumni tell stories of meeting their spouses on campus, known as the Hill; some sent their children to Shorter and watched them meet husbands and wives as well. Faculty often started out as newly minted Ph.D.s and left the Hill only when they retired decades later. During office hours, students would drop in on professors for discussions that ranged far beyond the classroom, a habit that at first puzzled and then charmed Richard Pirkle, an assistant professor of biology at Shorter from 2006 until June.
The college was always obviously Christian. At least one religion class was required to graduate, as was occasional chapel attendance; dorms were separated by gender, with enforced limits on visiting hours. The faculty was mostly, but not exclusively, made up of Christians. Professors tried to live their values, leading by example instead of preaching in the classroom, Pirkle said. As an illustration, he mentioned the office-hour chats he once found strange. "That was where most of us spent the energy, the stuff they wanted in all this mess, trying to make it more of a Christian university," Pirkle said. "That was really where we dealt with that. It wasn't in class."
The college's ties to the Georgia Baptist Convention, which is affiliated with the conservative Southern Baptist Convention, were less obvious. Between 2002 and 2006, the theater department performed splashy, secular musicals that break Baptist lifestyle rules in spectacular fashion: "Cabaret" (drinking, suggestive dancing, premarital sex, profanity and abortion); "A Chorus Line" (homosexuality, premarital sex and profanity), "Chicago" (more suggestive dancing, profanity, sex and violence). A handful of students and faculty in the performing arts were openly gay, and, as young alumni tell it, widely accepted. Occasionally, some of the more conservative religious students would pointedly tell the arts majors that they were praying for them.
If Shorter stood out from its peers among small, nominally church-affiliated liberal arts colleges, it was in the sciences and the performing arts. The college boasts of a medical school admission rate of 87 percent. Its campus was a regular stop on audition tours. The biggest recent success story is Jamie Barton, a fast-rising opera singer who had never taken a voice lesson when she arrived at Shorter as a freshman in the fall of 2000. In 2009, she debuted with New York's Metropolitan Opera. Last fall, Barton asked Shorter to stop using her name in admissions materials.
By 2001, Shorter and its big-tent faith were an anomaly among Baptist colleges. Theologically and culturally conservative Baptists gained control of the Southern Baptist Convention in 1979, and later took over many state conventions too. The ascendant conservatives wanted Baptist-subsidized colleges to conform to Southern Baptist beliefs. But the subsidies in question were often small, as they are at Shorter, and in response, many colleges cut ties with the church: Wake Forest University in 1986, Furman University in 1992. By the early 2000s, dozens had broken away.
As other Baptist colleges pulled away from the church, the unwritten consensus that governed Shorter's relationship with the Georgia Baptist Convention was crumbling. Since  1959, when the Baptist convention began picking the college's board as part of an agreement to provide financial support, the convention had nominated trustees from a list of candidates drawn up by the college. That ended in 2001: a member of the Baptist convention's nominating committee met with Shorter's then-president, Ed Schrader, and told Schrader whom he wanted to appoint. He also ordered the college to replace its moderate religion faculty with more conservative Baptists.
In 2002, the convention did away with including the college when picking trustees at all. The same year, the Southern Association of Colleges and Schools, Shorter's accreditor, was warning that the Baptist convention had too much control over Shorter's governance and its accreditation was at risk.
In two fateful votes in late 2002, the Board of Trustees voted to sever ties with the Georgia Baptist Convention, and then to take the convention to court for donations it received for Shorter.
The bitter legal fight that ensued was not resolved until it reached the Georgia Supreme Court. There, the trustees lost by a single vote in 2005; judges decided Shorter's board did not have the authority to break ties with the convention. "Brace yourselves," the board's then-chairman, Gary F. Eubanks, told the college's supporters. Students then on campus recall an anxious, funereal atmosphere. Pessimists foretold a fundamentalist takeover.
At first, it seemed the pessimists were wrong. The board appointed Harold Newman, the college's provost and a longtime employee, as president. Shorter began requiring a written faith statement as part of the hiring process, rather than discussing religion with prospective new employees, as it had in the past. The college also joined the Council for Christian Colleges and Universities, an association of mostly evangelical colleges that hire only Christians. But Newman's tenure was otherwise quiet. He presided over a peaceful, growing campus with little interference from the convention-controlled Board of Trustees and few signs of cultural change. In early 2011, when a new Ph.D interviewed for a position in Shorter's biology department, faculty reassured her: Shorter might be a Baptist college deep in the Bible Belt, but teaching evolution would be no problem.
They had to reassure her several times, since she asked about evolution in every interview. "I was very, very thorough," said the former assistant professor, who asked not to be named because she does not want her current employer to know she has spoken publicly about her experience at Shorter. Her own faith statement was a deeply personal essay that described her love of the Christian philosophy of "grace, mercy and forgiveness" and talked about how she resolved the tension between faith and free will.
Not long after the interview, she was hired as an assistant professor of biology. Newman had recently retired, and Dowless's appointment was announced at around the same time. The college's official faith statement was unveiled less than two months into the upcoming academic year. Soon the new assistant professor would send a very different statement: "It is with a heavy heart I submit my resignation..."
Even now, among some Protestant, mostly evangelical, colleges, Shorter is solidly in the mainstream. At dozens of religious colleges nationwide, specific faith statements and the expectation of a certain type of Christian morality are the norm. Many are regionally accredited, and some are respected for academic rigor. But it is rare for a college without a history of such expectations to adopt them; even rarer is a wholesale cultural change in the course of one academic year.
A cultural change was exactly what the Georgia Baptist Convention wanted. Since its victory in court, the state body had been biding its time. Where alumni saw a college that embodied the best of Christianity – "for me, Shorter was love," said Barton, the opera singer – conservative Baptists saw moral decay. Shorter had a reputation as "a hotbed of homosexuality since the late 1970s," Nelson Price, a prominent Baptist preacher and former chairman of the Shorter Board of Trustees, wrote in an e-mail exchange last December with an alumna angry about the new faith statements.
Price, who was one of the first trustees appointed solely by the Baptist convention, left the board before it voted on the faith statements. He is still an adviser to Dowless, the college president, and many alumni and former trustees consider Price a chief architect of the "new Shorter." "Some at Shorter have not been willing to acknowledge Shorter is a Baptist school and respect it," Price wrote in the same e-mail. "It became necessary to make it understandable."
As the "transforming lives through Christ" banners went up, Shorter started to conform to Price's vision. In the fall, the college canceled the scheduled opera, L'Elisir d'Amore -- "The Elixir of Love." The titular elixir is in fact red wine, and drunkenness is played for comedic effect; it was decided the frequent references to alcohol were inappropriate at a Baptist college. So on a stage that a few years before was transformed into the seedy bar scene of "Cabaret," where student actors had cross-dressed and talked about abortion, the Shorter students last fall performed The Magic Flute with a glass of Coca-Cola standing in for wine.
Allee, the dean of the School of Sciences and Mathematics, set up two meetings with Dowless, first with the faculty, then on his own. A biology professor with a reverence for logic and a bulldog's tenacity, Allee struggled with Dowless over interpreting Genesis as a historical document. If everyone on Earth is a direct descendent of Adam and Eve, and only their male children are mentioned in the Bible, Allee asked, then whom did their son Cain marry? He left the meeting without concessions, disappointed, angry and considering retirement.
Even faculty members who felt they could sign both statements in good conscience – and Shorter's faculty included many devout Baptists – were appalled that the college would require tenured faculty to do so. But as time grew short, the calculus on whether or not to sign grew more complicated than principle alone. Allee and several other experienced professors could retire a year or two earlier than planned. Pirkle, the assistant biology professor, found a new position at Tennessee Tech; his colleague, hired just before the turmoil began, had less success on the job market.
Many who disagreed with the statements found themselves without other prospects. The choice was stark: sign, or risk unemployment. "I have to pay my student loans," the new assistant biology professor thought; "I have a job, and so many others don't." Another faculty member still at Shorter said, tearfully, that perhaps being forced to stay for lack of another job was part of God's plan, to be there for Shorter's students despite the turmoil. Many critics called the quandary something else as well: economic blackmail from the Board of Trustees.
Some had no qualms about signing. Stefanie Cash, now the college's director of choral activities, had earned her Ph.D at Florida State University and had never worked at a private college. The job at Shorter let her combine her strong Christian faith with her passion for music, and although campus was mired in protests and controversy for much of her first year, she loved being there. Leading her students in prayer before choir rehearsal thrilled and gratified her. She felt God meant for her to do this job.
"For the first time in my life, everything comes together," Cash said.
Others felt everything was falling apart. The faculty senate had been dissolved in 2005, but the American Association of University Professors wrote a strongly worded letter to Shorter, raising concerns about academic freedom. Performing arts and science students considered transferring. Arguments broke out among students about the changes, and they could sense their professors' fear, said Teena Dipillo, whose son Nicholas was majoring in piano pedagogy at Shorter until he transferred to the University of Tennessee at Knoxville this year.
It was not an auspicious atmosphere for inaugurating a new president. Dowless had arrived at Shorter over the summer from North Greenville University, a South Carolina college with impeccable Southern Baptist credentials, where he was was vice president for academics. "Christ must be the center of the campus for the purpose of Christian education and Christian character-building," North Greenville's mission statement reads in part. "North Greenville University offers a quality education in a biblically sound, Christ-centered environment."
In the month between the announcement of the faith and lifestyle statements and Dowless's inauguration last November, the policy change had been widely covered in Rome and Atlanta media, feeding the controversy. The day of the inaugural ceremonies, Shorter canceled classes, citing bomb threats. As the celebration for Dowless began on the Hill, about 150 people protested at the bottom of the winding driveway.
Many of the protesters, who have continued to speak out against the changes at Shorter, were prominent middle-aged moderate Baptists. They were unaccustomed to protest permits and picket signs. ("We're not heathens, and we're not left-wing nuthouses," a leader of the group said in a September interview.) Two Sunday-school teachers in their 70s – Baskin, the former religion professor, and Betty Zane Morris, a former communication department chair – were among the organizers. During Dowless's inauguration, they stood at the bottom of the driveway. Baskin's sign read "For Freedom – Christ Has Set Us Free." Morris's: "How Dare You."
At the top of the Hill, Dowless praised the faculty, asking them to pray for the college. He struck a conciliatory note. "What unites us — our faith and love for God — is larger than those things that would divide us," he said, according to the Rome News-Tribune. "Here at Shorter, the security and the solidity of our academic identity allow us to disagree with respect and civility."
One faculty member, still in academic regalia, joined the protest at the bottom of the hill after the ceremony. A month later, the former assistant professor of biology said, Dowless told the science faculty that they would need to include creationism in their curriculums for the upcoming year.
Shorter's reaccreditation visit fell​ near the end of the academic year, on a rainy day in mid-April. Beginning early that morning, about 15 protesters gathered again at the bottom of the Hill, umbrellas and signs in hand: "Professors for Academic Freedom," one read; "Don't Destroy Shorter," said another. In a quirk of timing, Shorter's latest crisis had fallen 10 years after the vote to break away from the Georgia Baptist Convention. That meant it also fell, once again, in the same year as the routine 10-year visit for reaffirmation of accreditation.
A meeting between the on-site review committee from the Southern Association of Colleges and Schools and the faculty opened with a simple question: What do you think we should know? It turned into an outpouring of grief, anger and disappointment, an attempt at catharsis for faculty members under months of strain. Allee was among the first to speak: "It took 43 years to build my department," he said, "and one day to destroy the whole thing."
Wilson, the gay librarian, drove for more than an  hour from Shorter's Atlanta campus to Rome. He told the committee that there was no longer "intellectual or academic freedom at Shorter," he said, and that he could not speak out. "Essentially," he said he told them, "I'm being fired for being gay."
The new biology professor, who said she was one of the few untenured professors to speak during the meeting, opened her mouth but burst into tears instead. "I cried my eyes out in front of the SACS committee," she said wryly. "I can mark that off my bucket list."
The faculty said they feared for their academic freedom. A senior academic official allied with the new administration sat in the back of the room, taking notes, they recalled months later -- and perhaps inadvertently bolstering their case against the administration.
The alumni and former trustees alarmed by the changes at Shorter have a hard time believing a college can require its professors to have, and teach, certain beliefs while retaining accreditation. In fact, religious institutions have a wide range of freedom to do just that, as long as they clearly define a religious mission and create a framework for safeguarding academic freedom. The mere existence of faith and lifestyle statements at Shorter would not be grounds for denying accreditation, said Belle Wheelan, president of the SACS commission on colleges.
But accreditors can come down hard on colleges whose governing boards are too influenced by external bodies, including religious groups. The role of the Georgia Baptist Convention at Shorter has worried SACS for two decades; it questioned whether Shorter was truly self-governing during its 1992 review, and again in 2002 – one impetus for the Board of Trustees' attempt to break away. 
Those spearheading the resistance at Shorter now speak of SACS with fervent, slightly desperate hope. Since last October, faculty and staff have departed in droves; enrollment fell by about 10 percent; wealthy alumni yanked donations; the college received widespread negative publicity. None of it did any good. Such an angry, organized and influential group can be effective when the principles at stake are merely political, as at the University of Virginia over the summer. Critics of Shorter now realize they can do little when trustees and administrators believe they are bringing the college closer to God. But if the Georgia Baptist Convention is faced with a choice between losing accreditation or letting Shorter go its own way, they hope, it might choose to give them their college back.
Any SACS rescue would come too late for many of Shorter's employees. After the site visit last April, time was running out. The resignations rolled in: several biology faculty; music and communications instructors; administrative assistants; the vice president of enrollment management. The new biology professor, who had gritted her teeth and signed the statement, found a new, albeit less stable, position and resigned
One of those who left was Allee. As he left his office, he tripped over the carpet, injuring his elbow. Draining the swelling led to a systemic infection, then to pneumonia, the intensive care unit, an induced coma, a ventilator. The doctors weren't sure he would survive, but Allee was as tenacious fighting his illness as he was arguing with Dowless over Biblical literalism. Months later, his voice still raspy, he joked he had enjoyed only a few hours of retirement. Leaving his alma mater had nearly killed him.
Wilson, the librarian, had been unable to find a new job, and he desperately wanted to stay at Shorter.  He signed the faith statement. Then he crossed out the lines about homosexuality from the lifestyle statement and signed that, too. The college responded: "Shorter hereby accepts your resignation effective May 31, 2012. We wish you the best of luck in the future."
"Two sentences," Wilson, who is still unemployed, said in October. "After 14 years."
Shorter rarely requires that students attend chapel, but Dowless said this year the pews have always been full. The third Tuesday in September was no exception.
The day dawned gray and drizzly, but students in jeans and colorful sweatshirts packed the chapel, many arriving early. Enrollment is down by about 115 students from the previous year, Dowless said in an interview the day before the service, and he acknowledged that the turmoil probably contributed. But he said he has few regrets. While many alumni, including big donors for a new wing of the library (named for Price) withdrew financial support in the wake of the controversy, donations overall are up, he said.
"The controversy -- we've moved beyond that," he said. "Everything can be handled better in hindsight. We do stand by our documents, and we stand by the changes we made."
More than 50 new faculty members have joined Shorter's staff to replace those who left. One is Philip Genetti, an assistant professor of English who teaches mostly night classes for adult students in Atlanta. So far, he said, Shorter has "a very positive place to work." "I did not have any hesitancy or concern about my signing a statement of faith. It's not a problem for me at all," said Genetti, who had taught before at Emmanuel College, a Pentecostal Holiness institution, and served as a department chairman at Regent University, founded by Rev. Pat Robertson. "If they find my contribution valuable, I would be glad to stay as long as possible."
Dowless says he is proud of the new faculty. Many are former adjunct professors; about half do not have a terminal degree in their fields, and replaced departing professors who did have Ph.D.s, according to an analysis by Save Our Shorter, the group that opposes the changes. 
"We want people who measure up with high academic quality but also who love Jesus Christ," Dowless said in September. "We believe that we've been able to do that. We give the Lord credit for bringing the right people here at the right time."
The guest preacher in the chapel on that September Tuesday was Joel Goddard, a music and worship leader who graduated from Shorter in 1996. Goddard's time on campus was well before the Georgia Baptist Convention reasserted control. Still, his sermon described a campus alive with vibrant evangelical Christianity: students were praying in their rooms, choosing in dormitory hallways to give their lives to Christ. A basketball player got saved, and then so did the rest of the basketball team, and then part of the baseball team, too.
"God knows where this place is!" Goddard cried. As the students listened attentively, a few taking notes, he called on the Holy Spirit to unleash a revival on Shorter's campus.
Goddard majored in vocal music, but if he was aware of the turmoil that has shaken the performing arts department and its alumni over the past year, it went unmentioned. Still, the New Testament verse he chose for his message was an apt one for a campus recently torn asunder. It came from the book of James: "Therefore confess your sins to each other and pray for each other so that you may be healed."
It has been a year since the faith statements were first introduced, but for the grieving Shorter alumni and shell-shocked former faculty, healing seems a long way off. Those who wanted to leave but did not, or could not, said they fear being disciplined or fired if they defy the new administration. Young alumni say they are reconsidering the value of their degrees. Especially in regional music and theater companies, Shorter's stellar reputation used to precede it; directors at auditions would nod appreciatively. Now the alumni have grown used to a new reaction, a combination of shock and pity. A few have gone to graduate school in part so that Shorter is not the only college on their résumé.
Shorter's new reputation followed one young alumnus all the way to Vermont, where he is in graduate school, said Pirkle, the former assistant biology professor. The former student told his old professor that he quickly tired of encountering the derision -- "That crazy place?" -- for a college that now embodies some of the stereotypes it  once defied. When he is asked about where he spent his undergraduate years, the graduate has come up with a new answer.
He went to a small liberal arts college in the South, the former student now says. But that college doesn't exist anymore.