You have /5 articles left.
Sign up for a free account or log in.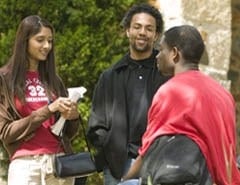 Research released earlier this year found that commonly used placement tests fail to adequately determine whether incoming college students need remedial coursework. Yet most colleges rely exclusively on tests like the ACCUPLACER or COMPASS, according to a new study from the National Assessment Governing Board.
Only one in five colleges uses any criteria other than standardized testing -- such as high school grades or class rank -- to decide which students require coursework in remedial mathematics, the study found. And just 13 percent of colleges used other measures for placement in remedial English.
There is little national consensus on what constitutes college-ready. The new research found substantial variation in the remedial "cut scores" colleges' use with the two popular placement tests, as well as for the use of the ACT and SAT to place students. Community colleges generally set a higher bar than do four-year institutions, according to the study, a result that surprised experts.
Roughly 1,560 colleges responded to the survey from the National Assessment Governing Board, which was conducted at the behest of the U.S. Department of Education and with help from Westat, a private research firm. The board oversees the National Assessment of Educational Progress, which Congress created to measure student learning. The findings are based on remedial policies in place last fall.
Remediation is a hot topic among the college completion set. While it isn't a concern at highly selective colleges, fully half of all undergraduates and 70 percent of community college students take at least one remedial course, which are generally not credit-bearing. But the vast majority of those students will fail to eventually earn a credential. As a result, a growing number of state lawmakers, with a nudge from Complete College America and other groups, support legislative fixes to remedial education.
Placement tests may be part of the problem, according to reformers.
Two highly publicized studies, released in February by the Community College Research Center at Columbia University's Teachers College, found that large numbers of students are being unnecessarily placed into remedial courses.
For example, among two large samples of community college students who were deemed to have remedial needs based on standardized placement tests, up to a third could have passed college-level classes with a grade of B or better. (Companies that produce the tests have defended them in response to the studies and resulting criticism.)
The research also found that high school GPAs are better predictors of student success than placement tests. In the wake of the studies' release, pressure has built for colleges to be more creative and comprehensive in how they determine whether a student is ready for college-level courses. And both researchers and advocates have called for the use GPAs or other measures in addition to placement tests.
Administrative Burden?
Adding more layers to the placement process can be labor intensive and expensive, which is particularly problematic for cash-strapped public colleges. And high school grades aren't the best measure for all students, particularly the many adults who attend community colleges and have been out of high school for years.
High school GPAs would be of little help to a large portion of students at the Community College of Baltimore County, said the college's president, Sandra L. Kurtinitis. The median age of the 70,000 students who attend the college is upward of 28, she said. And high school algebra was a long time ago for former steelworkers who are in their 40s, a number of whom attend the college.
Even so, the college has been widely praised for finding ways to improve its remedial placement and success rates. Kurtinitis said one key effort had been helping students prep for the high-stakes placement tests, with pre-test workshops and practice exams.
There are plenty of avenues for colleges to try to bulk up their placement process without adding big costs, said Michelle Hodara, a research associate at the Community College Research Center, who recently released a research paper looking at some of those attempts. And high school grades can be part of the mix.
"There's a lot of opportunity to experiment with efficient ways to use multiple measures," she said.
For example, Long Beach City College this year began using math and English grades incoming students earned as seniors in high school. As a result, many students who would have been tripped up by the tests have placed into college-level courses, college officials said.
California's community college system has studied whether to use high school transcripts and GPAs more broadly across its 112 colleges. And early next year North Carolina's education board will consider a proposal for the state's community colleges to use multiple measures in remedial placement. Options include high school GPAs and new diagnostic placement tests.
"If approved, student placement will be based on multiple factors instead of a single test score," a spokeswoman for North Carolina's community college system said in an email. "We anticipate a more accurate placement rate as a result."
College-Ready
A broad group of higher education leaders and faculty members advised the National Assessment Governing Board as it designed the survey, said Ray Fields, the board's assistant director for policy and research. That feedback helped the group decide to look at colleges' use of measures other than placement tests.
Among public two- and four-year institutions, 27 percent used any criteria other than a placement test. The most popular measures were Advanced Placement scores, the highest high school mathematics course completed and high school GPAs.
Fully 100 percent of community colleges and 85 percent of public four-year institutions reported using a math placement test like ACCUPLACER or COMPASS, the survey found. But they used the results of those tests differently, with cut scores that varied substantially.
Those findings support the theory that colleges "do not hold a single, common conception of 'just academically prepared,'" the report said. And the resulting lack of clarity can be bad for students who place into remedial courses unexpectedly and face "added costs of money and time in pursuing a degree, and the attendant weight of discouragement."
Clarity on where to set the bar for remedial needs isn't a problem in Maryland, however, which has in place standard cut scores across all of its community colleges.
"We have a common definition in Maryland of what constitutes college-ready," Kurtinitis said.