Promise and Pitfalls in Online Ed
A stalwart of humanities and an online learning pioneer -- Catharine Stimpson and Ann Kirschner -- debate the pros and cons of technology-enabled higher education.
NEW YORK CITY – It seemed almost too easy. Catharine Stimpson and Ann Kirschner start from such fundamentally different perspective in their views about technology-enabled education that staging a symposium at which the two of them talk about their experiences taking online courses (or writing about such an event) seemed like shooting fish in a barrel. Of course Kirschner would be a booster, and Stimpson a naysayer. What enlightenment could possibly emerge?
The event late last month at New York University here (where Stimpson is University Professor and dean emerita of the graduate school of arts and science) followed the expected script in some ways. Stimpson, a Columbia- and Cambridge-trained feminist literary scholar who presided over the Modern Language Association and is a staunch defender of the humanities, probably surprised no one in the audience when she expressed her qualms that online learning, at least as embodied by tightly controlled courses like the creative writing class she took at the University of Phoenix, contribute to a trend in which "teaching is losing its dignity."
And Kirschner, a City University of New York dean among whose claims to fame is that she was a key player in the initial wave of distance education through the aborted consortium Fathom a decade ago, did the expected when she characterized the trend of the moment, massive open online courses (or MOOCs), as a "breath of fresh air, a welcome sign that innovation is alive and well in higher education, and in some of our greatest institutions."
But in their back-and-forth over such topics as the pros and cons of peer tutoring, the quality of the online courses they took, and the relative strengths and weaknesses of face-to-face vs. distance formats, the two women's views were often separated by less than the few feet between them in the room where they spoke.
And compared to most of the breathless discussions these days about MOOCs and "disruption," this one both celebrated the "magic" of the classroom experience and acknowledged some of the potential limits -- if not dangers -- of a world in which online learning rules.
Becoming a Phoenix
Stimpson, who laid out some of her observations last summer in an essay in The Chronicle of Higher Education (as did Kirschner), is an atypical "Phoenix," as the prominent television advertisements from the University of Phoenix likes to call its students.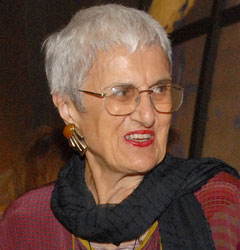 She ponied up tuition of $1,215 (plus an application fee of $45) on her personal credit card, not to qualify for a better job, the presumed goal of most of the university's adult students, but to test out the digital revolution, to which she is most decidedly an "immigrant" rather than a native, she said. (That's more likely to be a reason somebody would participate in a MOOC, as hundreds of thousands are now doing, free of charge.)
Stimpson liked some of what she found. She found Phoenix's Student Code of Conduct to resonate with "the language of the liberal modern university," with its endorsement of the freedom of expression that makes it possible to safely discuss controversial ideas, and she felt warmly toward her fellow students, who seemed to work hard and to care genuinely about the quality of their work.
She was far less enamored of some of Phoenix's rules, notably the requirement that students in her course had to post at least two comments a week of at least 200 words each. The punishment for failure to do so: a "scarlet U for unsubstantiated, which meant you didn't make your word count," putting at risk your grade in the class, she said.
She also found the prospect that Phoenix and others are gathering enormous amounts of data about how she and other students learn – toward a goal of adapting learning to the learner – to be "less awesome than creepy."
But Stimpson's biggest beef about the Phoenix course – and her underlying complaint about the future of digital education – is the extent to which it leaned on peer tutoring and grading rather than actual instruction. Given Phoenix's focus on team-building (with preparation for the work place front of mind), one major assignment in the course involved each member of a team writing a poem, and then each team creating a group poem consisting of two lines from each of its members' poems. "This created a feeling of community, but was it poetry?"
And a meaningful part of each student's grade came from his or her involvement in peer-related advising and grading, most of which was too kind and gentle to be of any real help, Stimpson said.
"We were the first and last responders to each other's assignments, and peer tutoring was not about craft but about relatability," she said. "This was not an exercise in helping with our craft, but an exercise in did we psychologically connect with each other."
What was entirely absent was the sort of "genuine, advanced knowledge that a faculty member normally imparts," Stimpson said. "I believe in faculty who know things. We really do need the informed guidance of a good teacher."
As MOOCs supplement their celebrity-instructor-delivered content with peer tutoring and some commentators herald online learning as a way to transform the faculty role raises the question, "I have to ask, are you trying to cut costs, or to diminish faculty," she said. "No learning can exist without teaching, and no teaching can exist unless we maintain the dignity of the profession."
'I Like the New'
After Stimpson offered what she called her "gloomy, apocalyptic" vision, Kirschner, university dean of CUNY's MacCaulay Honors College, laid her own prejudices on the table. "I like the new," she said.
As an online learning pioneer, Kirschner said she was thrilled to see the emergence of massive online courses, which in many ways represented take two on the Fathom project that was ahead of its time.
Kirschner was disappointed by some aspects of the health policy course she took from Coursera, the University of Pennsylvania, and Ezekiel Emanuel, an architect of President Obama's health care overhaul. She felt like she was "back in the message boards" of the early online learning era, Kirschner said, with little chance for students to converse meaningfully with each other. And unlike Stimpson, she found the peer grading in her MOOC to be not too kind, but too harsh.
But the technology will improve (and is already, she noted), and as is true for all types of courses and all modes of instruction in higher education, "all MOOCs are not created equal – some are good and some are bad," she said.
Kirschner took no issue with Stimpson's underlying assertion that face-to-face interaction between a learned professor and a group of curious students remains the ideal way for students to learn; she "lived the American dream" upon leaving New York City's public schools, being educated at some of the country's best universities, and "I totally believe that a liberal arts education is the best preparation for a career, not for a first job. I've done a lot of wacky things" – in addition to founding Fathom, she wrote a memoir of her Holocaust-survivor mother and headed the National Football League's new media efforts – "and I couldn't have done any of that without my liberal arts grounding."
But many of today's students – especially those from needy backgrounds – "are either not going to college or not finishing" because higher education isn't giving them what they need where and when and how they want it, she said.
"Face-to-face is almost always magical," Kirschner said. "It's wonderful to have lunch with my mother, but she's in Florida, and sometimes we have to talk by phone. We lose something when we settle for a phone call, but we also gain something. Technology clearly is going to be part of the solution to the access problem."
Stimpson did not dispute that; "blended education is the future," she conceded. But in an era of enthusiasm that sometimes seems to verge on fanaticism about the wonders of technology-infused education ("I think of Mickey Rooney and Judy Garland, 'Let's put on a MOOC!' " Stimpson said to laughs), a note of caution about what might be lost is in order, she said.
You may also be interested in...
Today's News from Inside Higher Ed
Inside Higher Ed's Quick Takes