Trying to head off a likely epidemic flu season, college officials are breaking out prevention and treatment tactics developed in the wake of 2009's H1N1 pandemic.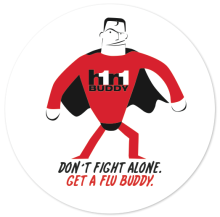 It seems that at least one good thing came out of the swine flu pandemic.
Flu season is hitting – hard – but colleges are trying to minimize the damage by recalling the H1N1 pandemic of fall 2009.
"The lessons that we learned are really applicable to what we're doing now," said David R. McBride, director of student health services at Boston University. On Wednesday, the mayor of Boston declared a public health emergency in light of the 700 confirmed flu cases and four deaths since Oct. 1. "Since 2009 we've kind of geared up a bit for this every year, just because you never know exactly what's going to happen."
It's a good thing, too, because campus officials are going to have their work cut out for them.
After a few relatively quiet years for influenza – last year, flu season particularly low-key – it's back with a vengeance, as evidenced by this tracking map from the Centers for Disease Control and Prevention. Flu season is peaking early, with the sickness "widespread" in 41 states and "local" in the others (mostly in the West). The situation is not being helped by what the CDC has called the most severe whooping cough outbreak in six decades. Experts expect influenza to reach epidemic thresholds, The New York Times reported.
And college students are a particularly vulnerable population, experts said. The flu hit during winter break – meaning that whatever students (and faculty and staff) picked up while back home or traveling during the holiday, they'll now be harboring in close quarters like dorms and classrooms.
Most colleges start pushing vaccinations in the fall, before flu season starts, but health centers are bracing for higher demand as students arrive back on campus. The University of Pennsylvania put on an annual eight-hour marathon clinic, where students willing to put in the five minutes can get vaccinated, documented and billed in a one-stop shop. (Penn charges $25; most colleges charge either nothing or a small fee that's covered by insurance.)
"Anything that makes things more convenient," said Sharon McMullen, director of campus health initiatives at Penn. "We see that students want to be vaccinated, but really it's that time thing."
The university has vaccinated about 4,500 students so far this academic year, and officials have already seen high demand since the new semester commenced on Wednesday. The clinics – a "fun" form of emergency preparedness, in which about 100 students volunteer – are becoming more and more common on campuses, McMullen said.
"This all started with the H1N1 pandemic – we realized that we needed to mount this response quickly," she said.
Other strategies that will look familiar: use of face masks, a temporary addition of extra nursing staff for vaccinations, and lots and lots of hand sanitizer.
But extra and extended push of messaging (via e-mail, posters around campus and social media) promoting prevention and recovery tactics might be the most common and important tactic. That means students and staff will be seeing lots of reminders to wash hands, cover mouths when coughing and sneezing, and stay home when they're sick. At Boston, university marketing and health services teamed up to develop the "flu buddy" (pictured above), a mascot posted around campus that teaches students how to treat themselves but also encourages them to have a friend bring class notes and food, so they can stay at home and recover without spreading the illness.
Still, fliers and Facebook posts only go so far.
"We're pretty sure that a good number of students just aren't vaccinated, in spite of our push," said Steven Radi, medical director of health and counseling services at the State University of New York at Geneseo. "It could be a lack of time for them; they're busy. But I think it's more related to the notion of invincibility of their population."
About half of SUNY Geneseo's students live on campus, intensifying the urgency for vaccination. The campus uses a phone triage system where students can call in to describe their symptoms and a clinician advises on whether the student should seek medical attention or just ride it out in isolation. Just Thursday morning, Radi's staff met to discuss flu protocol in preparation for the students' return to campus in a little over a week.
Because class is just starting up again, colleges won't know just how bad the situation is for another few weeks. But officials are preparing for a potential outbreak.
"We're sort of working under the assumption – at least, on our campus – that we're going to see cases similar to what we saw three years ago," said Craig M. Roberts, an epidemiologist at the University of Wisconsin at Madison health services. During the swine flu pandemic, 15 to 20 percent of clinic visits at Wisconsin were for flu-like illness. The usual threshold for outbreak is just 2 to 3 percent of total visits.
At Wisconsin, messaging that the university hasn't done since H1N1 helped get thousands of students in for free vaccinations before winter break. But Roberts, who is also chair of the Emergency Public Health Threats and Emergency Response Coalition of the American College Health Association (which provides flu prevention resources here) is expecting to see more demand in the new year.
Boston certainly has.
McBride said Thursday: "We've been giving flu shots today like crazy."
You may also be interested in...
Today's News from Inside Higher Ed
Inside Higher Ed's Quick Takes