You have /5 articles left.
Sign up for a free account or log in.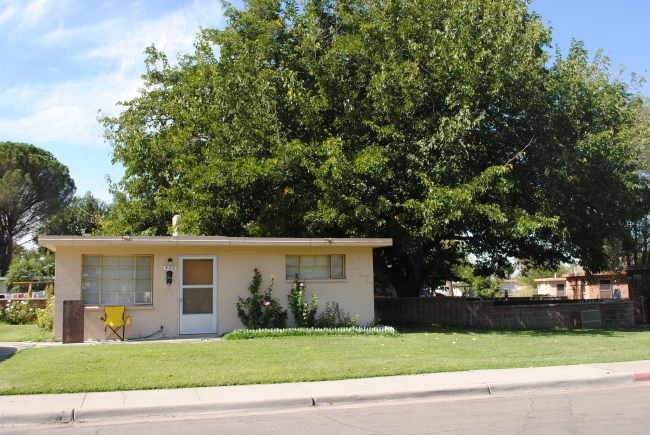 Student veterans are a campus subpopulation with particular wants and needs, much like honor students, international students and athletes. That's part of the reason why some colleges have chosen to dedicate portions of housing away from campus specifically for veterans.
But at New Mexico State University, where veterans-only housing debuts next week, a new and apparently unprecedented approach will allow veterans to live together, on campus, with their families. It aims to provide a living-learning experience similar to what traditional students get when transitioning to college, but with tweaks designed to accommodate veterans' unique situation.
The on-campus model is a departure from what is probably the most common method: a university rededicating an old fraternity house. That gives veterans a chance to live together and maintain relationships, without isolating them in some dorm where they're inundated with pizza parties and surrounded by teenagers fresh out of high school.
"We wanted veterans to feel like they had a place on campus to live that wasn't a dorm, a frat house – they could be able to have their own privacy," said Tony Cano, president of New Mexico State's Student Veterans of America chapter. "It's going to give us that sense of community again, because veterans tend to stay together…. We can draw from each other again, get that support we need."
As the family units are on-campus, they are run by the university's housing department, giving inhabitants more of a residence-life feel than they'd get off-campus at other colleges. For instance, there will be resident assistants, who will be specially trained on veterans issues so they can help provide programs and services. To that end, the university hopes to open a veterans resource center within housing, so they'll have easily accessible resources.
Administrators are working to accommodate the veterans, too; for example, many people return from deployment with an animal they served with – commonly a German Shepherd. So, New Mexico State will suspend its no-pets policy for them. And all of the units are one-story, to ensure no veteran is impeded by injuries sustained in combat. (In screening for residents, the university accepts anyone who is enrolled and has served or is serving in any military branch. There are no medical restrictions, although some accessibility issues that come with age may require a student to live in a different area of family housing.)
The houses haven't even opened yet, but they're already being looked to as inspiration. Ohio State University, which is in the process of overhauling its veteran services and exploring new options to accommodate those students, is planning a similar project on its campus. While Ohio State converted an old fraternity house to an all-male veteran residence in September 2011, some students said they wanted options for female veterans and those with families. 
Mike Carrell, assistant provost and director of Ohio State's office of military and veterans services, visited 20 campuses and talked to four times as many to identify best practices since he took his post in October 2012. He consulted with New Mexico State, and thinks other campuses will follow in the footsteps of those administrators – and now, his own.
This fall, Ohio State will open 11 on-campus apartments for veteran families and non-married veteran roommates.
"They're older, they're more mature – they don't want to live in a dorm with a bunch of 18-year-olds," Carrell said. "We're never going to house 2,000 [veteran] students – nor should we. That's not the business that we're in. But it'd be nice to have some options for veterans, especially in a transition role."
Cano is actually the one who approached New Mexico administrators about the idea, after hearing about veteran housing at a national Student Veterans of America conference this month but realizing the status quo wasn't what he wanted. He's moving into one of the houses in February.
"Veterans are very interested in it, because now they're realizing that the school is going to be a little bit more military-friendly, and that's what we're working to more broadly," Cano said. "A sense of community, a sense of belonging."
The 11 free-standing units line one street in the on-campus family housing complex, their 900-square-feet floor plans, private driveways and yards providing some much-desired privacy. After announcing the space just over a week ago, the campus SVA chapter immediately heard from 10 interested students. Four are now scheduled to sign leases, and seven or so others plan to move in spring semester.
New Mexico State, like many other institutions, has seen and will continue to see an influx of veteran students back from Iraq and Afghanistan using their Post 9/11 G.I. Bill tuition benefits. It is also situated near three major military installations -- two bases and a missile range – making it a logical spot for such an experiment.
As of now, 700 students live in the family housing complex. Some portion of the 1,100 veterans on campus will begin residing alongside them next week. While it's starting with only a handful of units, the university has no plan to cap availability as long as there's space, said Julie Weber, director of New Mexico State's housing and residential life. "Not to sound too sappy about this, but I believe we all have an obligation to support our veterans," Weber said. "They have done a lot for us."
While applauding New Mexico State's effort, retired Col. Phil McNair, vice president of strategic initiatives at American Military University and co-author of Finding Success as a Returning Veteran or Military Student, also urged them (and those who follow) to consider a few key points.
Will the cost be comparable to other student housing, McNair asked? Will all veterans -- married and employed, single and without families – benefit? Is there evidence of demand for the housing? Will there be mental or physical restrictions, and will veterans of any military status qualify? And finally, is there a danger of creating a "we/they" environment where nonveterans feel their peers are getting special treatment?
Weber can answer "yes" to all but one of those questions.
"I don't think so," she said in response to the last one. "There is plenty of housing available. The only 'special treatment' is putting the veterans near each other, and we have done that with other special requests for our families."
Live-in programs on college campuses are "a bit unique," McNair said in an email.
"Some vets do have trouble going back to school on a traditional campus and feel like other students may not understand them or what they've been through," he said. "Having the opportunity to live among other military students could lessen that problem and make them more comfortable going to school."
Cano, for one, says the housing will help achieve that ultimate goal: excelling in college, graduating, and getting a job.
"The hope is to be able to succeed and move forward in our lives – to not so much put everything that we've been through behind us, but to continue forward," he said. "And this is a good start."