You have /5 articles left.
Sign up for a free account or log in.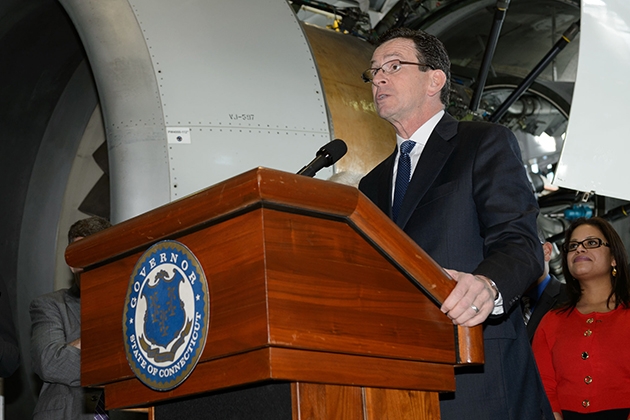 That the country needs more science, technology, engineering, and math graduates is a common refrain, but there has been little consensus about how to achieve this goal, and recent announcements from two public universities showcase very different strategies.
Connecticut Governor Dannel Malloy announced Thursday a plan to dedicate $1.5 billion to growing the science, technology, engineering, and math programs at the University of Connecticut. The money will be used to hire more faculty members, enroll more students, build new STEM facilities and dorms, and create new doctoral fellowships and a STEM honors program.
The proposal, called Next Generation Connecticut, spans UConn's three campuses. If the program passes the state legislature, it would increase the number of engineering undergraduates enrolled by 70 percent and the number of STEM graduates by 47 percent. UConn currently enrolls 7,701 undergraduates and 1,973 graduate students in STEM fields. It would also fund the hiring of 259 new faculty members, 200 of whom would be in the STEM fields.
"It's transformational," said UConn President Susan Herbst. "It's really every president's hope that they get this kind of investment from their state or from their donors."
The investment is based on the familiar idea that the jobs of the next decade will be primarily in technology- and science-based fields. By training more students in these areas, Connecticut hopes to attract more talent, more businesses, and more research money.
"The governor's paradigm for his time as leader of the state is he's trying to recreate the Connecticut economy to become an innovation-based economy, heavy on material sciences, on biotech, and on genetics and genomics," Herbst said. "The old manufacturing we used to do here in the Northeast doesn't go on anymore. He sees the research university as one of his levers for creating a different kind of economy."
Similar ideas are driving a new program at Texas A&M University. Announced last week, the "25 by 25" initiative aims to increase engineering enrollment at the university to 25,000 students, up from 11,000 now, by 2025.
"When I traveled throughout the state and visited with engineers who had graduated from A&M, the common theme was, 'We need more,' " said Katherine Banks, vice chancellor and dean of engineering. "Then I learned that we had such a high number of applications for our open slots in engineering.… It seemed to me it was time to step back and question this limit that we had on enrollment and to question the assumption we had made that we couldn't get any bigger."
Unlike Next Generation Connecticut, the 25 by 25 program does not come with a big financial boost from the state. In fact, no funds are being dedicated to the program, beyond money for infrastructure improvements that the university would have provided anyway. Instead, Banks said the School of Engineering will fund its gradual expansion with the extra money that growing enrollment brings in.
The financial differences mean that the two universities, though working toward similar goals, are approaching the task of increasing enrollment from very different angles.
In Connecticut, some of the money from the state is dedicated to creating an honors program, which will include merit scholarships for outstanding STEM students. Herbst hopes the program will allow the university to attract more of the state's top high school graduates – currently 13 percent of Connecticut high school seniors who apply to college enroll at UConn – but she also hopes to attract talent from out of the state and out of the country. And she's not worried that the talent pool might run dry as the enrollment numbers get higher.
"There are obviously a limited number of [students prepared to enter STEM fields], but we plan on getting a much bigger piece of that pie," Herbst said. "Especially with international students, there's a lot of room for expansion."
In Texas, the approach is different. Rather than recruiting students from other states or attracting in-state students who might have gone elsewhere, Texas A&M says many of its target students are already applying, and it hopes to create and nurture more talent to supplement that pool.
Already, Texas A&M receives about 10,000 applications for its 1,600 undergraduate engineering spots, and Banks said a good portion of those applicants are qualified, at least based on test scores. "We evaluated the incoming class last year based on the number of students we plan to add every year, and we would not have decreased our quality, or our average test scores, if we let in the additional students we need to meet our goals," Banks said.
She promises, too, to continue monitoring quality. If growth goals lead to a lowering of admissions standards, Banks said, the school will re-evaluate its plan.
That's not something Banks is worried about, though, because the School of Engineering has partnered with local community colleges and high schools to help develop a pipeline of qualified, enthusiastic engineering students.
The school has been working with high school teachers to help develop curriculums that will prepare students to study engineering at the college level. Banks also wants to develop more summer programs and preparatory programs to engage local high school students and prepare them for the rigor of college engineering.
"To impact more students, you have to engage with the teachers," Banks said. "We can impact probably 500 students through education and preparing curricula for one teacher, as opposed to the 50 children who might enroll in a summer camp ... We're trying to balance this direct contact with students and working together with teachers to ensure they have the tools necessary to prepare students."
The School of Engineering has other plans to increase its enrollment (and retention), including housing all undergraduate engineering departments in one building, shrinking class sizes, providing more experiential learning opportunities, and integrating technology. But the core of the idea is to turn more Texas students – and there should be plenty of them: Banks notes that projections say by 2025, the state will have 87,000 more high school graduates than it does now – into engineers.
Though they are taking different approaches to enrolling more STEM students, both universities assume there will be enough qualified and interested students to accommodate their goals – an assumption that could prove true, if states focus on STEM education at all levels, said Shirley Malcom, director of education and human resources at the American Association for the Advancement of Science.
"Is there talent out there? Yes. But you have to remember that you can't just say, 'O.K., I need more graduate students' when you've been inattentive to undergraduate education or, 'I need more undergrads' when you've been inattentive to K-12," Malcom said.
Howard Gobstein, executive vice president at the Association of Public and Land-Grant Universities, agreed, noting that a number of APLU institutions are involved in an initiative to improve training for high school science and math teachers.
"The boundaries between universities and whether it be two-year colleges or high schools, those boundaries are dropping," he said.
Malcom and Gobstein praised the efforts and approaches of both UConn and Texas A&M.
"They're reading the tea leaves, the way that everyone else is who has been paying attention, that STEM research can stimulate the economy," Malcom said.
Gobstein called Connecticut's proposal "visionary," (Herbst used the same term) and said he hopes it inspires more states to examine how they can use their state universities to build a better workforce and a better economy. But he notes that it's an investment, and that states and the public need to recognize the long-term, rather than short-term, benefits.
"The future relies on a higher value-added workforce, which depends on a higher degree of STEM literacy and STEM degrees," Gobstein said. "But I'm sometimes a little cautious that the public not see these investments as immediate returns … There are few guarantees in how we choose our investments in the short-term, but in the long term we know this is going to be very helpful."