You have /5 articles left.
Sign up for a free account or log in.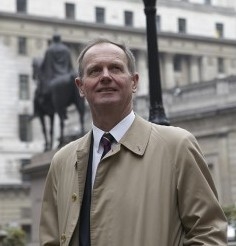 Super rich citizens should set an example by opening their coffers to support worthwhile causes, according to Graham Tuckwell, whose wealth is estimated at somewhere north of $775 million.
They should also refrain from undermining their children's efforts to achieve a sense of independence and self-worth by doling out the cash too readily in their direction.
This explains why the international financier has, with wife Louise, given the Australian National University a cool $50 million for undergraduate scholarships.
"You only need a certain amount of money for yourself,'' Tuckwell says. "Once you are fortunate enough to achieve that, you should be doing better things with it and not just giving it away to future generations.

"Unfortunately, some of the wealthiest people in Australian over many many years have set terrible examples as to what to do," he says. "If you give your kids too much you are just going to destroy them. Where any kid is going to benefit is by their own achievement, not living in the shadows of their parents.''
The Tuckwells have four children but won't discuss them.
Tuckwell has economics and law degrees from ANU and was a corporate adviser and investment banker for 20 years. He credits his university education with giving him the skills in economics, econometrics and law that enabled him to invent a financial instrument known as exchange-traded commodities and founded Jersey-listed ETF Securities in 2003.
Last year he considered selling the company, which has assets of about $30 billion. The offer, rumored to be $1.6 billion, was tempting. "But it's a question of what are you going to do that's useful and we thought still building that particular business is useful.
"I want to continue to expand it and continue to evolve a program of succession. Setting up a program like (the Tuckwell Scholarships) will inevitably draw us into it more and therefore it forces me to gradually step back from the business.''
Part of the Tuckwells' motivation for the scholarship program is their Christian faith. "You know that famous quote, that it is easier for a camel to walk through the eye of a needle than for a rich man to go to heaven?''
He stresses applicants for the scholarships don't need to be Christians, but they should understand that university is intended not just to set them up for personal success, but to make a wider contribution.
"If you are fortunate enough to achieve at a high level then you are not meant to be doing it just for yourself, there's a greater cause out there. That's the sort of attitude we'd like to see.''
The program will operate from 2014, paying $20,000 annually to 25 starting undergraduates each year for up to five years.
"We are trying to identify innate smartness,'' he said. That doesn't mean an Australian Tertiary Admission Rank of 99.95, although the stipulated 95 is no mean feat either. The Tuckwells want it to be within reach of bright sparks from disadvantaged schools or backgrounds, but also to appeal to students who have opted for a well-rounded life ahead of obsessive devotion to achieving near-perfect marks.
ANU's windfall sets a high bar for other universities, all of whom are on the hunt for alumni donations. Until now, the University of Sydney has been a clear leader, attracting $79.3 million in 2011 -- including almost $20 million from the sale of an anonymously donated Picasso -- and $80 million last year including engineer John Grill's $20 million for a project management education center.