You have /5 articles left.
Sign up for a free account or log in.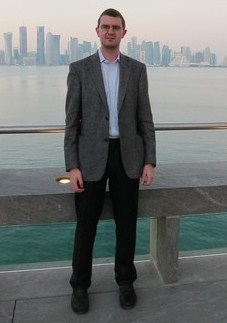 In 2011, the London School of Economics and Political Science was embarrassed by revelations of its ties to the government of the deposed Libyan dictator Muammar el-Qaddafi. A highly damning outside report accused senior leaders of the university of failing to protect academic values while seeking to raise money and build ties in the Middle East.
LSE (as the university is called) has continued to build ties in the Middle East. But on Friday, when one of its scholars was briefly detained and blocked from participating in a conference the university was co-sponsoring in the United Arab Emirates, LSE called off its participation in the conference, which had been slated to be held Sunday at the American University of Sharjah, the co-sponsor of the event.
Without detailing events, LSE issued a statement Friday in which it said that it was calling off its participation in a meeting on "The New Middle East: Transition in the Arab World" because of "restrictions imposed on the intellectual content of the event that threatened academic freedom." The American University of Sharjah confirmed that the event was called off and said only this about the reasons why: "The decision made by LSE cited restrictions on the intellectual content of the event that threatened academic freedom as the reason for the cancelation. AUS is unaware of any other information relating to the last minute cancellation."
The embassy of the UAE in Washington did not respond to a request from Inside Higher Ed for comment.
The apparent cause of the conference's collapse was a move by authorities to detain Kristian Coates Ulrichsen, who teaches government and does research on the Middle East, when he arrived in Dubai for the conference. He was barred from entering the country and was sent back to Britain.
Via e-mail with Inside Higher Ed, Ulrichsen described what happened: "At the immigration desk, my passport obviously triggered a red flag.... I was taken to a backroom passport office where my passport was scrutinized page by page. After 15 minutes an official came and took the passport away for about an hour. During this time, there were between three-five officials and security personnel in the office but they ignored me and didn't stop me from using my smart-phone to publicize my predicament on Twitter or make phone calls.

"Finally, an official returned with a representative from Emirates and told me that I was not allowed to enter the UAE and would be sent back to London. I had to purchase my own ticket back and the official kept my passport and new boarding pass until I departed. Before picking them up, I had to answer several questions from a security officer about why I was in the UAE, for what reason, with whom I was meeting, etc."
Asked why officials might not have wanted him in the country, Ulrichsen said that his "writing over the past two years has consistently been critical of the Gulf States' reactions to the Arab Spring." He has written numerous pieces about political prisoners in the country, and summarized concerns about civil liberties and political freedom in a piece for Open Democracy called "UAE: Holding Back the Tide." Ulrichsen added that "as someone who has visited and traveled widely within the UAE and seen at first hand the wide inequalities and discrepancies of wealth between Abu Dhabi/Dubai and the much poorer Northern Emirates, I clearly was a knowledgeable voice that was very threatening to the regime."
Ulrichsen has also written critically about the government of Bahrain and its response to protests there, and that was to have been the subject of his talk at the conference -- but he said he believes this topic was declared off-limits. Ulrichsen praised LSE for refusing to go along with the conference, and said he thought it reflected the promises LSE made after the Libya controversy to keep academic values central when working in other countries.

"LSE did absolutely the right thing," Ulrichsen said. "By leaving the decision to intervene in the academic content of the conference to remove my paper on Bahrain until the last minute, the UAE authorities may have hoped that the LSE would acquiesce in a fait accompli and carry on regardless. By calling their bluff, the LSE acted on a principled stance; it is difficult to see how any other decision could have been made in light of the new ethics codes that were put in place by the Woolf Inquiry [the outside report] as one of the 'lessons learned' from the LSE-Libya affair in 2011."

The incident this weekend has prompted much chatter on Twitter praising Ulrichsen and LSE and raising questions about Western universities and their activities in parts of the world without traditions of full freedom of expression.
Jon Western, a professor of international relations at Mount Holyoke College, wrote on the blog The Duck of Minerva that the situation with this conference relates to "the broader challenges facing academic institutions that are trying to expand their presence around the globe. There is a lot of pressure by college and university administrators to expand and open academic operations (including academic conferences, study abroad and cultural exchanges, direct programs, and new satellite campuses) in countries that are really rich with historically less access to higher education and where the norms of academic freedom vary substantially. And, while there may be occasional examples of restrictions on academic freedom that are this explicit, my sense is that there are far more academic programs and operations indirectly influenced by more restrictive norms on academic freedom in host countries."
Western added that "everyone seems to be developing new programs in China, Saudi Arabia, UAE, and such" and that he "helped develop a program in Shanghai for my institution." He said that "while we all race to develop these programs, we all seem to know, but rarely say out loud (or loud enough to matter) that it's fine to develop courses and curriculum on international economics and China's role in the world, etc…, but not on human rights or democracy or other sensitive content."
Western said that he is left with a number of questions: "Should we be developing these initiatives? Does their value in terms of expanding educational opportunities, promoting intellectual and cultural exchange, and probably raising some revenues (in the case of direct programs) — outweigh the costs if there is either explicit or, more likely, implicit restrictions on academic freedom (and self-censorship)?"