You have /5 articles left.
Sign up for a free account or log in.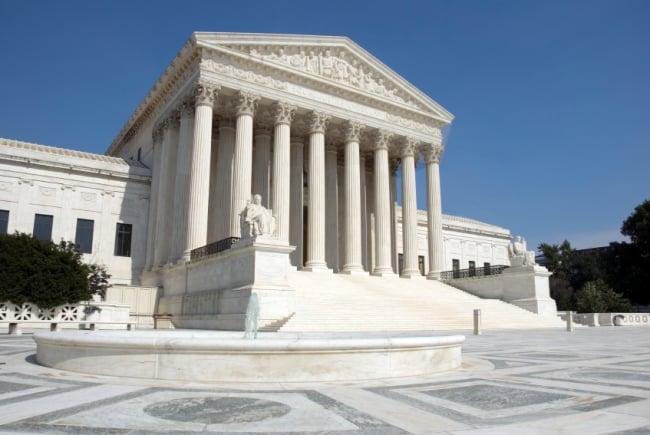 People in America can continue to freely resell or loan books they brought into the country from abroad, the U.S. Supreme Court ruled Tuesday.
The case, Kirtsaeng v. John Wiley & Sons Inc., No. 11-697, was a major victory for libraries, which feared a different outcome would force them to start asking permission from publishers and authors before they loaned imported books.
On the losing side, officials in the textbook publishing industry said the ruling would hurt their business. The decision allows cheaper textbooks sold abroad to be resold in the United States and compete with more expensive books sold to American customers.
In a 6-3 ruling, the majority of the court rejected an attempt by Wiley to punish Supap Kirtsaeng for reselling books he brought into the country from Thailand to resell.
To do so, the justices upheld a long tradition of ownership known as "first sale," which does not allow owners to automatically control a product past its first sale: If a farmer buys a horse from a breeder, the breeder no longer has any say about what the farmer does with the horse. The same goes for CDs, books and works of art.
But Wiley argued that the long-time practice did not apply to goods bought outside the United States. The company has an interest in segregating foreign and domestic textbook markets.
While he was studying at universities in the United States, Kirtsaeng, a citizen of Thailand, asked friends and family members back home to buy Wiley-made English-language textbooks. They shipped the cheaper books to him in the United States. Kirtsaeng then sold the books to American students for a markup on eBay and made hundreds of thousands of dollars, even after repaying his family and friends.
Wiley wasn't a fan. The publisher, one of the largest in the world, sued Kirtsaeng. A district court found him guilty of copyright infringement and ordered him to pay $600,000 in damages. An appellate court upheld the decision.
Libraries, used book sellers, companies like eBay, and museums were all alarmed because they each rely on first sale to avoid having to ask permission each time they sell or lend something they have already paid for.
Librarians, in particular, feared they would be unable to loan the 200 million foreign-made titles on their shelves without seeking permission from copyright holders or fearing a lawsuit.
Critics of Wiley's position said that taking its side, as many publishing companies did, would have unintended consequences by upending tradition.
In the Supreme Court's majority opinion, Justice Stephen Breyer agreed. He wrote that denying owners the ability to resell or loan things like books would be an "absurd result" with "intolerable consequences," particularly noting the challenge libraries could face.
Wiley had argued the law would not be enforced against libraries or museums. Breyer shot back: "a copyright law that can work in practice only if unenforced is not a sound copyright law."
Jonathan Band, a Washington lawyer who drafted a friend of the court brief on behalf of libraries, said the court's ruling cleared up the law.
 "This issue has been percolating so there has been this cloud of uncertainty of what can libraries do with their collections," he said.
The textbook publishers' trade group said the ruling could hurt the export market.
Tom Allen, the president and CEO of the Association of American Publishers, said the ruling ran contrary to American trade policy, which he said encourages exportation.
"Now it turns out, according to the Kirtsaeng decision, that anyone can buy up copies and ship them back to the United States and sell them here -- so, at that point, you end up competing with yourself," he said.
Allen said he hoped Congress would look at the court's ruling. The divide of the justices was unusual. Breyer was joined by Chief Justice John Roberts and Justices Clarence Thomas, Sonia Sotomayor, Elena Kagan and Samuel Alito. Justice Ruth Bader Ginsburg wrote the dissenting opinion, which was joined by justices Anthony Kennedy and Antonin Scalia.
Today, the register of copyrights, Maria Pallante, is expected to tell a House subcommittee that the nation's intellectual property laws need an overhaul.
"As many have noted, authors do not have effective protections, good faith businesses  do not have clear roadmaps, courts do not have sufficient direction, and consumers and other private citizens are increasingly frustrated," she will say, according to prepared testimony.
Wiley issued a short statement calling the ruling "a loss for the U.S. economy, and students and authors in the U.S. and around the world." A lawyer for Kirtsaeng did not return a message seeking comment.